Kershaw Carabiner Tool
Works as a Multi-Tool/Knife…
And a Heavy-Duty Key Ring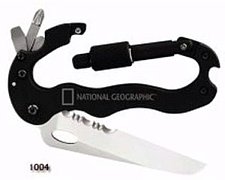 The Kershaw carabiner tool works nicely as a handy multi-tool and knife.
Actually, I also use mine all the time as a sturdy key ring that I can hang from a belt loop or attach securely to part of my motorcycle's frame.
The tool's spring-loaded gate and threaded "keeper" make sure the carabiner closes securely -- and stays closed.
Kershaw makes a bunch of these carabiner tool/knife combos available in various colors (black, blue, red and silver). Their specs are identical regardless of the color and each offers similar features and capabilities.
This tool is manufactured nicely. The metal is smooth, the knife blade is sharp and strong and the carabiner closes tightly. The one I have is called the National Geographic Tool and Knife.
---
Click here for a great place to get your own
Kershaw carabiner multi-tool/knife
---
This five-in-one, stainless steel device gives me a…
Sharp knife blade -- partially serrated to cut rope -- I can open with one hand
Flat screwdriver tip
Phillips head screwdriver tip
Bottle opener
Big, functioning carabiner
As you can see in the photo, in addition to carrying important keys I can remove easily from the carabiner, I use it to carry and give me quick access to my miniature-sized…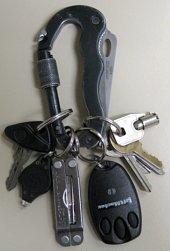 LiftMaster garage door opener
Leatherman "Micra" multi-tool
LED thumb light
The unit is large and strong enough to carry, support or attach lots of things motorcycle riders keep with them.
For me, the carabiner has become a regular part of my riding equipment that I depend upon. It's a real problem for me when I misplace the thing.
Perhaps the carabiner tool's only drawback is that its strength and versatility make it tempting to hang just about any small item from it that you'd want to keep handy.
I know if I'm not careful, the thing could wind up looking like a janitor's oversized key ring festooned with jingling hardware.
Perhaps it has already...
---
Let's stay in touch…
Get your free subscription to...

"Savvy Motorcyclist E-zine"
And you'll also receive your free copies of...
"The 11 Best Motorcycle Travel and Trip Planning Websites on the Internet"

...plus the DOT's 8-page brochure titled

"Motorcycle Safety and Driving Tips"

These great resources will help you to ride better, plan your trips, enjoy the best motorcycle roads and get the most out of motorcycle riding…
Just enter your email address here then SUBSCRIBE...
---
Return from Kershaw Carabiner Tool to the
Cycle Gadgets and Goodies Page…
---
Copyright