Great info for great riding

Motorcycle Riding Companions
…How to Choose Yours Wisely
I'm always a bit bewildered after I happen to mention -- during a casual conversation -- that I ride a motorcycle and then the person I'm speaking with quickly suggests I go for a ride with a friend of theirs who also owns a motorcycle.

This only seems to happen when I'm talking to someone I don't know very well.

For me, such a suggestion is as illogical as recommending I have dinner with some stranger simply because we both prefer a certain restaurant.

Actually, it's even more illogical than that…

Your motorcycle riding companion can make the difference between an extremely pleasing experience and a joyless -- even unsafe -- ordeal.

It's important to choose your riding companions wisely.

This is especially true when you take off on multi-day trip with one or more riding companions. Traveling too long and too far with the wrong riding partner can wreck your trip and make you crazy.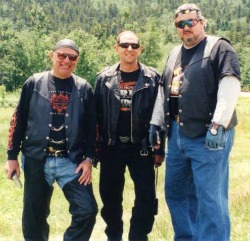 Now, when I say riding partner or companion, I don't mean your "significant other." That's a completely different issue that you'll have to sort out yourself.

I'm talking about the importance of finding a kindred spirit whose riding style, temperament and maybe even their motorcycle are similar to yours.

Make sure your riding styles match…

Traveling with the right person has as much to do with safety as with enjoyment.

When two riders have very different riding styles and they can't find a happy medium, nerves can unravel.

The need for one rider to continually speed up to keep up or otherwise ride outside the limits of his or her abilities or comfort zone is distracting and dangerous.

On the other hand, a rider who can safely take the turns at speed and likes to travel at a fast clip must make allowances for a much slower rider. Continually looking in the rear view mirror for your riding companion can become a dangerous distraction.

I know of two riders in particular who, after five days of traveling cross-country together, split up and went their separate ways rather than continue riding with each other.

One guy just couldn't cope with the other's tendency to ride too fast and take chances.

I just happened to link up with two riders I'd never met before while I was traveling cross country.

Within two days one guy ran out of gas twice and the other kept asking me if he could borrow my riding gear to stay warm.

I should have split from them within the first 100 miles.

Does your endurance match your riding companion's?

Over the course of a trip, many factors can make the difference between fun and aggravation...
Some riders want to ride, ride, ride for hours…while others would rather stop often for a Dairy Queen or to take in the sights…
Some riders must fill up their gas tank every 150 miles…while others can go for 300 miles or more between refills…
Some riders would rather camp out at the end of the day…while others would rather stay at the Holiday Inn…
Some riders can't decide where they want to go and how they want to get there…while others plan their route and stick to it.
For me, motorcycle riding has been a largely solitary experience.
However, over the years, I've lucked out with a few riding companions. Actually, I've had some of the most enjoyable and memorable motorcycle touring experiences while traveling with other riders.
The difference between traveling alone and with a companion…
I'd say that traveling solo on your motorcycle emphasizes the inherent freedom of motorcycle touring and travel.
You can ride at your own pace, stop when you want, go where you want and stay where you want.
However, you'll also get lots of enjoyment when traveling with one or more riders with whom you get along quite well and who make the ride that much more fun.
The most important thing to keep in mind…
But, remember; when it comes to selecting your motorcycle riding companions...choose wisely.
Your safety and sanity depend on it.
---
Blatant self promotion...Books by Brian Salisbury
Please join me on my trips to popular destinations and rides down roads less traveled...
I recently launched a three-book series containing motorcycle travel and adventure stories and observations drawn from my jaunts throughout the United States and Canada.
Click here for a complete description of these books along with the road tales they contain...
Or click on any of the following book covers to go directly to them at Amazon…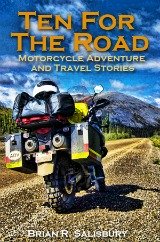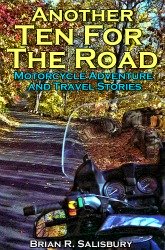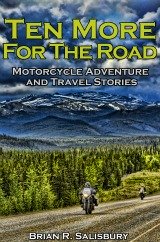 ---
For more information…
For a wealth of information to help you…
• Ride more safely and comfortably…
• Select gear that best suits you, your motorcycle and riding style…
• Get the most enjoyment every time you ride…
Or if you'd like a free subscription to Savvy Motorcyclist E-zine…
Visit my website at...
www.Motorcycle-Gear-and-Riding-Info.com

---
Copyright 2013 and Ever After
Motorcycle-Gear-and-Riding-Info.com
---