Compact Adjustable Wrench Fits 18 Different Sized Nuts or Bolts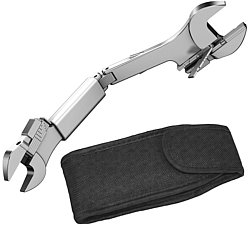 This compact adjustable wrench -- Baron Custom Accessories Ultra Wrench -- lets you tighten or loosen 18 different metric sized nuts or bolts with a single, sturdy tool.
A lock-in-place center slide makes this full-sized tool easy to use. 
When you're done, fold it in half and stash it away.
It's a practical addition to your motorcycle tool kit.
When you're using a standard adjustable "crescent" wrench, it's very difficult to get the same tight fit on hex nuts and bolts that you can get with a standard wrench or a socket.
And you always face the problem that such wrenches will slip off and round out nuts and bolt heads. 
This tool's unique adjustment design gives you the advantage of a snug fit around nuts or bolts without the "play" or slippage common to most adjustable wrenches.
It won't pop of off your work…sparing you the aggravation of scraping your knuckles or rounding off too-tight bolts.
A lock-in-place center slide makes this full-sized tool easy to use.  It fits comfortably in your hand. 
When you're done, fold it in half and stash it away on your motorcycle.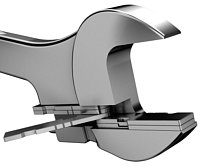 You get spring-loaded adjustment tabs 
You adjust this tool to fit different sized hardware by flipping the correct number of spring-loaded tabs into the jaws of the appropriate "fixed" wrench on either end of the tool.
The tabs flip out like individual jackknife blades to give you the exact wrench opening you need.
The lock-in-place center slide makes folding and unfolding this full size tool easy and convenient
Plus you get a sturdy and durable carrying case equipped with a belt loop.
I know there are lots of adjustable wrenches on the market.  But this one has the advantage of opening up into a full-sized tool and fitting squarely on your work.
This is especially beneficial if you need extra torque or are faced with something more than a routine roadside repair.
Also, when I'm traveling with other riders, having the Ultra-Wrench handy for quick repairs saves lots of time and keeps us moving.   
The Ultra Wrench, made by Baron Custom Accessories, is rugged, nicely made and nicely finished.
It does the job and saves you space.
That's especially important when you're riding a motorcycle.
On top of all this, the Ultra Wrench's mechanism is backed by a lifetime warranty.
---
Click here for a great place to get adjustable wrenches and
---
Let's stay in touch…
Get your free subscription to...

"Savvy Motorcyclist E-zine"
And you'll also receive your free copies of...
"The 11 Best Motorcycle Travel and Trip Planning Websites on the Internet"

...plus the DOT's 8-page brochure titled

"Motorcycle Safety and Driving Tips"

These great resources will help you to ride better, plan your trips, enjoy the best motorcycle roads and get the most out of motorcycle riding…
Just enter your email address here then SUBSCRIBE...
---
Return from Compact Adjustable Wrench
---
Copyright