Great info for great riding

My mysterious night ride through Maine
During my first long distance motorcycle trip, I traveled from New Jersey to New Hampshire to attend the legendary motorcycle races and rally in Laconia.

When the rally ended, I decided to extend my trip and pay a surprise visit to relatives in Bangor, Maine, about 250 miles away.

I left Laconia at about 4 p.m. on a pleasant summer day and began the second leg of my New England trip along twisty, hilly country roads.

My route, which I was piecing together pretty much on the fly, soon became a succession of small towns separated by long, empty stretches bordered by thick stands of white birch and pine trees.

As I cruised past lakes, through alpine valleys and over rushing streams and rivers, I was thoroughly enjoying the combination of beautiful scenery and a subdued riding pace.

But when the sun went down, chilly air soon filled every low-lying hollow.

My motorcycle didn't have a windshield and my army fatigue jacket did a poor job of keeping me warm. I fought the shivers to remain focused on my driving and on the road.

What makes night riding different?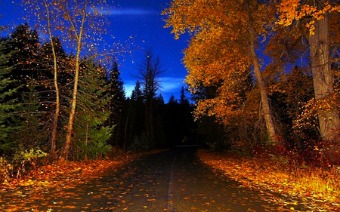 Night riding, especially when traveling along unlit country roads, requires extra vigilance. I soon felt very isolated.

My entire universe existed within the cone of light illuminating the road ahead and the edges of the woods on either side.

I could not see the features of the land around me. But I knew by the sharp, clean changes in the air when I was passing pine trees, birch trees, lakes, streams, swamps or wildflowers.

The few houses I sped past were dark. Occasionally a dog would bark to alert the world of my presence.

Was that a ghost?

I was well into my ride when something happened that still puzzles me.

As I cruised along yet another lengthy section of deserted, tree-lined byway, I thought I saw someone along side the road about 100 yards ahead.

Yes, it was a woman in a white blouse and black skirt standing a few feet back in the grass on my side of the road.

As I passed her, she raised her hand in a faint gesture of recognition. The movement was too slight to call a wave. Her face bore no expression.

Was she in trouble? Why was she there, alone on a deserted road in the Maine woods in the middle of the night? Should I go back and find out?

About 100 yards past the woman, I stopped, then headed back. But I saw no one as I approached the spot where she had been standing.

I stopped and shined the headlight into the woods on both sides of the road.

I continued driving for at least a quarter of a mile in case she was walking along the road.

I saw nothing.

I made another U-turn and headed back. I stopped again at the spot where I'd first seen her. She was gone.

I put the motorcycle in gear and took off. But as I drove, I began to wonder if I'd actually seen someone. Were my mind and weariness playing tricks on me? I still wonder.

After too many hours on the road, I finally reached Bangor.

It had been more than ten years since I'd traveled to Maine. The last journey was with my parents and sister during a family trip to visit Aunt Adeline.

How "Norman Rockwell" it was to have an Aunt Adeline in Maine.

She lived on Broadway in Bangor, and I had a faint memory of what her white house and grassy front yard looked like.

While she didn't know I was going to pay her a visit, especially at about 2 a.m. in the morning, I knew she would welcome her errant nephew.

Waking the neighbors

Unfortunately, the sleepy woman who answered the door at the first white house I tried was not Aunt Adeline. And this person was not at all thrilled to see me. However, she informed me that my aunt lived only a few houses down the street.

Quickly I found and immediately recognized the familiar white house with its spacious front yard.

I parked the motorcycle, walked up the path and rang the front door bell.

My aunt was amazed to see me at this hour of the morning. And, of course, the fact that I was ten years older, 75 pounds heavier and two feet taller than the last time she'd seen me added to her surprise.

I went inside and sat down to a batch of hot homemade biscuits and gravy.

I felt right at home, and the cold miles were soon a faint memory.

Epilogue Some 40 years earlier, my father, while on leave from the Navy, had hitchhiked from Boston to Bangor to visit my aunt. He'd also arrived unannounced well after midnight and rang her doorbell.

Even on the smallest scale, history often repeats itself.

* * *
---
Cool Product…Dynaplug Tubeless Tire Repair Tools

The entire line of Dynaplug tire repair tools give you a quick and reliable solution to plugging punctures in your motorcycle's tubeless tires.

They're compact, easy to use and work great in emergencies. And what flat tire isn't an emergency?

They're all made in the USA.

Click here to learn more…
---
Blatant self promotion...Books by Brian Salisbury
Please join me on my trips to popular destinations and rides down roads less traveled...
I recently launched a three-book series containing motorcycle travel and adventure stories and observations drawn from my jaunts throughout the United States and Canada.
Click here for a complete description of these books along with the road tales they contain...
Or click on any of the following book covers to go directly to them at Amazon…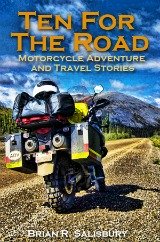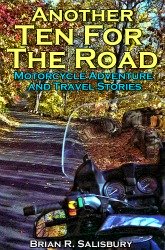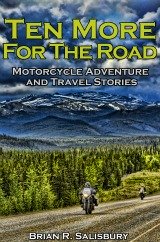 ---
For more information…
For a wealth of information to help you…
• Ride more safely and comfortably…
• Select gear that best suits you, your motorcycle and riding style…
• Get the most enjoyment every time you ride…
Or if you'd like a free subscription to Savvy Motorcyclist E-zine…
Visit my website at...
www.Motorcycle-Gear-and-Riding-Info.com

---
Copyright 2014 and Ever After
Motorcycle-Gear-and-Riding-Info.com
---