Dynaplug Tire Repair Tools
Make Plugging Your Motorcycle Tires Easy

These Dynaplug tire repair tools give you a quick and reliable solution to plugging punctures in your motorcycle's tubeless tires.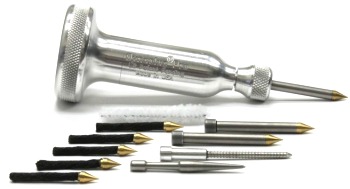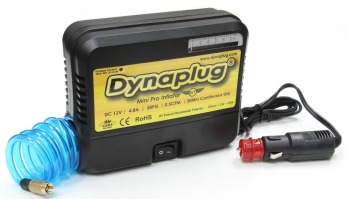 They're compact and easy to use. And they're all made in the USA.
The Ultralite model weighs only two ounces and is machined from a single piece of 6061 billet aluminum.
Its push-on silicone end cap seals the interior compartment where you can store the all-important repair plugs and other accessories. Your get four repair plugs with this tool.
The Pro Aluminum model weighs only three ounces fully loaded and is made from 6061 billet aluminum.
Its watertight interior compartment holds three insertion tubes, three tire repair plugs, one clearing attachment and one air stopper.
A screw-on aluminum end cap with an O-ring seal keeps things tight.
The entire tool slides into a handy polyethylene container.
The Pro Stainless Steel model is machined from 303 billet stainless steel and weighs only six ounces fully loaded.
It comes with three insertion tubes, eight tubeless tire repair plugs, one clearing attachment,one air stopper and its own polyethylene case.
The Pro XTREME Stainless Steel model gives you an ergonomically-designed end cap that helps you apply a huge amount of pressure to repair heavy duty tires and to insert a plug into a very narrow puncture.
The Xtreme is a hefty 11.5-oz tool toot comes with eight repair plugs and a nice storage pouch.

The Dynaplug Mini Pro GT motorcycle tire pump is a 12-volt tire inflation system contained in a rugged, compact ABS case.
To your advantage, this tire pump gives you a dual power plug that works with a standard automotive cigarette lighter receptacle and a BMW motorcycle accessory outlet.

Remove the adapter and you're ready to use the power cord with a European-style accessory outlet that BMW uses.

It all measures 4.75 x 6 x 2 inches and weighs only 18 ounces.

The system's many features also include an…
Integral air hose and power cords…
LED work light…
Easy-to-read pressure gauge…
Whenever I ride -- and especially on long trips -- I'm always concerned a nail or some other sharp object will punch a hole into one of my bike's tires.
What a drag it is to return to your parked motorcycle and see it has a flat tire.
Even worse is that mushy feel of a tire losing air when you're driving.
It's important to always have some sort of tire plugging device handy -- along with a compact air pump -- to get you and your bike back on the road after you've discovered a tire puncture.
You have a few good options when it comes to selecting a motorcycle tire-puncture-plugging tool -- or tools -- to carry on your bike.
However, after trying many other tools, I've concluded these Dynaplug tire repair tools for tubeless tires -- along with tire pump -- are just about the easiest, quickest and most effective tire-plugging systems I can stash on my bike.
Click on any of the links below for a reliable resource where you can select a Dynaplug tire repair tool of your choice...
---
Pro Aluminum tire repair kit...
Pro Stainless Steel tire repair kit...
Pro Xtreme Stainless Steel tire repair kit...
Mini Pro GT Inflator tire pump...
---
The Dynaplug folks say they've tested each system on bias ply and steel belted radial tires in all weather conditions, and that these tools fix punctures in tires ranging in tread thickness from 3/16-in to 1-1/8-in at the point of puncture.
With each system, the individual plugs are made of rubber-impregnated cord topped with a pointed brass tip.
The plugging cord material is designed to fuse to the tire's rubber compound to create a permanent repair.
The cord and tip are narrower than typical sticky-string plugs found in auto parts stores.
Unlike most tubeless tire plugs, these don't require you to add an adhesive coating prior to use. They're permanently self-adhesive.
They flow slightly when under pressure to fill voids and flex within your tire. And they don't dry out or loosen over time.
Plus, you don't have to use a reamer to enlarge the puncture before inserting one of these plugs.
This prevents further tire cord damage caused by reaming the hole to a larger diameter.
Dynaplug tire repair tools are about two inches in diameter and six inches long without the insertion-tip attached.
Each resembles a heavy-duty screwdriver handle with a thin, hollow stainless steel tube protruding from one end.
You can store a supply of brass-tipped plugs inside each tool's handle.
Here's how you seal a tire puncture using a Dynaplug tire repair tool…
Slide a brass-tipped plug into the tool's stainless steel tube...

Pull the puncture-causing object from your tire. Check its angle so you can insert the tool along the same puncture-track…

Push the tool's tube end into the puncture until the handle hits the tire tread. You can do this to insert a plug even if the tire is inflated…

Extract the tool and the plug remains inside...
You don't have to set the plug depth. The plug's metal tip holds it in place when you withdraw the tool.
The plug tip is insignificant in size and weight, so it won't stretch the puncture to make it worse or throw off your tire balance.
Of course, if you use the Dynaplug on a flat or extremely soft tire, you'll have to pump it up to the correct pressure.
But you knew that…
In my continuing efforts to provide you with the most effective and useful information possible, I've discovered a reliable resource where you can order your own Dynaplug repair tool…
Click on any of the links below to make your selection...
Pro Aluminum tire repair kit...
Pro Stainless Steel tire repair kit...
Pro Xtreme Stainless Steel tire repair kit...
Mini Pro GT Inflator tire pump...
---
Return from the Dynaplug Tire Repair Tool...
---
Let's stay in touch!
Get your free subscription to..."Savvy Motorcyclist E-zine"
And you'll also receive your free copies of..."The 10 Best Motorcycle Travel and Trip Planning Websites on the Internet" ... plus the Motorcycle Safety Foundation's 58-page Motorcycle Operator's Manual.
These great resources will help you to ride better, plan your trips, enjoy the best motorcycle roads and get the most out of motorcycle riding.

Custom Search