Great info for great riding

Why motorcycle riders love roadside diners
The American roadside diner: Everyman's eatery…Bastions of casual gastronomic consumption, 24-hour breakfast, come-as-you-are hospitality and easy parking.

We know them best for their chrome and silver exteriors, Formica interiors and local character.

For motorcycle riders, roadside diners give us an easy place to take a break at most any time when we're on the road.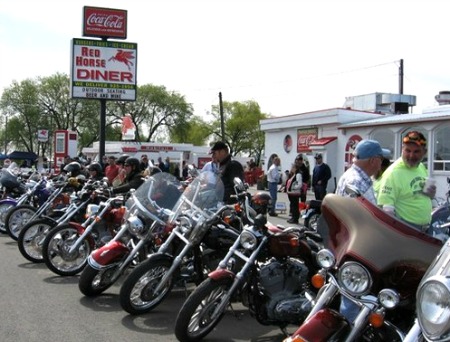 Bikers usually meet for breakfast and get organized at a local diner before they take off for a day of riding.

When traveling with others or alone, we'll roll into one of these eateries for a mid-day meal or an end-of-the-ride repast.

And after dark, all-night diners often provide a bright oasis -- especially along empty byways and in small towns that otherwise roll up their sidewalks.

Memorable diners

When my riding buddies and I recount the highlights of various trips, we often zero in on meals eaten at unique diners.

A perfect example is the Lamont Diner in Wyoming.

This establishment was originally a railroad passenger car. Somehow, it found its way into a dirt parking lot at the edge a prairie town.

The steps leading up to its front door were wobbly stacked cinder blocks. The car was painted red and it stood solidly on its original steel wheels.

We rolled into the Lamont Diner's parking lot early one summer morning after traveling about 100 miles across the chilly prairie.

I can't remember what we had for breakfast. But I do recall, for $1.15 it was one of the most filling and inexpensive meals I've ever enjoyed on the road.

And there's the -- now defunct -- Short Stop Diner in Bloomfield, New Jersey. Some called the place "eggs in a skillet" because that's just about all it sold.

Maybe you could get a hamburger. But, too bad if you wanted oatmeal or pancakes.

When the cook finished frying a customer's breakfast of eggs, ham and hash brown potatoes, he'd slip a wooden trivet under the frying pan.

Then he'd plop the whole sizzling business on the counter in front of the patron, who would proceed to chow down right out of the frying pan.

This eatery could seat only 15 customers at the counter. It didn't have any tables, so the place frequently had a line of hungry people out front waiting to get in.

Adding to its no-nonsense eat-and-run ambiance, the Short Stop Diner had a 15-minute limit on parking. A sign in its parking lot clearly stated the manager's terms and attitude: "Eat it and beat it."

Only in America

Diners are a uniquely American phenomenon that debuted during the late 1800s. They evolved from wheeled lunch wagons, to stainless steel streamliners, to large roadside establishments with extensive menus.

Their numbers and popularity have always been greatest in the Northeast because that's where the manufacturers were and are.

The word "diner" comes from "dining car," and it reflects the styling that diner manufacturers borrowed from the railroad. But, while some diners are actually converted railroad or trolley cars, most were built originally to be stationary eating establishments, not rolling stock.

Over the years, dozens of companies -- most of them located in New Jersey, New York and Massachusetts -- have manufactured diners. But now only a few producers remain.

Diners hit their peak of popularity before and after World War II. New materials including stainless steel and Formica provided a modern look.

And the eye-catching silver streamliner style gave them dazzle and dash. Along the way, many were built with a classic art-deco look.

Each diner is unique

In today's age of cookie-cutter uniformity among roadside and fast food eateries, diners remain unique.

Although technically they've been mass-produced, each diner reflects a distinct, customized blend of design, equipment and features. Stools, tiling, windows, color, signage and external trim vary with each. No two are alike.

One of my favorites is the West Taghkanic Diner located about two hours north of Manhattan. It's just off the Taconic Parkway on Route 82 in Ancram, New York. This classic retro roadside eatery has been feeding hungry travelers since 1953.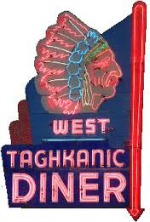 Its all-original design includes a huge landmark neon Indian chief sign out front that still excels as a classic example of American roadside architecture.
So, what makes diners so special?
When you get right down to it, we usually stop at a diner when we need a really convenient, comfortable, no frills place to eat. Nothing special.
But frequently we connect our "diner experiences" to larger experiences that are special or otherwise memorable to us.
And those experiences are what really make these icons of the open road personally unique and memorable.
It's certainly not for the food. * * *
---
Cool Product…Dynaplug Tubeless Tire Repair Tools

The entire line of Dynaplug tire repair tools give you a quick and reliable solution to plugging punctures in your motorcycle's tubeless tires.

They're compact, easy to use and work great in emergencies. And what flat tire isn't an emergency?

They're all made in the USA.

Click here to learn more…
---
Blatant self promotion...Books by Brian Salisbury
Please join me on my trips to popular destinations and rides down roads less traveled...
I recently launched a three-book series containing motorcycle travel and adventure stories and observations drawn from my jaunts throughout the United States and Canada.
Click here for a complete description of these books along with the road tales they contain...
Or click on any of the following book covers to go directly to them at Amazon…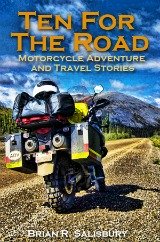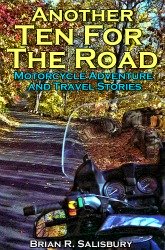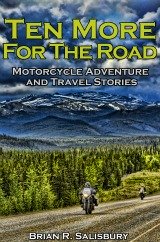 ---
For more information…
For a wealth of information to help you…
• Ride more safely and comfortably…
• Select gear that best suits you, your motorcycle and riding style…
• Get the most enjoyment every time you ride…
Or if you'd like a free subscription to Savvy Motorcyclist E-zine…
Visit my website at...
www.Motorcycle-Gear-and-Riding-Info.com

---
Copyright 2014 and Ever After
Motorcycle-Gear-and-Riding-Info.com
---