Great info for great riding

The Best Time of Our Lives?
We ride motorcycles for many reasons. Most likely, as I do, you have a blend of enjoyable reasons and experiences that make motorcycling attractive and memorable for you.

Among my many motorcycle-related experiences, one in particular that took place years ago drifts through my mind most often.

At the time I wasn't totally aware of the event's significance. Now I get it.

I'll explain…

My riding buddy Don and I had logged on some serious miles traveling from New York to Colorado in two days. We wanted to reach a friend's home in Pueblo as quickly as possible.

From there we planned to spend about three weeks riding along mountainous back roads, doing a bit of fly fishing and visiting national parks in a cluster of Western states.

We were prepared to camp out the entire trip.

Rain and more rain…

Early the following morning after reaching Pueblo, we gassed up the bikes and headed for the mountains. Unfortunately, within a few hours the rain started. And it rained steadily for three days. But, we continued riding. Each evening we pitched our tent and camped in the rain.

The wet weather was annoying and made riding dangerous. However, what bothered us most was that the weather was ruining our view of the beautiful scenery surrounding us.

After the clouds finally broke, we dried our gear and the days stayed sunny for the remainder of our trip.

We visited Bryce and Zion national parks in Utah. We hiked to the bottom of the Grand Canyon in Arizona where we fished in the Colorado River. We also visited Grand Teton National Park in Wyoming where we caught trout in the Snake River.

A day or two before heading back to New York, we rode to Yellowstone National Park in Wyoming.

Our private scenic overlook…
While cruising through a less-traveled section of the park, we noticed a blocked off, weed-covered side road. Earlier we'd bought food for dinner and were now looking for a safe place to camp for the night. This road looked promising.

We maneuvered our motorcycles around the barrier and headed down through the weeds.

Within about one-eighth of a mile we reached a large clearing that had once been a parking lot. And at the back of the parking lot was a short trail leading to an area overlooking the Yellowstone River.

Here, we had a perfect view of the river which included a section of the deep river valley known as the Grand Canyon of the Yellowstone River.

At the head of the canyon rumbled the iconic 308-foot high Lower Falls at Artist Point.

We were in what was once a scenic overlook now closed to the public. We had the area entirely to ourselves.

We set up camp, made dinner then went out to the overlook to eat and take in the canyon, the river and the falls.

The question…

While enjoying the solitude and beauty of this area, and recollecting the great roads and places we'd experienced this trip, I asked my friend, "Do you think this is the best time of our lives?"

It was a casual question that just popped into my head.

Now, year's later, in many respects and for many reasons I'd have to say it was one of the best times of my life.

And like lots of my other good memories, a motorcycle is in the picture.

**********************************************************

You must have a few motorcycle memories. Share them with us.
---
Cool Product…Crampbuster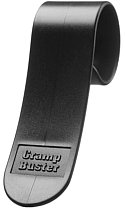 The Crampbuster motorcycle cruise assist lets you relax your grip on the accelerator and relax your muscles -- especially during long rides -- while you maintain full throttle control.

This piece of hard, twisted plastic comfortably fits your hand and provides a simple, elegant solution to a number of nagging problems motorcycle riders must deal with.

Besides enabling you to reduce hand fatigue and cramping while maintaining full throttle control, it…

• Makes it easier for you to operate the throttle

• Doesn't lock the throttle at a particular speed

Click here to learn more…
---
Blatant self promotion...Books by Brian Salisbury
Please join me on my trips to popular destinations and rides down roads less traveled...
I recently launched a three-book series containing motorcycle travel and adventure stories and observations drawn from my jaunts throughout the United States and Canada.
Click here for a complete description of these books along with the road tales they contain...
Or click on any of the following book covers to go directly to them at Amazon…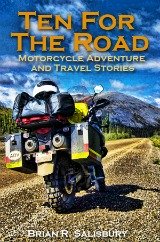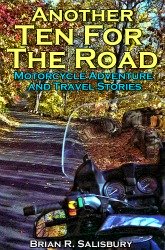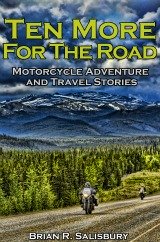 ---
For more information…
For a wealth of information to help you…
• Ride more safely and comfortably…
• Select gear that best suits you, your motorcycle and riding style…
• Get the most enjoyment every time you ride…
Or if you'd like a free subscription to Savvy Motorcyclist E-zine…
Visit my website at...
www.Motorcycle-Gear-and-Riding-Info.com

---
Copyright 2013 and Ever After
Motorcycle-Gear-and-Riding-Info.com
---