CrampBuster Motorcycle Cruise Assist Lets You Relax...
Avoid Sore Muscles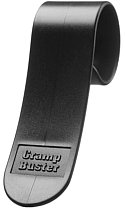 CrampBuster motorcycle cruise assist lets you relax your grip on the accelerator and relax your muscles -- especially during long rides -- while you maintain full throttle control.
This piece of hard, twisted plastic comfortably fits your hand and provides a simple, elegant solution to a number of nagging problems motorcycle riders must deal with.
Besides enabling you to reduce hand fatigue and cramping while maintaining full throttle control, it…
Makes it easier for you to operate the throttle...
Doesn't lock the throttle at a particular speed...
---
Click here to get your own CrampBuster cruise assist...
---
You could call this little device a "poor man's cruise control."
I have two motorcycles and each one is equipped one of these throttle devices. However, I could use a single device on both motorcycles because it's easy to remove, attach and adjust on any bike that has the right sized grip to fit the device.
It comes in two diameters...
The Standard is 1 1/8-in diameter and fits most stock throttle grips...
The Oversize is 1 3/8-in diameter and suits larger grips...
Unless your throttle grip is larger than 1 3/8-in diameter, the Oversize will slip around and not work at all. If your grip is 1 3/8-in or smaller, the Standard device will work fine.
The nice thing about the Crampbuster cruise assist is you needn't apply a steady stranglehold on the accelerator to maintain or increase your speed.
All you have to do is apply pressure with the heel of your hand. The leverage you gain from this device swivels the throttle easily and enables you to keep the pressure on without straining your hand or shoulder muscles.
During short trips, maintaining steady speeds and keeping a tight grip on the throttle might not be a big deal. But this thing really cuts down on sore shoulder muscles when you're riding for long hours.
In addition to keeping away the aches and pains, this simple device helps you to maintain your concentration and keep your mind on your driving.
That's a significant benefit when you're touring or dealing with high risk situations such as wet roads or cold weather -- when keeping your mind strictly on the road is key.
The Crampbuster motorcycle cruise assist is low cost, easy to install and it works.
Click here to check out all sorts of gear for you and your motorcycle...
---
Return from the CrampBuster to the Cycle Gadgets Page…
---
Let's stay in touch!
Get your free subscription to..."Savvy Motorcyclist E-zine"
And you'll also receive your free copies of..."The 10 Best Motorcycle Travel and Trip Planning Websites on the Internet" ... plus the Motorcycle Safety Foundation's 58-page Motorcycle Operator's Manual.
These great resources will help you to ride better, plan your trips, enjoy the best motorcycle roads and get the most out of motorcycle riding.

Custom Search