Great info for great riding

To Ride or Not to Ride...Sometimes You Must Decide
Some years ago I received a phone call I'd been expecting for a few weeks…

It was from a friend of a friend -- a person whom I'd never met but, like me, was an avid long distance motorcycle rider. This fellow was planning a lengthy motorcycle trip and was looking for an experienced rider to join him.

He intended to travel south from Laredo, Texas, into Mexico where he'd pick up the Inter American Highway. He planned to follow the highway through Guatemala, Honduras, Nicaragua, Costa Rica and into Panama. Then he'd turn back and head home…or maybe he'd continue into South America. He hadn't decided.

I'd recently completed a 10,000-mile round trip on my motorcycle from New Jersey to Alaska. I'd previously traveled as far north as Newfoundland and as far south as the Florida Keys. During these and many other shorter trips I'd camped out every night.

I was always ready for adventure. In addition to motorcycle riding, I'd tried my hand at rock climbing, ice climbing and sky diving. If bungee jumping had existed back then, I'd have tried that, too.

So, at the time, a motorcycle trip from the United States to Panama should have suited me just fine. I'd never shied away from an exciting jaunt.

So why -- this time -- did I hesitate?

After lots of thought and a long telephone conversation, I decided not to join this fellow on his adventure. And that's where we left it.

I never spoke to him again and I don't know if he'd ever made the trip.

From time to time I've thought of our conversation, but I've never regretted my decision.

When it had come down to deciding to ride or not to ride, I'd trusted my instincts.

My decision had nothing to do with my limitations as a rider or otherwise. I'd listened to the small voice in my head that told me to turn down the invitation.

Motorcycle riders are frequently tempted…

Motorcycle riders often face big and small "to ride or not to ride" decisions. That's because motorcycles can take us to out-of-the-way places, present interesting exploration opportunities and put us in precarious situations.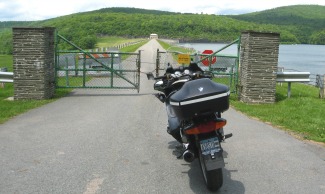 For example…

• Should you keep riding down that initially attractive side road when it becomes progressively narrower, more overgrown and rockier as it goes deeper into the woods?

• Should you maneuver around the "Road Closed" barrier to see if you can ride through, anyway?

• Should you chance riding a few more miles before stopping for gas even though your tank is close to empty?

• Should you keep riding to reach your destination when the road is dangerous or the weather is lousy -- maybe both?

My cousin Dennis -- an adventurous rider -- faced such a decision when he wanted to ride north from Fairbanks, Alaska, via the Dalton Highway (also known as the Haul Road) to where it crosses the Arctic Circle. The round trip would have covered about 400 miles and taken some 13 hours.

He'd ridden all the way from Florida to Alaska, and crossing the Arctic Circle would have been a highlight achievement.

However, the weather was rainy. A group of experienced motorcycle riders returning from the Dalton Highway said sections of the road south of the Arctic Circle were as slick as grease. Many of the riders had taken serious falls.

Dennis decided not to ride his cruiser up the highway in such conditions. He regrets not making it to the Arctic Circle, but -- I believe -- not as much as he would have regretted riding in the cab of a flat bed truck transporting his wrecked bike back to Fairbanks.

Many riders make the wrong decision…

Recently I read a blog post by an adventure rider motorcycling through a wilderness national park in Zambia, Africa.

He described the vicious pounding he and his motorcycle had taken on an outrageously rugged road within the park.

After dropping his motorcycle a bunch of times and battering his body, his bike and gear, he sat down beside the rocky road.

He thought about how much he hated being stuck under the blazing sun. He dreaded that now he must find a safe place to sleep in the wild.

He wished he'd had the good judgment to stop for the day at the small encampment three hours and ten miles back rather than forge ahead to reach the larger camp still a long 20 miles away.

True, most of us will never face getting stuck on a deserted road in Africa. But, our riding decisions -- even small ones -- can have consequences.

So when faced with a "to ride or not to ride" decision, trust your instincts along with your understanding of your capabilities, limitations and comfort zone.

Most importantly, listen to the voice in your head if it says, "Don't do it."
---
Cool Product…Crampbuster
The Crampbuster motorcycle cruise assist lets you relax your grip on the accelerator and relax your muscles -- especially during long rides -- while you maintain full throttle control.

This piece of hard, twisted plastic comfortably fits your hand and provides a simple, elegant solution to a number of nagging problems motorcycle riders must deal with.

Besides enabling you to reduce hand fatigue and cramping while maintaining full throttle control, it…

• Makes it easier for you to operate the throttle

• Doesn't lock the throttle at a particular speed

Click here to learn more…
---
Blatant self promotion...Books by Brian Salisbury
Please join me on my trips to popular destinations and rides down roads less traveled...
I recently launched a three-book series containing motorcycle travel and adventure stories and observations drawn from my jaunts throughout the United States and Canada.
Click here for a complete description of these books along with the road tales they contain...
Or click on any of the following book covers to go directly to them at Amazon…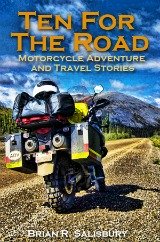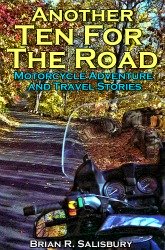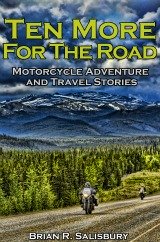 ---
For more information…
For a wealth of information to help you…
• Ride more safely and comfortably…
• Select gear that best suits you, your motorcycle and riding style…
• Get the most enjoyment every time you ride…
Or if you'd like a free subscription to Savvy Motorcyclist E-zine…
Visit my website at...
www.Motorcycle-Gear-and-Riding-Info.com

---
Copyright 2013 and Ever After
Motorcycle-Gear-and-Riding-Info.com
---