Great info for great riding

Why You Don't Want Cheap Raingear
If you ride a motorcycle -- even if you're a fair-weather rider -- at some point you're going to get caught in the rain.

And when that happens, you can either congratulate yourself for carrying high quality raingear that keeps you warm and dry, or soldier along with uncomfortable, low quality gear that barely sheds water.

Some gear, during long soaking rides, simply breaks down and loses its water resistant capabilities.

Perhaps you can endure riding cold and wet for a while. However, over long distances, the discomfort becomes a distraction and jeopardizes your safety.

Staying dry will help you to ride safe.

And good raingear has other benefits.

Even if you wear your wet weather gear to keep you dry only two or three times during your riding season, it can also double as an emergency top layer to ward off the cold.

How raingear is constructed…

Most raingear is made of nylon backed with polyurethane, PVC or other substances that make the garment waterproof.

Some raingear manufacturers line their garments with their own proprietary "waterproof/breathable" material.

You benefit because such fabrics prevent water from flowing into a garment while allowing moisture to vent out.

This capability keeps you comfortable in a wide variety of temperatures and moisture conditions.

High-end rain suits are made of Gore-Tex -- the most widely used waterproof/breathable fabric.

Any product using Gore-Tex must pass rigorous tests and incorporate that brand's specific sewing methods, threads, tapes and coatings into the garment.

That's why Gore-Tex products are so reliable -- and can be pricey.

Raingear features you should look for…

• Waterproof seams and zippers…

Look for gear with sealed, waterproof seams and covered zippers that prevent water leaks when you're traveling in the rain at high speeds or for long hours -- or both.

• Heat-resistant lower legs…

The lower sections of some rain pants are protected with a melt-proof material such as Nomex.

This coating prevents the pants from disintegrating if you brush the protected portion against your bike's hot muffler.

• Easy to pack…

Look for gear that packs -- and unpacks -- easily and conveniently and takes up a minimal amount of space.

• Easy to put on…

You want raingear you can pull on easily over your boots and heavy riding jacket.

Look for pants lined with a polyester mesh, generous leg openings and strategically-placed zippers that make the garment easy to slip into.

• Convenient, waterproof closures…

Once you pull on your raingear, you want waterproof zippers and closures that work easily with gloved hands.

You want elastic drawstrings or Velcro closures on jacket and pants hems and cuffs, and at the waist.

Convenient closures allow you to adjust the garment and ensure proper fit.

• Non-slip seat…

Pants that have a non-slip seat help you to stay where you belong on the saddle.

• Comfort…

Make sure your raingear fits right. Tight-fitting gear will restrict your movements, and loose-fitting gear will flap in the wind.

Your high jacket collar should seal out the rain. And the bottom of your jacket should fall well below your waist to keep the wind and water from blowing up your back.

• Pockets…

Large, waterproof pockets give you a convenient place to keep your wallet, keys and other stuff without having to dig through layers of clothing.

But, make sure they close securely and stay dry inside.

• High visibility…

Look for gear equipped with lots of strategically-placed reflective material that makes you stand out in low-light, low-visibility situations.

So even if your raingear remains rolled up in your saddlebag most of the time, go the extra mile to select quality equipment.

You'll be so glad you did every time you're on the road in a downpour.

Click here for more information about selecting raingear and other rider equipment.
---
Cool Product…Crampbuster
The Crampbuster motorcycle cruise assist lets you relax your grip on the accelerator and relax your muscles -- especially during long rides -- while you maintain full throttle control.

This piece of hard, twisted plastic comfortably fits your hand and provides a simple, elegant solution to a number of nagging problems motorcycle riders must deal with.

Besides enabling you to reduce hand fatigue and cramping while maintaining full throttle control, it…

• Makes it easier for you to operate the throttle

• Doesn't lock the throttle at a particular speed

Click here to learn more…
---
Blatant self promotion...Books by Brian Salisbury
Please join me on my trips to popular destinations and rides down roads less traveled...
I recently launched a three-book series containing motorcycle travel and adventure stories and observations drawn from my jaunts throughout the United States and Canada.
Click here for a complete description of these books along with the road tales they contain...
Or click on any of the following book covers to go directly to them at Amazon…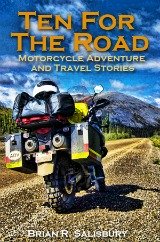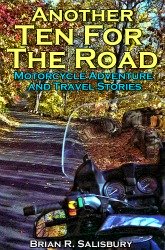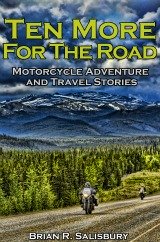 ---
For more information…
For a wealth of information to help you…
• Ride more safely and comfortably…
• Select gear that best suits you, your motorcycle and riding style…
• Get the most enjoyment every time you ride…
Or if you'd like a free subscription to Savvy Motorcyclist E-zine…
Visit my website at...
www.Motorcycle-Gear-and-Riding-Info.com

---
Copyright 2013 and Ever After
Motorcycle-Gear-and-Riding-Info.com
---