Cruz Tools Roadtech Tool Kit…
My Choice For My Motorcycle
I equipped my new ride with a Cruz Tools tool kit shortly after I brought my motorcycle home.
I wanted to replace the wimpy tool kit that came with it. 
I got the Cruz Tools RoadTech B1 Tool Kit which is designed specifically for BMW motorcycles. 
This Cruz Tools kit has helped me to take care of the roadside repairs and basic mechanical fixes I've encountered. 
It is also well-suited to other brands of metric motorcycles.
The kit includes…
Male and female Torx wrenches

Special front axle hex adapter

Mini ratchet and socket set

Combination wrenches

Hex keys

Locking pliers

Adjustable wrench

6-in-1 screwdriver

LED flashlight

Tire pressure gauge

 
and more. 
All these tools are mechanic-grade… and lifetime guaranteed… 
The kit weighs a manageable 3.5 pounds. 
Click here to get this tool kit for your motorcycle…
Another Cruz Tools kit that's designed for Harley, Indian or other non-metric motorcycle is the Cruz Tools H3 Cruiser Tool Kit.
The Deluxe kit includes… 
Adjustable wrench...

Four combination wrenches...

Hex keys...

Spark plug socket...

6-in-1 reversible screwdriver...

Tire gauge...

Flashlight...

WD-40...

Zip ties...

Shop rag...

Bailing wire...

Locking pliers...

Electrical tape...

Spark plug gap tool

 
The tools come with a heavy-weight nylon case equipped with YKK zippers. 
Of course -- like me -- you'd much rather take care of any repairs or adjustments to your motorcycle in the comfort of your garage or driveway than in a parking lot or on the side of the road.

But if you're facing a situation that calls for hand tools, you'll be good to go with either of these kits.
Tools for your American motorcycles
You can also get this nice tear drop-shaped Cruz Tools kit for your Harley, Indian or other non-metric motorcycle.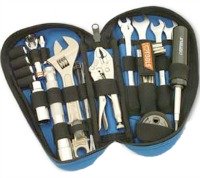 Check it out…
A basic component such as a small tool kit can make a big difference when it comes to taking care of a simple repair and continuing on with your ride or having to tough it out. 
For example, when my motorcycle flopped over because of soft dirt under the kickstand, the foot peg bent where I'd place my left foot. 
It was a simple matter to use my tool kit to replace the bent peg with the passenger peg and continue riding. 
Without the tools, I'd have had a very uncomfortable ride. 
---
Return from Cruz Tools Roadtech Tool Kits to the main 
Let's stay in touch!
Get your free subscription to..."Savvy Motorcyclist E-zine"
And you'll also receive your free copies of..."The 10 Best Motorcycle Travel and Trip Planning Websites on the Internet" ... plus the Motorcycle Safety Foundation's 58-page Motorcycle Operator's Manual.
These great resources will help you to ride better, plan your trips, enjoy the best motorcycle roads and get the most out of motorcycle riding.

Custom Search