About Us...
Benefit From My Motorcycle Riding Experience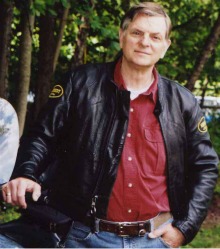 I'd like to help you get the most personal enjoyment out of motorcycle riding.
As a long-time motorcycle rider, I've traveled throughout the United States and Canada.
My trips have taken me north above the Arctic Circle in Alaska and south to Key West, Florida -- and lots of places in between.
And I've got two documented Iron Butt Association long distance rides to my credit -- which I was very proud to complete.
During the first ride I covered 1,000 miles in 24 hours. And during the second ride I covered 1,500 miles in 24 hours.
I've often traveled alone, but I've toured many miles and many days with a few highly valued riding buddies.
From my home in New York, I ride year-round through many states and in all kinds of weather.
During numerous trips, I've camped out along the way.
I can help you sort through the clutter
My travels enable me to sample and evaluate all sorts of riding gear.
I've learned how good motorcycle riding equipment should perform and how to sort through the muddle of product information.
I'd like you to gain from my equipment knowledge and motorcycle riding experiences.
You have an extensive assortment of motorcycle products to choose from. Many are made of high-tech materials and offer unique features.
I'll help you sort through the equipment and determine which products should meet your needs and perform the way you want.
Ride safe!
Brian R. Salisbury
---
Return from About Us to the homepage for
Motorcycle Gear and Riding Info
---
Let's stay in touch!
Get your free subscription to..."Savvy Motorcyclist E-zine"
And you'll also receive your free copies of..."The 10 Best Motorcycle Travel and Trip Planning Websites on the Internet" ... plus the Motorcycle Safety Foundation's 58-page Motorcycle Operator's Manual.
These great resources will help you to ride better, plan your trips, enjoy the best motorcycle roads and get the most out of motorcycle riding.

Custom Search