"Essential Guide to Motorcycle Travel"
For Short Rides or Long Treks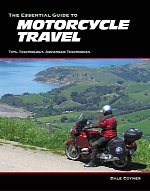 "Essential Guide to Motorcycle Travel" contains just about all the information you need to prepare your bike and yourself for a weekend jaunt or a multi-year touring odyssey.
However, it doesn't go overboard with too much info on any one subject.
Written by  Dayle Coyner, owner of Open Road Outfitters, a motorcycle accessory shop in Sterling, Virginia, this book works for seasoned riders and others just beginning to tour on two wheels.
"Essential Guide to Motorcycle Travel" is divided into four major sections and contains over 250 high-quality color photos of riding gear, accessories and modifications to assist you in...
Trip planning...

Rider preparation...

Cycle outfitting...

Putting it all together...

Staying organized on the road...
---
Click here for a great place to get your own copy of
"Essential Guide to Motorcycle Travel"
---
Coyner lays out the all steps you need to take to pull together a worry-free, fun trip. Such a trip starts with the rider becoming physically and mentally prepared.
When you're on the road, good riding gear can make a dramatic difference in comfort and safety as you drive in and out of changeable weather.
Coyner describes key aspects of personal preparation. He goes into major kinds of riding gear and how it all should work in unison to control body temperature and moisture.
As cycle technology has evolved, so have aftermarket accessories designed to handle virtually every special need.
Coyer helps you to apply this technology.
He gives you step-by-step instructions to make electrical modifications to your machine.
He provides information about high-performance lighting and shows how you can make your bike more visible to other drivers.
Other sections cover…
GPS and other cockpit instruments

Entertainment and communications devices

Cameras and camcorders

Ergonomic enhancements

Suspension improvements

Luggage and storage additions

Motorcycle trailers
Finally, the book takes you through pre-trip preparations that put you, your bike and everything else in order so you can enjoy worry-free touring.
This is a very thorough but not overwhelming book that gives you many tips and advanced techniques -- along with lots of practical information -- to plan and enjoy motorcycle touring.
Whether you're a seasoned motorcycle traveler or you're or contemplating your first multi-day jaunt, this book will provide valuable pointers to help you to prepare and enjoy taking off on two wheels.
---
Return from "Essential Guide to Motorcycle Travel"
to the main Motorcycle Books DVDs page…
---
Let's stay in touch!
Get your free subscription to..."Savvy Motorcyclist E-zine"
And you'll also receive your free copies of..."The 10 Best Motorcycle Travel and Trip Planning Websites on the Internet" ... plus the Motorcycle Safety Foundation's 58-page Motorcycle Operator's Manual.
These great resources will help you to ride better, plan your trips, enjoy the best motorcycle roads and get the most out of motorcycle riding.

Custom Search