Leatherman Wave-Plus
Multi-tool
Gives You 18 Tools in One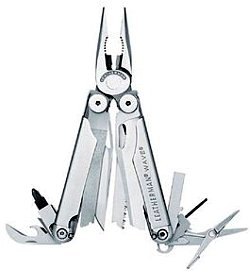 Leatherman new wave multi-tool gives you 17 rugged hand tools in one compact, high quality unit.
Plus, you can expand your Wave's capabilities with an optional kit containing 21 double-ended bits.
For motorcycle riders, this multi-tool is very useful in two ways…
When your bike's storage space is limited, you can depend on the Wave as a primary emergency tool that you can carry on your hip or tuck away in a tight corner.
Even if you have room to carry a well-equipped tool kit, you can reach for this multi-tool first before digging out the big guns.
I've been carrying a Leatherman tool of some sort on my motorcycle for years. Since the company's introduced its first multi-tool during the mid-1970s, they've continually rolled out new additions to their line -- which has become quite extensive.
---
Click here for a great place to get your own
Leatherman New Wave multi-tool
---
These days, besides relying on the Wave for motorcycle-related chores, I keep this tool handy on long trips to take care of all sorts of jobs that crop up when traveling.
Leatherman upgraded their original Wave multi-tool a few years ago. This new version includes larger knives, stronger pliers and longer wire cutters than the first version. It also has all-locking blades.
The pliers can withstand more than double the previous model's squeezing load, and you can open the self-locking blades with one hand.
Here's what you get with the new Wave…
Needlenose pliers
Regular pliers
Wire cutters
Hard-wire cutters
Clip-point knife
Serrated knife
Saw
Scissors
Wood/metal file
Diamond-coated file
Large bit driver
Small bit driver
Large screwdriver
Ruler (8 inches)
Bottle/can opener
Wire stripper
Two double-ended bits
Lanyard attachment
All blades and tools are 100 percent stainless steel.
The whole thing measures 4-inches long when closed and 6.3-inches opened...and you can carry it in a handy sheath.
On top of everything, you get the benefit of the company's 25-year warranty...
---
Click here for a great place to get your own
Leatherman New Wave multi-tool
---
Return from Leatherman Tool to the Cycle Gadgets page…
---
Let's stay in touch!
Get your free subscription to..."Savvy Motorcyclist E-zine"
And you'll also receive your free copies of..."The 10 Best Motorcycle Travel and Trip Planning Websites on the Internet" ... plus the Motorcycle Safety Foundation's 58-page Motorcycle Operator's Manual.
These great resources will help you to ride better, plan your trips, enjoy the best motorcycle roads and get the most out of motorcycle riding.

Custom Search