Multitool-Carabiner
Gives You a Knife, Screwdrivers,
Key Ring and Lots More
This multitool-carabiner works nicely as a handy screw driver and a sharp knife.  I also use mine as a sturdy key ring.  I hang it from a belt loop or attach it securely to part of my motorcycle's frame. 
It's a perfect accessory that combines utility and convenience. 
The tool's spring-loaded gate and threaded "keeper" make sure the carabiner closes securely -- and stays closed.
Made by EDCfans, this multi-purpose tool measures 4.3-in by 2.5-in and provides you with a…
Carabiner design for easy attachment

Locking knife blade

LED light

Phillips screwdriver

Slotted screwdriver

Glass breaker

Bottle opener

Sturdy key ring capability

 
This tool is made of stainless steel and aluminum alloy.  It looks good and is manufactured nicely.
---
Click here for a great place to get your own
---
As you can see in the photo, in addition to carrying important keys I can remove easily from the carabiner, I use it to carry and give me quick access to my miniature-sized…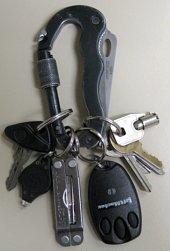 LiftMaster garage door opener
Leatherman "Micra" multi-tool
LED thumb light
The multitool-carabiner is large and strong enough to carry, support or attach lots of things motorcycle riders hang on their keychain. 
For me, the multitool carabiner has become a regular part of my riding gear that I depend upon
It's a real problem when I forget to hang it from a belt loop and wind up misplacing it with all my keys.
One other satisfied user of this multitool says; "I lose clip and pocket knives all the time and got tired of buying new ones. 
"I just throw this on my belt loop and haven't lost it after months. 
"Everything on it works great. 
"The Phillips and flat head bits are handy. And the light has worked well, too."
And this user comments: "This multitool is pretty awesome. Unfortunately, someone liked it a little too much and clipped it off of my parked motorcycle. Bummer. 
"I ordered another right away."
Perhaps the carabiner tool's main drawback is that its strength and versatility make it tempting to hang just about any small item from it that you'd want to keep handy. 

I know if I'm not careful, the thing could wind up looking like a janitor's oversized key ring festooned with jingling hardware.
Maybe it already looks that way.
---
Return from Multitool Carabiner to the
Cycle Gadgets and Goodies Page…
---
Let's stay in touch!
Get your free subscription to..."Savvy Motorcyclist E-zine"
And you'll also receive your free copies of..."The 10 Best Motorcycle Travel and Trip Planning Websites on the Internet" ... plus the Motorcycle Safety Foundation's 58-page Motorcycle Operator's Manual.
These great resources will help you to ride better, plan your trips, enjoy the best motorcycle roads and get the most out of motorcycle riding.

Custom Search