Great info for great riding

16 Surprising Realities of Owning and Riding a Motorcycle
When you first ride a motorcycle either as a driver or passenger, you're in for lots of new sensations and surprising realities.

Sure, the entire feeling of being out there in the wind while whipping along a paved road or dirt trail is new, different and exciting.

But after you've taken a few rides and gotten used to the big stuff, you start to tune into some of the lesser-known realities of motorcycle riding.

Over time, you're exposed to things that make riding and owning a motorcycle unique.

I know there's lots of stuff that makes motorcycle riding different. But in no particular order, here's my list of motorcycle riding realities...

1) Former motorcycle riders…

Strangers, usually guys, will walk up and tell you they once owned a motorcycle -- sometimes a bike just like yours -- and they figure you want to know about it. You get to hear lots of "those were the days" stories.

2) Wannabe motorcycle riders…

People -- friends, acquaintances or otherwise -- will tell you they're "thinking of" buying a motorcycle, but they just haven't gotten around to it…or they once considered buying a motorcycle, but family members persuaded them not to.

3) People "who know"…

Many individuals think it's important to tell you they know someone who knows someone who was injured -- or worse -- when riding a motorcycle.

4) Accidents do happen…

Unfortunately, if you ride, you probably will have some sort of accident. It might happen when you're traveling only five miles per hour or maybe you'll simply lose your balance after rolling to a stop. Be prepared. Wear protective gear and hone your driving skills.

5) Kids…

Kids in cars will watch you. And they'll go nuts when you give them a thumbs up or even a slight nod of your head in recognition.

6) Dogs…

Dogs in cars and trucks will jump around their vehicle to keep you in sight. Watch out for dogs in yards or near the road. You never know when one will take a run at you.

7) Smells…

You become acutely aware of smells emanating from your surroundings. That's why, even at night, your nose will tell you when you're riding near corn fields, mowed grass, lakes, dead skunks, dairy farms, some guy blowing cigar smoke out of his car window and lots more.

8) Narcissism…

You'll find yourself glancing at your reflection in store windows and elsewhere because you know you and your motorcycle look cool.

9) You disappear…

You become invisible to many other drivers and pedestrians. Drive accordingly.

10) Deer…

Deer standing near or in the road are unpredictable. And frequently you won't see them until they're dangerously close.

11) Slow drivers…

Slow drivers in the fast lane can cause you to do stupid things in order to pass them.

12) Police…

Whenever you decide to do something stupid, such as cross the solid white lines to pass the slow driver on a beautifully twisty road, the law is watching. You get busted.

13) Bugs…

All sorts of insects -- including those that sting or bite -- will crash into your body or enter any opening in your clothing or helmet. Always ride with your mouth covered or closed.

14) Distracted drivers…

When you see a driver texting, talking on the phone or otherwise distracted by some gadget, steer clear as quickly as possible. There's a strong possibility he/she could run you off the road.

15) Rain denial…

Even when you know it's going to rain, you'll wait until you're wet and must search for a safe place to stop and pull on your rainsuit.

16) Gas gauge denial…

You'll learn exactly how far your motorcycle can go on a full tank of gas when you let it run out -- sometimes two or even three times.

# # #

Do you have your own or additional realities of motorcycle riding? Please share them with us...
---
Cool Product…Dynaplug Tubeless Tire Repair Tools

The entire line of Dynaplug tire repair tools give you a quick and reliable solution to plugging punctures in your motorcycle's tubeless tires.

They're compact, easy to use and work great in emergencies. And what flat tire isn't an emergency?

They're all made in the USA.

Click here to learn more…
---
Blatant self promotion...Books by Brian Salisbury
Please join me on my trips to popular destinations and rides down roads less traveled...
I recently launched a three-book series containing motorcycle travel and adventure stories and observations drawn from my jaunts throughout the United States and Canada.
Click here for a complete description of these books along with the road tales they contain...
Or click on any of the following book covers to go directly to them at Amazon…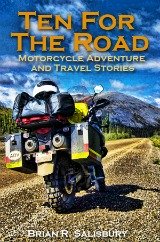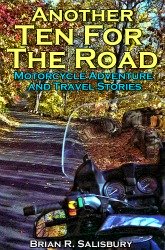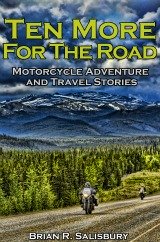 Here's another...

I've taken all the information in my website describing riding techniques for dangerous situations and added to it in the book "High Risk Motorcycle Riding."

Here's information you can put to good use to ride smart and well prepared when you're on the road and the going gets tough.

Click here for a complete description of this book along with the high risk riding tips it contains for riding at night, in the rain, in cold weather and across long distances...and more...

Or click on the following book cover to go directly to the book at Amazon…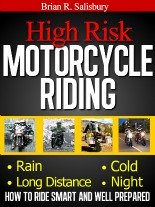 ---
For more information…
For a wealth of information to help you…
• Ride more safely and comfortably…
• Select gear that best suits you, your motorcycle and riding style…
• Get the most enjoyment every time you ride…
Or if you'd like a free subscription to Savvy Motorcyclist E-zine…
Visit my website at...
www.Motorcycle-Gear-and-Riding-Info.com

---
Copyright 2014 and Ever After
Motorcycle-Gear-and-Riding-Info.com
---