Motorcycle Riding Stories in
"Ten For The Road"
Give You a Variety of Adventure and Travel Tales...

Here's the Three-Book Series

Motorcycle riding stories in Ten for the Road by Brian Salisbury offers you a mix of travel and adventure stories and observations drawn from the author's many years of motorcycle jaunts throughout the United States and Canada.
Join him for trips to popular destinations and rides down roads less traveled.
This is one of the books in Salisbury's three-book "…for the Road" series of motorcycle riding stories and observations from the open road.
The other two books in the series are Another Ten for the Road and Ten More for the Road.
When you're on the road, every mile offers a unique experience in its own right…and sometimes more so when encountered on a motorcycle. The feel of the ride becomes part of your memories…as much as the landscape and the people you meet along the way.

Salisbury says that shortly after he'd gotten his first motorcycle, he discovered the enjoyment of touring and travel.
Before he'd take off on each new adventure, his father -- who once rode a motorcycle himself -- would say, "Take a second look for me."
And he always did because he wanted to tell his dad what he saw and what happened along the way. 
Salisbury says he still travels with the idea of looking twice so he can tell others what made each ride and destination special.
In his three books, experience these motorcycle riding stories with him…
Just click on any of the following book covers to connect with your reading choices...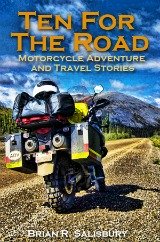 Visit Woodstock decades after the summer of 1969…
View Bannerman Castle on the Hudson River…
Travel to the mysterious Anasazi cliff dwellings…
See the spectral "Rock with wings" on the prairie…
Ride the beautiful, risky Million Dollar Highway…
Be thankful for the help of strangers when traveling…
Explore remote ice caves in the Catskills…
Attempt to cover 1,000 miles in 24 hours…
Decide if I saw a ghost during a night ride across Maine…
Endure the original dirt and gravel Alaska Highway…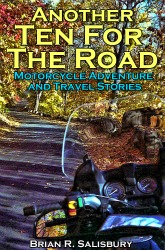 Ride Old Mine Road through Delaware River history…
See the Petrified Forest's Technicolor beauty…
Cruise the Blue Ridge Mountains…
Lean into 318 turns in 11 miles at Deals Gap…
Meet Death Valley's amazing diva…
Enjoy chicken B-B-Q in the Vermont woods…
Join me on my 24-hour, 1,500-mile Iron Butt ride…
Hear weird geology at Ringing Rocks Park…
A few thoughts on choosing your riding companions…
Meet my unlikely Alaska Highway savior…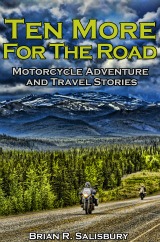 Ride the Mother Road -- Route 66…
Discover a lonesome grave in a country cemetery…
Hear why it's important to learn your limitations…
Experience my first motorcycle, first police stop…
Learn how I keep my motorcycle repairs simple…
Ramble back though time in Roxbury…
Cruise across Roebling Bridge where boats once floated…
Take a slow ride down Natchez Trace Parkway…
See a rock-eating dinosaur in the Sawtooth Mountains…
Travel along Italy's twisty Amalfi Drive…
Join the author as he travels down the road…
And it's a good bet you'll enjoy this three-book series of motorcycle riding stories even if you don't happen to ride a motorcycle.
---
---
Return from these "For the Road" books
---
---
Let's stay in touch!
Get your free subscription to..."Savvy Motorcyclist E-zine"
And you'll also receive your free copies of..."The 10 Best Motorcycle Travel and Trip Planning Websites on the Internet" ... plus the Motorcycle Safety Foundation's 58-page Motorcycle Operator's Manual.
These great resources will help you to ride better, plan your trips, enjoy the best motorcycle roads and get the most out of motorcycle riding.

Custom Search