Great info for great riding

Punctured tire: Know how to remedy this common motorcycle mishap
You have no control over many problems that can disrupt a nice motorcycle ride. For example: traffic jams, bad drivers, bad weather or police radar.

But you can get the upper hand on this one common ride-stopping mishap: a tire puncture.

By planning ahead, you can prevent a tire puncture from causing little more than a temporary disruption in your ride.

How I repair a tire puncture…

Even when my motorcycle is parked safely at home, discovering that one of its tubeless tires has gone flat is a downer.

Getting a flat tire when I'm traveling is a major bummer.

And having a tire lose air from a puncture while I'm swerving along a twisty road can be extremely dangerous and nerve wracking.

But with a bit of preparation, if I do get a tire puncture, I can quickly and efficiently…

• Locate and remove the cause of the puncture…

• Plug the hole…

• Re-inflate the tire…

• Get on with my ride…

Disclaimer: I'm not advising anyone to plug or ride on a punctured tire that's been plugged…especially if the puncture is in the tire's sidewall or if you consider the tire unsafe or beyond repair.

If riding on a plugged tire makes you uncomfortable, call for roadside assistance to haul your motorcycle to a safe haven, then replace the tire.

My puncture repair kit…

I actually carry three types of puncture repair kits on my motorcycle.

But the one I reach for first is a "sticky string" tire plugging kit used by auto mechanics worldwide.

Such kits are inexpensive and easy to find.

Sticky strings -- also called rope plugs -- give me a versatile and reliable means to plug most punctures with one string.
For large punctures, I can use more than one string.

I also carry a compact electric air compressor/pump to re-inflate the plugged tire. The pump runs off my motorcycle's battery power.

Set up your repair tools, then plug the tire…

These are the key steps I take when plugging a tire…

• Park my motorcycle on a solid, level surface…

• Locate the puncture…

• Lock the tire so I can easily repair the puncture…

• Rear tire puncture: shift into gear…

• Front tire puncture: tie down the front brake lever…

• Prepare the string plug so I can work quickly…

• Remove the puncture-causing screw or nail…

• Smooth the hole with the kit's reaming tool…

• Insert a tire-cement-coated string plug…

• Inflate the tire…

• Test the plug for air leaks…

• Trim the excess string plug…

Tire repair tips…

Check out this video to see how you can plug a tire using a sticky string.

In this video, you'll see how quickly the tire loses air if the string isn't ready to insert soon after removing the screw or nail then reaming out the hole in the tire.

By preparing the plug in advance by threading it onto the tool and coating it with cement, you can insert it before the tire loses too much air.

You'll also see the benefit of putting the transmission in gear to prevent the rear tire from moving while you're working on the puncture.

The fellow plugging the tire in this video uses CO2 cartridges to re-inflate the tire.

I'd rather use the compact electric tire pump I carry.

You could also use a compact manual tire pump, especially if you're concerned about depleting your motorcycle's battery.

And one more thing...

Inspect your tire plugging kit every few months and especially before you head out on a long trip.

Make sure the sticky strings are still sticky and the tube of cement hasn't hardened or dried up.

Yes, getting a flat tire is a major bummer.

But having the tools and know-how to make an on-the-spot repair can save you lots of time and aggravation.

You needn't sit on the side of the road waiting for your friend with a truck or your roadside assistance plan to come to the rescue.

# # #
---
Must Have Product...Slime Sticky String Tire Repair Tools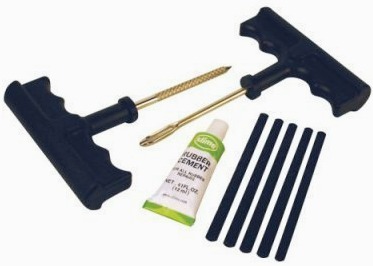 This practical, easy to find "sticky string" tire repair system provides an easy way for you to plug punctures in your motorcycle's tubeless tires.

Keep a kit handy on your motorcycle.

Click here to get one or more for each of your two- and four-wheeled vehicles.
---
Compact Air Pump to Inflate Your Tire
Click here to check out this mini electric air pump. It will store easily on your motorcycle.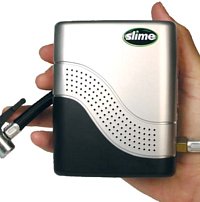 ---
Cool Product…Dynaplug Tubeless Tire Repair Tools

The entire line of Dynaplug tire repair tools give you a quick and reliable solution to plugging punctures in your motorcycle's tubeless tires.

They're compact, easy to use and work great in emergencies. And what flat tire isn't an emergency?

They're all made in the USA.

Click here to learn more…
---
Blatant self promotion...Books by Brian Salisbury
Please join me on my trips to popular destinations and rides down roads less traveled...
I recently launched a three-book series containing motorcycle travel and adventure stories and observations drawn from my jaunts throughout the United States and Canada.
Click here for a complete description of these books along with the road tales they contain...
Or click on any of the following book covers to go directly to them at Amazon…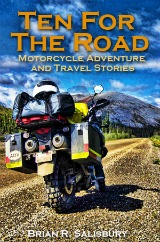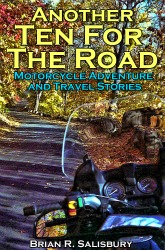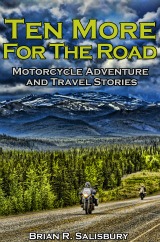 Here's another...

I've taken all the information in my website describing riding techniques for dangerous situations and added to it in the book "High Risk Motorcycle Riding."

Here's information you can put to good use to ride smart and well prepared when you're on the road and the going gets tough.

Click here for a complete description of this book along with the high risk riding tips it contains for riding at night, in the rain, in cold weather and across long distances...and more...

Or click on the following book cover to go directly to the book at Amazon…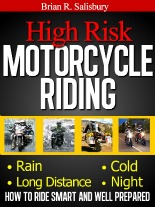 ---
For more information…
For a wealth of information to help you…
• Ride more safely and comfortably…
• Select gear that best suits you, your motorcycle and riding style…
• Get the most enjoyment every time you ride…
Or if you'd like a free subscription to Savvy Motorcyclist E-zine…
Visit my website at...
www.Motorcycle-Gear-and-Riding-Info.com

---
Media, bloggers, marketers, editors, publishers, web masters…do you need great content on your website or blog?
You can syndicate and/or republish any of this and other issues of the Savvy Motorcyclist E-zine for free.
All you have to do is include author attribution (byline/name of author) and the following statement...
"This information appears courtesy of Brian R. Salisbury's Savvy Motorcyclist E-zine."
with a backlink to...
www.Motorcycle-Gear-and-Riding-Info.com
---
Copyright 2015 and Ever After
Motorcycle-Gear-and-Riding-Info.com
---