Great info for great riding

Protect your hearing…ride safer, longer, more comfortably
When I first started riding motorcycles, I didn't wear a helmet. The law didn't require head protection.

I rode all over the place without headgear. I took a bunch of multi-day trips that included lots of continual highspeed riding.

I experienced -- big time -- the overrated and overstated "thrill" of the wind blowing through my hair.

I also experienced the not so thrilling sting of bugs hitting my face and the uncomfortable roar of the wind rushing past my ears…a debilitating noise that continued for hours in my head after I'd parked my motorcycle for the day.

I finally got a helmet…

After a year or two of helmetless riding, I received for my birthday a three-quarter-coverage helmet equipped with a face shield.

Immediately the bugs stopped peppering my face and the wind stopped roaring past my ears. I could actually hear people talking to me after hours of high speed riding.

I took my hearing protection to another level when I started wearing the same low tech, low cost ear plugs when riding that I used at the rifle range.
And that's what I've been doing ever since. I still use the same basic ear plugs I've always used, but now I wear a full-coverage helmet.

When riding, I can hear everything that's important such as vehicles approaching alongside or from behind, horns, sirens, even voices.

Studies show how noise impacts us…

Studies show that people working in excessively noisy environments feel fatigued sooner than those in quieter settings.

They also show that noise fatigue can cause drowsiness, irritability and diminished decision-making ability.

Research with airplane mechanics not only confirmed the negative effects of excessive noise on people, it found that these effects are cumulative.

The mechanics felt progressively sleepier and less energetic day after day.

As those symptoms increased so did their reaction times. And we all know that having sharp reaction times are a crucial element of safe motorcycle riding -- especially when you're covering roughly 80 feet per second at a sedate 55 miles per hour.

Riding quieter helps you ride longer…

Another thing…multi-day touring riders typically cover the most miles during the first days of a trip. Their ability to maintain high daily mileage decreases every day due to "creeping" body fatigue.

Ear plugs will help keep excessive wind noise from wearing you down during long rides so you can ride longer and more comfortably.

Basic ear protection rated to reduce sound by at least 26 decibels will dramatically reduce if not eliminate the wind noise that can cause us riders to experience hearing damage, noise fatigue and diminished reaction times.

You have lots of earplugs to choose from. Try a few to zero-in on a design and material that works and feels best for you.

This simple product can make the difference between: "I can you now" and "I can't hear anything."

# # #

My thanks to Joe Beige, Safety Officer of the Harley Owners Group's Long Island Chapter, for his permission to use information appearing in his "Riding on the Safe Side" column of the chapter's newsletter.
---
Bell helmet sale…up to 50 percent off…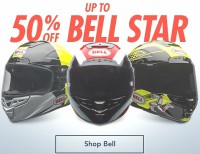 You have lots of choices when it comes to selecting a motorcycle helmet…including a Bell helmet.

Bell's product range includes a helmet for every type of rider out there. And the quality and comfort of these helmets places them among the best.

A few of these helmets are on sale for as much as 50 percent off.
---
Must Have Product...Slime Sticky String Tire Repair Tools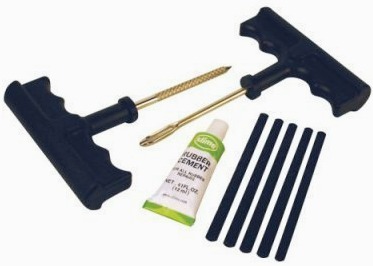 This practical, easy to find "sticky string" tire repair system provides an easy way for you to plug punctures in your motorcycle's tubeless tires.

Keep a kit handy on your motorcycle.

Click here to get one or more for each of your two- and four-wheeled vehicles.
---
Compact Air Pump to Inflate Your Tire
Click here to check out this mini electric air pump. It will store easily on your motorcycle.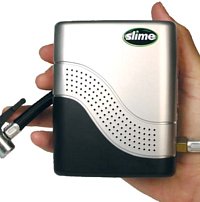 ---
Cool Product…Dynaplug Tubeless Tire Repair Tools

The entire line of Dynaplug tire repair tools give you a quick and reliable solution to plugging punctures in your motorcycle's tubeless tires.

They're compact, easy to use and work great in emergencies. And what flat tire isn't an emergency?

They're all made in the USA.

Click here to learn more…
---
Blatant self promotion...Books by Brian Salisbury
Please join me on my trips to popular destinations and rides down roads less traveled...
I recently launched a three-book series containing motorcycle travel and adventure stories and observations drawn from my jaunts throughout the United States and Canada.
Click here for a complete description of these books along with the road tales they contain...
Or click on any of the following book covers to go directly to them at Amazon…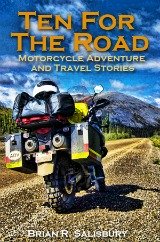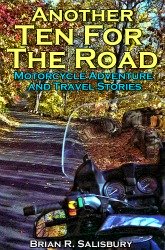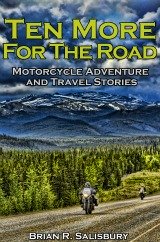 Here's another...

I've taken all the information in my website describing riding techniques for dangerous situations and added to it in the book "High Risk Motorcycle Riding."

Here's information you can put to good use to ride smart and well prepared when you're on the road and the going gets tough.

Click here for a complete description of this book along with the high risk riding tips it contains for riding at night, in the rain, in cold weather and across long distances...and more...

Or click on the following book cover to go directly to the book at Amazon…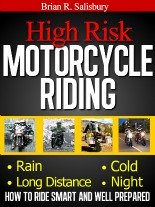 ---
For more information…
For a wealth of information to help you…
• Ride more safely and comfortably…
• Select gear that best suits you, your motorcycle and riding style…
• Get the most enjoyment every time you ride…
Or if you'd like a free subscription to Savvy Motorcyclist E-zine…
Visit my website at...
www.Motorcycle-Gear-and-Riding-Info.com

---
Media, bloggers, marketers, editors, publishers, web masters…do you need great content on your website or blog?
You can syndicate and/or republish any of this and other issues of the Savvy Motorcyclist E-zine for free.
All you have to do is include author attribution (byline/name of author) and the following statement...
"This information appears courtesy of Brian R. Salisbury's Savvy Motorcyclist E-zine."
with a backlink to...
www.Motorcycle-Gear-and-Riding-Info.com
---
Copyright 2015 and Ever After
Motorcycle-Gear-and-Riding-Info.com
---