Great info for great riding

Motorcycle Night Riding Survival
Night riding comes with the territory when you travel by motorcycle. It can be exhilarating and it's always dangerous.

Your biggest danger is your inability to see and be seen.

Here are ways to help you ride as safely as possible after the sun goes down…

Upgrade your motorcycle's lighting

After dark, your world is limited to the portion of road and adjacent landscape illuminated by your motorcycle's headlight.

Make sure the light beam is aimed high enough to reach as far ahead as your state law allows.

If you have wimpy lights or you want to pump out as much illumination as your bike's electrical system can handle legally, consider replacing your bike's headlamp bulb(s) with a higher wattage version.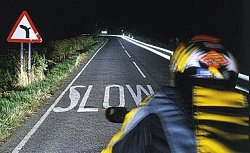 Increase your visibility
Do whatever you can to make other drivers see you quickly and clearly…
Besides giving you additional illuminating power, a set of auxiliary lights up front makes you stand out more prominently to oncoming vehicles than a motorcycle equipped with a single headlight.
Plus, extra lights help to identify you sooner as a motorcycle rather than a car with one blown headlight.
Make sure your tail light works and it's big and bright enough to be seen easily.
Add reflective tape to your bike…
Put reflective tape on surfaces typically illuminated by other motorists' headlights, such as the backs of your saddlebags and tail bag and rear fender.
Add reflective material to your clothes…
Apply reflective tape or reflective material to your riding gear and clothing -- especially if your gear is black or another dark color, including red.
For example, wrap a reflective arm band around each jacket sleeve or a longer reflective band around the bottom of each leg.
Better yet, wear a high visibility reflective vest.
Make your helmet stand out at night…
Apply reflective tape on the front, back and sides of your helmet to catch light beams from headlights and street lamps.
Make sure you can see clearly
After you've gone the extra mile to make sure other drivers can see you, make sure you can see them. Keep your eye protection clear and clean.
Replace a scratched faceshield. It can ruin your ability to see clearly when the light from other drivers' headlights bounces off the scratches.
Use other vehicles' headlights to your advantage
While keeping a safe distance between you and a car in front, use that car's headlights to scope out the road ahead. I did this quite a bit on unlit country roads when I was riding a bike that had a very weak electrical system.
And a car's lights will alert you to its approach from the opposite direction. This is especially useful on winding roads when you can see headlight beams hitting the road, trees and overhead power lines long before you see the car itself.
Mind your speed
Adjust your speed so you don't outrun your headlight's ability to illuminate the road ahead -- especially if you're on a dark, winding country road. Plus, you don't want a speeding ticket. It's easy for troopers to park where you can't see them in the dark.
Watch for animals on four legs and two legs
Wild animals of all sizes, especially deer, are most active between dusk and dawn.
Continually scan the road as far ahead as possible to spot shiny eyes or movement so you can slow down or otherwise avoid an accident.
And be aware of half-asleep, inebriated and/or otherwise distracted and dangerous two-legged animals walking or driving erratically. They can come at you from any direction.
---
Cool product…Kryptonite Cable Lock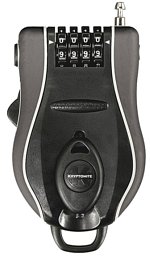 This Kryptonite Cable Lock (full name is Kryptonite R4 Combination Cable Lock) gives you a quick, compact means to secure and protect your gear.

It's especially useful when you want to make sure your helmet, tail pack, jacket or other stuff stays safe when your bike's parked out of sight for a short time.

Just loop the 36-inch-long steel cable through your gear and around part of your cycle frame, then click the cable into the lock. You release the cable by entering your own four-digit combination.

Added convenience: you needn't carry another key.

Click here to read all about it...

---
For more information…
For a wealth of information to help you…
• Ride more safely and comfortably…
• Select gear that best suits you, your motorcycle and riding style…
• Get the most enjoyment every time you ride…
Or if you'd like a free subscription to Savvy Motorcyclist E-zine…
Visit my website at...
www.Motorcycle-Gear-and-Riding-Info.com

---
Copyright 2013 and Ever After
Motorcycle-Gear-and-Riding-Info.com
---