Great info for great riding

New England Cruising and Rider's Remorse
Over the years I've enjoyed multi-day trips with only a few other motorcycle enthusiasts. It's not easy to find someone who's compatible as a rider and traveling companion for the long haul.

Recently I linked up -- once again -- with my friend Dennis who makes traveling together on our motorcycles an enjoyable and relaxing experience. He's always upbeat, even when the road, the weather or other circumstances may not be the greatest.

Every year, he takes one long motorcycle trip. And if his route comes within 500 miles of where I live in New York, I do my best to connect.

This year he was riding from his home in Florida to New York on his way to California. Part of his route included a short ride through Canada.

When he reached California, he'd ramble back to Florida.

He asked me to map out a two-day jaunt through New York and New England that would bring him close to Ottawa where he could cross into Canada.

After a few setbacks getting to New York, Dennis met me early in the morning along a scenic section of Route 9W in Rockland County, New York.

While we were eating breakfast, he told me the motel where he'd stayed the night before -- a place I'd found on the Internet -- had hourly rates…and the check-in clerk sat behind an extra thick Plexiglas barrier.

Hmmmm, I guess that's why the Michelin Guide book hadn't given it five stars.

I hoped my other bright ideas for the trip worked out better…and they did.

Across Vermont and into New Hampshire

During our first day on the road, we rode in pleasant weather along a nice mix of parkways and secondary roads through New York, across Vermont and well into New Hampshire to the town of Wolfeboro.

I chose Wolfeboro as a stopping point because it was close to the home of a cousin I'd spoken to but never met. Seeing him and his wife for the first time and discussing our common family relations was a unique experience.

The next morning, Dennis and I headed west along the twisty Kancamagus Highway through the White Mountains of New Hampshire.

This is a great motorcycle road designated an American Scenic Byway. It's a "must ride" if you're cruising through New Hampshire.

At the end of the Kancamagus, we turned north then wended our way through the Green Mountains of Vermont.

Crossing Lake Champlain

We were both surprised by the sight of the Lake Champlain Bridge -- and its surroundings -- when crossing from Vermont back into New York.

The road approaching this graceful-looking structure passes through an open, grassy, park-like setting. The bridge's surroundings are rather quiet and isolated for a major link between two states.

This bridge is relatively new, having opened in late 2011. The previous span had become extremely unsafe after 80 years of service and was demolished in 2009.

Through the Adirondacks

Now back in New York, we cruised along nearly 100 miles of mountain roads through Adirondack Park.

This vast expanse of land encompases some 6.1 million acres -- an area roughly the size of Vermont and greater than the national parks of Yellowstone, Yosemite, Grand Canyon, Glacier and Great Smoky Mountains combined.

We reached our final destination in northern St. Lawrence County close to Canada and a short ride to Ottawa. Here the United States and Canada share the St. Lawrence River as a common border.

We go our separate ways

The next day Dennis and I rode a short way together before he turned north and headed into Canada while I continued toward roads that would take me south.

After we'd logged on a bunch of miles and shared experiences together, I felt a pang of "traveler's remorse" when suddenly alone on the road.

Bummer…

We'd had a nice trip covering about 900 miles together through an interesting assortment of woodlands, mountains and small towns on easy-riding motorcycle roads.

We'd skirted a few huge thunder storms and rode in mild rain for only a few hours.

We'd stayed in nice places and enjoyed good meals -- most of the time.

By the time I got home, I'd added another 550 miles to my odometer.

And Dennis is still on the road.

Hang in there Harley Guy…ride safe.
---
Cool Product…Dynaplug Tubeless Tire Repair Tools

The entire line of Dynaplug tire repair tools give you a quick and reliable solution to plugging punctures in your motorcycle's tubeless tires.

They're compact, easy to use and work great in emergencies. And what flat tire isn't an emergency?

They're all made in the USA.

Click here to learn more…
---
Blatant self promotion...Books by Brian Salisbury
Please join me on my trips to popular destinations and rides down roads less traveled...
I recently launched a three-book series containing motorcycle travel and adventure stories and observations drawn from my jaunts throughout the United States and Canada.
Click here for a complete description of these books along with the road tales they contain...
Or click on any of the following book covers to go directly to them at Amazon…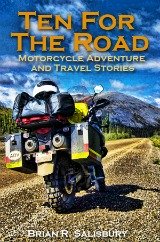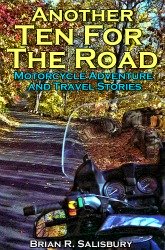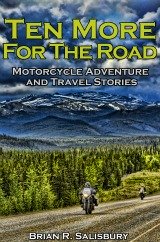 Here's another...

I've taken all the information in my website describing riding techniques for dangerous situations and added to it in the book "High Risk Motorcycle Riding."

Here's information you can put to good use to ride smart and well prepared when you're on the road and the going gets tough.

Click here for a complete description of this book along with the high risk riding tips it contains for riding at night, in the rain, in cold weather and across long distances...and more...

Or click on the following book cover to go directly to the book at Amazon…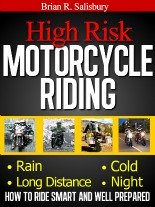 ---
For more information…
For a wealth of information to help you…
• Ride more safely and comfortably…
• Select gear that best suits you, your motorcycle and riding style…
• Get the most enjoyment every time you ride…
Or if you'd like a free subscription to Savvy Motorcyclist E-zine…
Visit my website at...
www.Motorcycle-Gear-and-Riding-Info.com

---
Copyright 2014 and Ever After
Motorcycle-Gear-and-Riding-Info.com
---