Great info for great riding

How to pick up your fallen motorcycle
One truth to owning a motorcycle is that at some point it is going to fall onto its side. And, chances are, it's going to happen more than once.

I'm not saying you're going to have an accident. I mean your motorcycle is likely to tip over or otherwise land on its side for many non-accident-related reasons.

It could happen on a busy street or in an isolated area.

Reasons why your motorcycle could tip over…

It's happened to me a bunch of times. For example, when I…

• Stepped into a pothole at a stoplight…

• Slipped on grease in a toll booth…

• Slipped on grease in slow, stop-and-go traffic…

• Made a sharp uphill turn and hit gravel…

• Slid sideways on a wet manhole cover…

• Put the kickstand down on soft dirt…

• Put the kickstand down on soft, hot tar…

• Didn't extend the kickstand far enough…and

• When a strong wind blew over my parked motorcycle.

You owe it to yourself to know how to manage this common motorcycle-riding dilemma alone. Help might not always be available.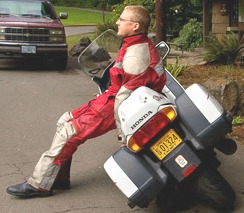 What to do when your motorcycle falls…
When your motorcycle starts falling and it becomes useless or physically dangerous to try to hold it up, you must let it go.
So now what should you do?
These are the key steps I try to remember when suddenly standing over my fallen motorcycle…
• Try to relax…
• Turn off the engine…
• Take stock of my surroundings...
• Plan my moves…lifting a motorcycle is mostly mental…
If my motorcycle is laden with a heavy tank bag, tail pack or stuff on the rear seat, I lighten the load before attempting a lift. Then I…
• Put the bike in gear so it won't roll or…
• Tie down the front brake lever to prevent roll...
• Lower the kickstand if the bike's not on top of it…
• Clear away gravel that would cause me to slip…
• Squat down with my butt in the middle of the seat...
• Grab the handle grip on the low side of the bike…
• Grab something solid under or behind the seat…
• Feet together, lift with my legs and push with butt…
• Take tiny steps back and walk the bike up…
• Readjust my feet to maintain leverage…
• Lean vertical bike onto extended kickstand, or…
• Lower the now-accessible kickstand.
Don't tip it over in the other direction…
When it's vertical and on its kickstand, I must be careful not to keep pushing and tip the bike over in the opposite direction.
It could also tip away from me if I haven't prepared for the lift.
For example, the bike could roll because I didn't put it in gear or tie down the front brake; or I didn't notice that the ground is soft or slopes down where the kickstand will land.
If help is available, accept assistance with the lift and with preventing the motorcycle from rolling or falling in the opposite direction.
Once the motorcycle is upright and on the kickstand, I'll check the levers, cables, switches and controls to make sure everything is operating properly.
Check out this video to see a method you can use to lift your motorcycle.
Practice your moves…
By using efficient lifting technique, a rider can get a fallen motorcycle weighing as much as 1,000 pounds upright.
Chances are at some point you'll face such an endeavor with your motorcycle.
You can practice your moves in a controlled setting with help available.
Lower your bike gently onto a soft mat in a clean, roomy area.
Familiarize yourself with the motorcycle's dead weight and the moves that work for you get it upright.
Prepare for success.
# # #
---
Must Have Product...Slime Sticky String Tire Repair Tools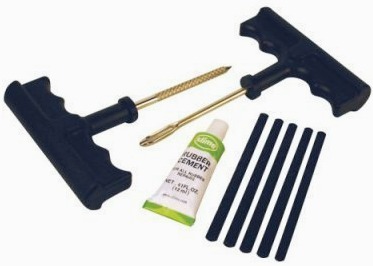 This practical, easy to find "sticky string" tire repair system provides an easy way for you to plug punctures in your motorcycle's tubeless tires.

Keep a kit handy on your motorcycle.

Click here to get one or more for each of your two- and four-wheeled vehicles.
---
Compact Air Pump to Inflate Your Tire
Click here to check out this mini electric air pump. It will store easily on your motorcycle.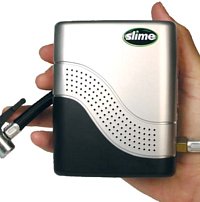 ---
Cool Product…Dynaplug Tubeless Tire Repair Tools

The entire line of Dynaplug tire repair tools give you a quick and reliable solution to plugging punctures in your motorcycle's tubeless tires.

They're compact, easy to use and work great in emergencies. And what flat tire isn't an emergency?

They're all made in the USA.

Click here to learn more…
---
Blatant self promotion...Books by Brian Salisbury
Please join me on my trips to popular destinations and rides down roads less traveled...
I recently launched a three-book series containing motorcycle travel and adventure stories and observations drawn from my jaunts throughout the United States and Canada.
Click here for a complete description of these books along with the road tales they contain...
Or click on any of the following book covers to go directly to them at Amazon…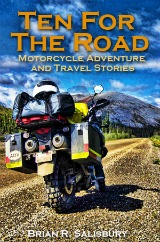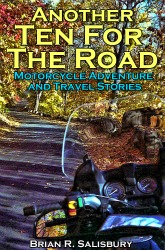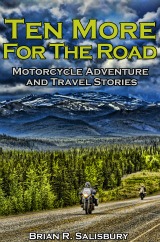 Here's another...

I've taken all the information in my website describing riding techniques for dangerous situations and added to it in the book "High Risk Motorcycle Riding."

Here's information you can put to good use to ride smart and well prepared when you're on the road and the going gets tough.

Click here for a complete description of this book along with the high risk riding tips it contains for riding at night, in the rain, in cold weather and across long distances...and more...

Or click on the following book cover to go directly to the book at Amazon…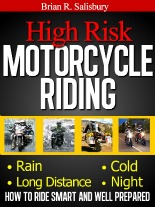 ---
For more information…
For a wealth of information to help you…
• Ride more safely and comfortably…
• Select gear that best suits you, your motorcycle and riding style…
• Get the most enjoyment every time you ride…
Or if you'd like a free subscription to Savvy Motorcyclist E-zine…
Visit my website at...
www.Motorcycle-Gear-and-Riding-Info.com

---
Media, bloggers, marketers, editors, publishers, web masters…do you need great content on your website or blog?
You can syndicate and/or republish any of this and other issues of the Savvy Motorcyclist E-zine for free.
All you have to do is include author attribution (byline/name of author) and the following statement...
"This information appears courtesy of Brian R. Salisbury's Savvy Motorcyclist E-zine."
with a backlink to...
www.Motorcycle-Gear-and-Riding-Info.com
---
Copyright 2015 and Ever After
Motorcycle-Gear-and-Riding-Info.com
---