Great info for great riding

What's your riding style? Would you choose you to ride with?
Last fall I rode through Mississippi with my cousin, Dennis, and one of his regular riding buddies, Ringo.

They'd been on the road for nearly three weeks and were heading back to their homes in Florida.

I rode down from New York to join them in the town of Tupelo, Mississippi -- Elvis Presley's birthplace.

Prior to this trip, I'd ridden many miles with Dennis, but I'd never traveled with Ringo.

We had a good ride…

For the next few days, we rode together.

We headed south from Tupelo to Natchez, where we stayed the night in a fine hotel on the banks of the Mississippi River.

The next day, we headed east on rural highways to the small town of Laurel, Mississippi.

In Laurel, we said our good-byes before the guys headed to Florida and I turned north toward New York.

Ringo said he'd enjoyed our trip together. But, what was significant to me, he also said, "I'd be happy to ride with you again."

I appreciated his sentiments. Because on more than one occasion after riding with someone for the first time, I've decided I wouldn't try it a second time.

I'm glad Ringo gave me an approving thumbs-up.

It's not easy to find a person whose riding style and personality work well with yours…both on and off the road.

I always find it amusing when someone who knows another motorcycle rider suggests I should get in touch with that person so we can go for a ride together.

It's similar to suggesting, "Hey, you're both from New York, you must have lots in common and will become fast friends."

Familiarity can breed contempt…

I've known riders who started long trips together then split up after a few days because of conflicting temperaments and riding styles.

There's a guy who contributes to one of the same Internet motorcycle discussion groups that I follow. He often brags to group members that when he rides he likes to go fast -- especially in the turns -- and to pop lengthy, high speed highway wheelies.

He says he often finds himself riding alone and way ahead of the pack because "the others can't keep up with me."

I wonder…

I suspect he's like a kid who nobody looks for when they play hide-and-seek. They let him take off and hide by himself so they can enjoy themselves without him around.

Some may question my riding habits…

I'm sure I have riding habits others might not take to.

I like to wander off my planned route onto side roads to see where they go. And sometimes they take me far off course.

And I'll pull over to take confused or slow moving critters out of the road to prevent them from getting run over.

I know Ringo had a hard time figuring out why I stopped to take turtles off the road.

And when Dennis saw a cat sitting comfortably in a sunny field, he thought I might stop to pick it up and then try to find it a home.

When considering my own idiosyncrasies as a motorcycle rider, I wonder if I could put up with someone like me as a riding companion.

Well…maybe for one or two days.

# # #
---
Cool Product…Dynaplug Tubeless Tire Repair Tools

The entire line of Dynaplug tire repair tools give you a quick and reliable solution to plugging punctures in your motorcycle's tubeless tires.

They're compact, easy to use and work great in emergencies. And what flat tire isn't an emergency?

They're all made in the USA.

Click here to learn more…
---
Blatant self promotion...Books by Brian Salisbury
Please join me on my trips to popular destinations and rides down roads less traveled...
I recently launched a three-book series containing motorcycle travel and adventure stories and observations drawn from my jaunts throughout the United States and Canada.
Click here for a complete description of these books along with the road tales they contain...
Or click on any of the following book covers to go directly to them at Amazon…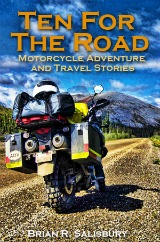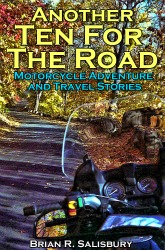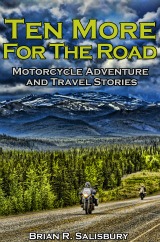 Here's another...

I've taken all the information in my website describing riding techniques for dangerous situations and added to it in the book "High Risk Motorcycle Riding."

Here's information you can put to good use to ride smart and well prepared when you're on the road and the going gets tough.

Click here for a complete description of this book along with the high risk riding tips it contains for riding at night, in the rain, in cold weather and across long distances...and more...

Or click on the following book cover to go directly to the book at Amazon…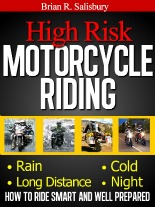 ---
For more information…
For a wealth of information to help you…
• Ride more safely and comfortably…
• Select gear that best suits you, your motorcycle and riding style…
• Get the most enjoyment every time you ride…
Or if you'd like a free subscription to Savvy Motorcyclist E-zine…
Visit my website at...
www.Motorcycle-Gear-and-Riding-Info.com

---
Media, bloggers, marketers, editors, publishers, web masters…do you need great content on your website or blog?
You can syndicate and/or republish any of this and other issues of the Savvy Motorcyclist E-zine for free.
All you have to do is include author attribution (byline/name of author) and the following statement...
"This information appears courtesy of Brian R. Salisbury's Savvy Motorcyclist E-zine."
with a backlink to...
www.Motorcycle-Gear-and-Riding-Info.com
---
Copyright 2015 and Ever After
Motorcycle-Gear-and-Riding-Info.com
---