Great info for great riding

Here's the "secret" to riding warm when the weather turns cold
A good friend and fellow motorcycle rider who lives in Florida has a tough time understanding why I like to ride in cold weather.

Actually, I enjoy riding in the cold, but I certainly don't enjoy being cold when I ride.

When the weather turns cold, I want to be warm and comfortable when I'm on the road.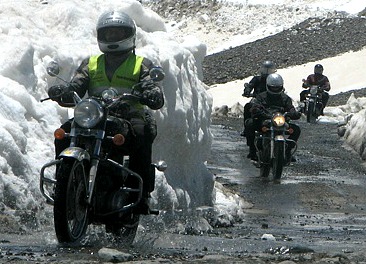 For me, cold weather riding has lots of advantages. For example…

You can ride year-round, or at least when the roads are free of snow or ice.

When the days get shorter and temperatures stay consistently low, many roads and areas crowded by cars and travelers during warmer months free up and become more inviting.

You can really enjoy those winding roads and interesting destinations when they're empty and all yours.

And after the leaves fall, areas previously hidden by foliage take on a new look. Now you can see waterfalls, rock formations and other features usually blocked from view.

Whether you're riding in frosty temperatures by choice or by chance, you can remain comfortable and focused on the road and on your driving when you're properly equipped to manage the cold.

Here's my "secret" to staying warm while riding in cold weather…

Dress in layers.

Yes…I realize the concept of dressing in layers to stay warm is not new.

However, recent advances in motorcycle clothing have made riding gear more effective than ever at blocking the wind and helping you maintain a comfortable body temperature.

Today's specialized riding gear goes a long way toward keeping all your parts warm when you're sitting upright on your motorcycle and getting hammered by a constant flow of cold air.

Thermal base layer
Start with a base layer of snug thermal underwear -- top and bottom -- made of synthetic fibers that wick away moisture while keeping you warm.

An important feature to look for in such garments is strategically-placed wind-blocking panels on your torso and legs.

Middle wind-blocking layer

For extra protection against icy winds, add a specialized wind-blocking pullover on top of your riding shirt.

Windproof outer layer

You need a motorcycle jacket and motorcycle pants made of leather or one of the synthetic fibers to give you a reliable windproof outer layer.

I prefer synthetics due to their flexibility and versatility.

I look for garments that have a breathable inner layer of Gore-Tex or a similar material.

Keeping your feet and hands warm

Your body concentrates on circulating blood to your brain and internal organs to keep them warm. That's why your hands and feet can suffer when temperatures drop. They need effective protection from the cold.

Motorcycle boots

Key features of good cold weather motorcycle boots include the…

• Right fit. You want room inside to put on a warm pair of sox and allow good circulation.

• Right height. Your boots should reach well above your ankles. A good boot height helps to windproof your feet and shins.

Motorcycle gloves

Key features of good cold weather gloves include…

• A snug but not a tight fit. You might even want room inside so you can wear a separate liner glove for extra warmth.

• Tall, wind-blocking cuffs -- gauntlets -- that cover your wrist and the bottom of your coat sleeve.

• A hook and loop strap around your wrist that makes each glove wind-proof and keeps it firmly in place.

• Effective insulation such as Thinsulate. And you want this insulation to stay in place when you pull your gloves on or off.

Final tips…

Wear a full-coverage helmet that keeps your head warm while also protecting it.

Wear a balaclava, neck gaiter and/or scarf to keep the wind from drifting down the back or front of your neck.

Installing a windshield or increasing the size of your current windshield will increase your riding comfort and help reduce riding fatigue.

Getting the right mix of cold weather clothing might require a few test rides to determine which gear works best under certain circumstances.

But, once you've determined the most effective equipment combinations, cold weather motorcycle riding becomes a very satisfying and enjoyable experience.

Click here for more info about cold weather riding and gear to keep you warm.
---
Cool Product…Dynaplug Tubeless Tire Repair Tools

The entire line of Dynaplug tire repair tools give you a quick and reliable solution to plugging punctures in your motorcycle's tubeless tires.

They're compact, easy to use and work great in emergencies. And what flat tire isn't an emergency?

They're all made in the USA.

Click here to learn more…
---
Blatant self promotion...Books by Brian Salisbury
Please join me on my trips to popular destinations and rides down roads less traveled...
I recently launched a three-book series containing motorcycle travel and adventure stories and observations drawn from my jaunts throughout the United States and Canada.
Click here for a complete description of these books along with the road tales they contain...
Or click on any of the following book covers to go directly to them at Amazon…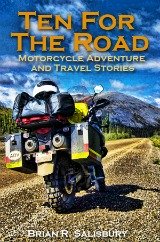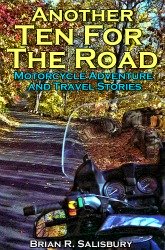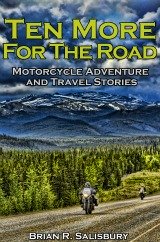 ---
For more information…
For a wealth of information to help you…
• Ride more safely and comfortably…
• Select gear that best suits you, your motorcycle and riding style…
• Get the most enjoyment every time you ride…
Or if you'd like a free subscription to Savvy Motorcyclist E-zine…
Visit my website at...
www.Motorcycle-Gear-and-Riding-Info.com

---
Copyright 2014 and Ever After
Motorcycle-Gear-and-Riding-Info.com
---