Great info for great riding

How to select the best motorcycle jacket material for you
When you're selecting a motorcycle jacket and you begin comparing the many jacket styles and features on the market, also consider which jacket material best suits you and the way you ride.

And, let's be honest. Whatever style or material you choose, you want a jacket that looks good and makes you look good, too.

Essentially, you have three jacket materials to choose from…

• Leather…

• High-tech synthetics…

• Cotton/denim…

Here, these two stylish riders stopped for a break along the Blue Ridge Parkway to model their high-tech synthetic (left) and leather jackets.

The rider wearing a cotten/denim jacket took the picture.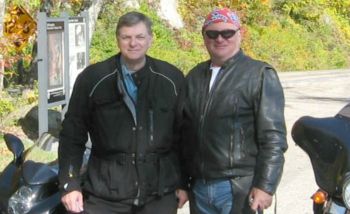 The material you choose for your jacket should suit the…

• Type of riding you enjoy most…

• Type of motorcycle you ride…

• Typical daily miles you travel…

• Weather conditions in which you ride…

• Seasons when you like to ride…

• Types of roads or trails you enjoy most…

Here's info to help you compare the quality and features of each material and its ability to…

• Protect you in an accident…

• Keep you comfortable…

• Fit your riding style…

Leather

Leather jackets come in many styles to suit the types of riding you enjoy and the seasons when you ride.

Also, leather jackets always look good.

A leather jacket will keep you safe and comfortable for many years if you occasionally work it over with a cleaner/preservative.

You can rely on leather to give you great abrasion protection if you "hit the road."

But leather alone won't absorb hard falls onto your shoulder or elbow. For protection you need strategically placed armor/padding on these impact-prone areas.

Leather blocks cold or damp winds and keeps out light rain.

But unless your jacket is lined with a waterproof material such as Gore-Tex, or the leather has been treated to make it especially water resistant, you must wear a rain jacket over your leather jacket to keep you dry.

On hot days, your leather jacket -- especially a black jacket -- that isn't well-ventilated and exposed to a direct breeze when you ride can be very hot and uncomfortable.

Leather jackets tend to be snug and form-fitting. This keeps out drafts and prevents the material from flapping in the wind. But it also restricts your ability to wear extra layers underneath on cold days.

High-tech synthetics

A motorcycle jacket made of synthetic textiles such as nylon, polyester or Kevlar can be thinner, cooler, lighter, more flexible and more comfortable than a leather jacket.

Such benefits are important if you prefer a loose-fitting garment and you're concerned about riding in hot weather.

However, when it's cold outside, you need an insulating layer underneath your synthetic textile jacket for warmth. Most synthetic jackets have a removable cold weather liner.

Synthetic materials resist mildew and are easy to wash and keep clean.

But they're not waterproof. So when riding in the rain, you need a jacket with a waterproof lining. Otherwise, you must cover up with a rain jacket.

Nylon and polyester won't protect you from abrasions if you hit the ground. Both materials will tear or wear through when scraped against a rough road surface. But jackets made entirely of Kevlar can prevent road rash, especially on your elbows, shoulders and other abrasion-prone areas.

But, just like leather, synthetic textiles won't absorb the impact if you hit the ground hard. That's why most synthetic jackets have armor-like padding on elbows and shoulders. Many have built-in spine protectors.

Jackets made of synthetic fibers tend to give you a loose fit. But most have well-placed tabs and straps you can tighten or loosen to customize the garment. This adjustability enables you to wear extra clothing underneath -- or not -- according to the weather.

Cotton/denim fibers

Cotton/denim jackets tend to be airy, comfortable and will keep you cooler than leather or synthetic textile jackets.

I've found that jackets made of natural fibers give you lots of value and offer many nice features.

But because these materials by themselves provide virtually no abrasion or impact protection, such protection must be built in.

You can find cotton/denim jackets that have impact-absorbing padding or armor on the elbows and shoulders and covering your spine.

But even with such protection, well-built leather and synthetic fiber jackets have the edge over cotton/denim when it comes to abrasion prevention.

Cotton/denim fibers are not waterproof. So, if you ride in all sorts of weather, you'll need a rain jacket.

What do I wear?

For me, I really like my leather jackets. They look great and give me good protection.

But on long, multi-day rides I usually wear a synthetic fabric jacket, and in hot weather I wear cotton/denim.

Click here for a wealth of information to help you select a motorcycle jacket that's best for you.

* * *
---
Cool Product…Dynaplug Tubeless Tire Repair Tools

The entire line of Dynaplug tire repair tools give you a quick and reliable solution to plugging punctures in your motorcycle's tubeless tires.

They're compact, easy to use and work great in emergencies. And what flat tire isn't an emergency?

They're all made in the USA.

Click here to learn more…
---
Blatant self promotion...Books by Brian Salisbury
Please join me on my trips to popular destinations and rides down roads less traveled...
I recently launched a three-book series containing motorcycle travel and adventure stories and observations drawn from my jaunts throughout the United States and Canada.
Click here for a complete description of these books along with the road tales they contain...
Or click on any of the following book covers to go directly to them at Amazon…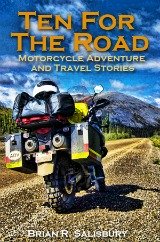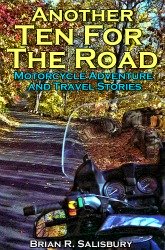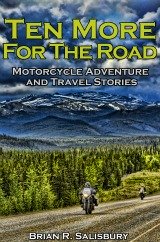 ---
For more information…
For a wealth of information to help you…
• Ride more safely and comfortably…
• Select gear that best suits you, your motorcycle and riding style…
• Get the most enjoyment every time you ride…
Or if you'd like a free subscription to Savvy Motorcyclist E-zine…
Visit my website at...
www.Motorcycle-Gear-and-Riding-Info.com

---
Copyright 2014 and Ever After
Motorcycle-Gear-and-Riding-Info.com
---