Looking at Motorcycle Riding Jackets?
Here's How You Can Choose the Jacket Best For You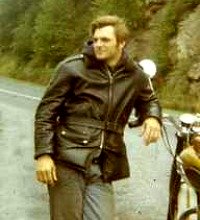 Motorcycle riding jackets are one of your most vital pieces of rider gear for maintaining your comfort and safety.
If you're like me -- and most other motorcycle riders -- you wear a certain kind of jacket because of how it looks as well as for its fit, features and performance.
---
Sorting out your motorcycle jacket options?
Click here for a great place to find a jacket that's right for you...
---
The following seven steps will help you select a jacket that looks good and functions the way you want...


1 -- Determine which jacket style best matches the…
Way you like to ride...
Typical daily travel mileage you prefer...
Types of weather when you ride...
Time of year when you ride...
Condition of the streets or trails you ride on most...
Here are the major jacket styles you can choose from…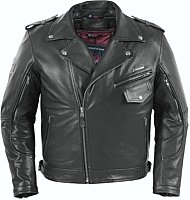 Classic Style

The "classic" is a heavy-weight, waist-length, cruiser-style leather garment that most people picture when you mention "motorcycle jacket."

The snug-fitting classic jacket's features typically include a

* Large, folded, snap-down collar

* Slanted, off-center front zipper

* Numerous zippered pockets and cuffs

* Decorative epaulets on the shoulders

* A wide, big-buckled belt

* Small snap-flap-equipped change pocket…

…and a variety of other snaps, zippers and adjustments that prevent the jacket from "ballooning" and its parts from flapping at high speeds.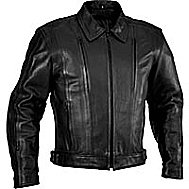 Cruising Style

You'd wear a casual fitting, waist-length cruising style motorcycle riding jacket for slow, easy jaunts down country roads on comfortable days.

The essential feature of a cruising jacket is its Oxford collar. This collar design functions a bit like a classic jacket's large, folded snap-down collar and a bit like the rigid, wrap-around Mandarin collar common to sportier jackets.

Cruising jackets range from no frills versions to belted versions with decorative braid and form-fitting stretch panels. Some have embroidered sections and leather fringe.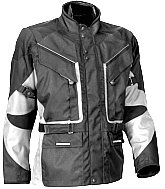 Touring Style

"Versatility" best describes the touring style motorcycle riding jacket.

This full-cut garment is designed for riders who spend long, consecutive hours on the road and travel in all sorts of weather. They want lots of comfort, ease of movement and good protection from harsh conditions.

The jacket's three-quarter length design covers the rider's lower-back and shuts out drafts.

Most have a removable cold-weather lining and are roomy enough to accommodate extra layers of clothes.

A mandarin collar and adjustable straps on the arms, cuffs and waist enable you to snug everything down for the long haul.

Other touring jacket features typically include

* Lots of easy-access exterior and interior pockets

* Front, back and side vents to let the air flow through

* A moisture-proof exterior or rain-stopping lining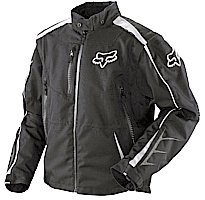 Off-Road Style

Off-road riders want a lightweight, waterproof motorcycle riding jacket that gives them plenty of mobility, flexibility and lots of pockets.

Most off-road motorcycle jackets are made of nylon or other man-made fibers.

But while such motorcycle riding jackets are more for weather protection than crash protection, body armor integrated throughout is okay.

Most come with reinforced elbows and shoulders. Some also have built-in or removable hard protection.

Replaceable protection helps to lengthen the jacket's lifespan.

Look for a jacket with reinforced zipper flaps and sealed seams that help keep moisture from penetrating.

On the other hand, because off-road riding is physically demanding, it's important for moisture to escape. That's why your off-road jacket should have an effective ventilation system.

Some motorcycle riding jackets have zip-off sleeves and convert into a vest, which will really help you to stay cool.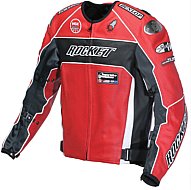 Racing Style

Racing motorcycle jackets are waist-length, close fitting and, traditionally, made of leather. Many come in bright colors to attract attention and reflect heat.

Some are perforated with numerous sieve-like holes that help keep the rider cool. Forced air penetrates the garment through the holes in front then escapes through vents in back.

Because serious racing jackets are intended primarily to protect your skin and bones in the event of a high speed get-off, they're designed to slide easily on asphalt or dirt without bunching or tearing.

They're equipped with fixed or removable body armor to protect your elbows and shoulders.

Some have a flexible plastic back protector -- or a place to insert one -- to protect your spine from hard falls, flying projectiles or from getting hit by a tumbling motorcycle.
---
Looking for a motorcycle jacket?
Click here for a great place to find a jacket that's right for you...
---
2 -- Consider a motorcycle riding jacket made only for hot or cold weather
While on long trips you should be prepared to ride in cold, hot or rainy weather. And even during short day trips, you might get surprised by unpredictable temperatures.
But changeable weather conditions don't mean you need one jacket to accommodate all seasons. Consider having one jacket for hot weather and one for the cold…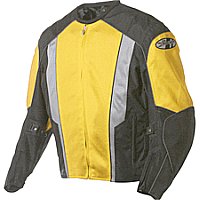 Summer Jackets

Riding in hot weather while wearing a thick, black jacket intended mainly for cool temps can make you miserable.

In addition to the possibility of causing heat exhaustion, riding in hot weather without relief can distract you from your driving. It's dangerous.

If you do ride in hot weather, think about getting a jacket made to keep you comfortable under such conditions.

Good, lightweight, mesh-constructed hot weather riding jackets are light colored and breathable. They're usually waist-length and have air vents. Some also have a thin, removable liner.

While they're often made of cotton or lightweight synthetics, hot weather jackets are padded in the right places to give you adequate crash protection.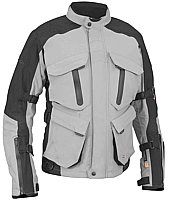 Winter Motorcycle Riding Jackets

Riding cold is a dangerous, bone-chilling, mind-numbing misery.

So if you're a cold-weather traveler -- or anticipate riding in cold weather -- you need a good winter riding jacket.

Most winter motorcycle riding jackets will cover your hips and some go as low as mid-thigh.

While such a jacket should be thick enough to keep you comfortably insulated from the cold, look for one that has a detachable liner and is also rainproof.

Your jacket should seal out cold winds at your wrists, waist and neck.

Make sure it has a collar with an adjustable closure that doesn't feel too tight over your scarf or when you're riding at speed.

Also, look for a motorcycle riding jacket with reinforced padding or armor on the elbows and shoulders. You're flirting with the possibility of taking a spill anytime you ride on roads made slick by rain or ice.

3 -- Do you want a leather textile fiber jacket?
You have many choices when deciding if you want a motorcycle riding jacket made of leather or textile fibers. Textiles can be synthetic or natural fibers.
Advantages

Leather motorcycle jackets are comfortable and will protect you from cold, damp weather and mild precipitation.

Many riders add rain gear on top of their leathers to protect them from heavy precipitation.

Leather resists abrasions and will last for many years with proper care. You can also repair damaged areas of your leather jacket.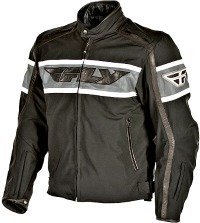 Textile fiber jackets, overall, are lighter, more flexible and more comfortable than leather.
They can protect you better than leather from precipitation and, generally, wear well in foul weather.
Synthetic fibers require less care than leather when it comes to resisting mildew. They're easy to wash and keep clean.
While most synthetic or natural fibers don't resist abrasion as well as leather, Kevlar is an exceptionally strong synthetic that many riders rely on as an effective alternative to leather.
One Kevlar garment manufacturer reports that this material is "ten times stronger than the best leather and less than half the weight."
Most unpadded textile fibers -- with the exception of Kevlar -- do not protect you as well as leather if you have a motorcycle accident.
Most other textile fibers are thin and will wear through much faster than leather if you hit a dirt or asphalt road surface at high speeds.
Even at relatively low speeds, some fibers -- such as cotton -- won't protect your hide very well from serious abrasions if you fall.
A leather jacket, however, can be bulky and may restrict your movements, especially if it doesn't fit well.
You must treat leather to keep it soft and to prevent mildew build-up on it. Removing odors from a leather jacket can be difficult.
---
Looking for a motorcycle jacket?
Click here for a great place to find a jacket that's right for you...
---
4 -- What special features do you want on your motorcycle jacket?
Once you've determined what type of jacket best suits your riding style, you should give some though to which of the many features available in different makes and models are most important to you.
Here are some of the major features to choose from…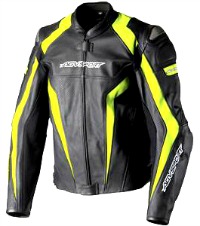 Padding

Most motorcycle riding jackets have reinforced elbows and shoulders. On some, the back is padded.

Types of crash protection materials on areas or your jacket that would take a beating if you fall include

* Extra thick leather or textile layers

* Plastic or rubber inserts

* Reinforced Kevlar patches

Make sure any protective armor doesn't move out of position when you put on the jacket and sit as you would on your motorcycle.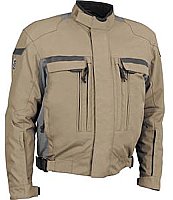 Pockets

It's nice to have at least an inner pocket for your wallet. After that, make sure any additional pockets are easy to open and close.

Vertical-entry pockets with hook-and-loop-closing cover flaps are best. Your stuff is less likely to fall out even when you forget to seal the flap.

Slanted zippered pockets can be a problem if you don't pay attention to keeping them closed. Such pockets make it easy for your sun glasses or pocket knife to disappear.

Waterproof pockets are always a bonus. The same goes for wind-proof zippers.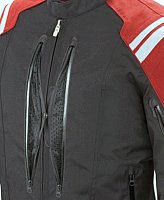 Linings and Vents

Motorcycle riding jackets with removable linings are most versatile. A zip-out Thinsulate lining will enable you to get good use out of your jacket across multiple seasons.

Vents, especially in the shoulders and underarms, increase your jacket's versatility and your personal comfort in hot weather.


Reflective Material

Even a minimal amount of reflective material on your motorcycle riding jacket will make you stand out and make it easier for other drivers to see you at night.

Most jackets have reflective piping on the sleeves or across the back. Some also have a reflective logo.

If your jacket doesn't have some sort of reflective material included in its design, consider wearing at least one or two reflective armbands to increase your visibility when the sun goes down.
5 -- Make sure your jacket fits properly
Sure, you know your motorcycle riding jacket should fit properly. But apparel like your jacket that's been designed for motorcycle riding doesn't fit the same you get off your bike.
This can make it seem as if the garment does not fit properly when you're not riding.
The way to see if a jacket is right...put it on, sit on you bike take hold of the handle bars.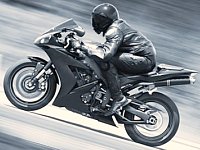 Usually the arms on motorcycle jackets are curved. This prevents the bottom of your jacket from riding up in back when you lean forward and grab the handle bars.
Most jackets have lots of closures such as zippers and tabs you can use to take up the slack on your sleeves, waist or collar.  They help to keep cold winds out at high speeds.
By sitting on a parked motorcycle in a riding position with your jacket on will show you how well it will fit and feel when you're on the road.
6 -- Consider overall value
"Value" is the relationship between a jacket's price and quality. 
Some garments give you high value -- many nice features at a competitive price.  Others may have lots of features but they're priced higher -- less value.
Look around and do your research.  That's the way to find a jacket that give you the features you want at a good price.
Sometimes you might have to pay a higher price -- especially if a garment fits well and gives you features well suited to your riding style and your particular needs.
But, really, when a jacket works just right and makes you feel good, you'll probably forget the price after a few rides.
7 -- Have fun selecting your motorcycle jacket
Collecting information and narrowing down your motorcycle riding jacket options can take time.
But it's an enjoyable process.
When you finally get jacket you want, put it on and go for a cruise...
---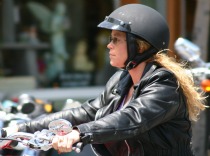 In my continuing efforts to provide you with the best information possible, I've linked up with a great resource where you can find a numerous motorcycle jackets in lots of styles…
Take a look...click here for a great place to find the motorcycle jacket that you want…Plus you get free shipping…
---
What's the best motorcycle riding gear for you?  This book will help you decide…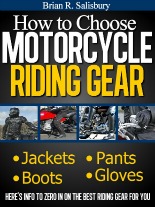 "How to Choose Motorcycle Riding Gear" will help you make knowledgeable decisions when selecting your motorcycle riding…
·        Jackets
·        Boots
·        Pants
·        Gloves
Click here or on the book cover for details concerning the book's contents and to download your own copy.
---
Return from Motorcycle Riding Jackets
---
Let's stay in touch!
Get your free subscription to..."Savvy Motorcyclist E-zine"
And you'll also receive your free copies of..."The 10 Best Motorcycle Travel and Trip Planning Websites on the Internet" ... plus the Motorcycle Safety Foundation's 58-page Motorcycle Operator's Manual.
These great resources will help you to ride better, plan your trips, enjoy the best motorcycle roads and get the most out of motorcycle riding.

Custom Search