Great info for great riding

Should you break the law to keep your sanity when motorcycle riding?
Is it wise to break the law to avoid certain frustrating situations and potentially dangerous drivers when motorcycle riding?

Should you break the law to maintain your motorcycle-riding sanity?

From now on, I believe that's what I'm going to do.

Let me explain…

During a recent trip while traveling in the fast lane of an interstate highway, I blinked my headlight's high beam at a slower moving car -- a convertible -- some distance ahead.

I used this internationally-recognized signal to ask the driver to move his vehicle into the empty right lane so I could pass.

While I've all but given up on drivers in the New York metro area where I live to either understand or respond appropriately to this "please move over" signal, I usually give it a try.

And once again I should have shelved my optimism because the convertible -- with the top down -- continued moving at a slow speed in the fast lane.

The driver was either too distracted while yammering to his passenger to notice my flashing headlight or he just didn't feel like moving.

Now here was my dilemma…should I break the law and pass this character by riding in the open lane on the right. Or should I remain behind him and blink my high beam a few more times on the off-chance he'd move?

I figured by staying in the fast lane I'd be cranking up my level of aggravation. And in the end, I'd pass him on the right anyway. So why wait?

The driver developed a case of road rage…

I always hesitate to pass a vehicle on the right while on big roads because even if I know I can do it "safely," I'm afraid a police officer lurking somewhere behind me will give me a ticket.

It has happened.

However, in this instance, as it turned out, I had more than the police to worry about.

The guy driving the convertible apparently was very irritated at me for flashing my headlight, passing him then moving into the fast lane in front of him.

He displayed his displeasure by swerving into the right lane, roaring past me, pulling in front then putting on the brakes.

I was caught in a classic road rage confrontation that a motorcycle can't win.

I slowed down then moved two lanes to the right.

The convertible continued on and I lost sight of it.

I know most of us have seen motorcycle riders swerving through traffic at high speeds. I'm always amazed when such riders don't cause or get into an accident.

And I'm sure most, if not all, drivers they pass consider them fools. They cause many people to believe motorcycle riders are reckless jerks who shouldn't be on the road.

I may be giving motorcycle riders a bad name…

I don't want to give the motorcycle-riding community another black eye.

However, I've decided, from now on, I'm not going to blink my headlight at slow moving traffic to try and get vehicles to move out of my way.

I'm just going to pass drivers who are poking along in the fast lane and clogging the flow of traffic. I'll go around them in the right-hand lane.

Even though I'll be breaking the law, I'll preserve my sanity and hold down my own temper.

That's my plan when I'm driving in the United States…especially in the East.

But I'll continue to blink my high beams and pass on the left when driving in Europe.

The drivers there seem to have figured out the whole concept of fast and courteous high speed driving.

* * *
---
Cool Product…Dynaplug Tubeless Tire Repair Tools

The entire line of Dynaplug tire repair tools give you a quick and reliable solution to plugging punctures in your motorcycle's tubeless tires.

They're compact, easy to use and work great in emergencies. And what flat tire isn't an emergency?

They're all made in the USA.

Click here to learn more…
---
Blatant self promotion...Books by Brian Salisbury
Please join me on my trips to popular destinations and rides down roads less traveled...
I recently launched a three-book series containing motorcycle travel and adventure stories and observations drawn from my jaunts throughout the United States and Canada.
Click here for a complete description of these books along with the road tales they contain...
Or click on any of the following book covers to go directly to them at Amazon…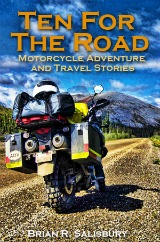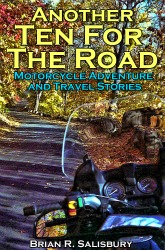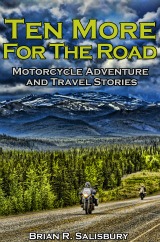 Here's another...

I've taken all the information in my website describing riding techniques for dangerous situations and added to it in the book "High Risk Motorcycle Riding."

Here's information you can put to good use to ride smart and well prepared when you're on the road and the going gets tough.

Click here for a complete description of this book along with the high risk riding tips it contains for riding at night, in the rain, in cold weather and across long distances...and more...

Or click on the following book cover to go directly to the book at Amazon…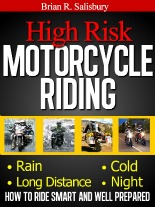 ---
For more information…
For a wealth of information to help you…
• Ride more safely and comfortably…
• Select gear that best suits you, your motorcycle and riding style…
• Get the most enjoyment every time you ride…
Or if you'd like a free subscription to Savvy Motorcyclist E-zine…
Visit my website at...
www.Motorcycle-Gear-and-Riding-Info.com

---
Media, bloggers, marketers, editors, publishers, web masters…do you need great content on your website or blog?
You can syndicate and/or republish any of this and other issues of the Savvy Motorcyclist E-zine for free.
All you have to do is include author attribution (byline/name of author) and the following statement...
"This information appears courtesy of Brian R. Salisbury's Savvy Motorcyclist E-zine."
with a backlink to...
www.Motorcycle-Gear-and-Riding-Info.com
---
Copyright 2015 and Ever After
Motorcycle-Gear-and-Riding-Info.com
---