Great info for great riding

6 tips for trouble-free motorcycle touring
Before you can take off on a multi-day motorcycle ride, you must answer these three questions:

• How far do you want to go?

• How long will it take?

• How much will it cost?

After you balance all three elements -- distance, time and money -- you're ready to gather your gear, plan your route, prep your motorcycle and then head down the road.

The very nature of motorcycle riding makes every trip a potential adventure. They key is to prevent -- or at least control -- unwelcome excitement.

You want to ride your ride and avoid nasty surprises.

Six tips to help you make motorcycle touring worry free…

1) Pack early…

Select, organize and pack your gear as early as possible…or at least when you can concentrate on what you need. Work from a list. Consider all probable scenarios involving weather, riding conditions and motorcycle problems, then pack accordingly.

2) Test all repairs and routine maintenance…

Give yourself time to test ride, identify and resolve any problems associated with even the smallest repair or maintenance procedure. Something as simple as changing your bike's oil and filter can go awry. Of course, make sure your motorcycle is running okay after major repairs.

3) Test your new riding gear and equipment for your motorcycle…

You don't want to be traveling when you learn your rainsuit won't cover your new jacket or your tank bag slides around after you've packed it.

4) Know your limits…

Your tolerance for long daily mileage diminishes as you get deeper into a trip. If 500 miles is the farthest you've ever traveled in a single day, it's unwise to plan on hammering out such mileage every day.

5) Remain flexible…

Go with the flow. Be mentally and physically prepared to cope with such things as bad weather, detours, closed roads, heavy traffic, dangerous drivers and mechanical problems.

6) Choose your traveling companion(s) wisely…

Touring with a good buddy whose riding style, personality and many other attributes work well with yours can increase everyone's enjoyment. However, the wrong mix can turn a nice ride into an unpleasant ordeal.

These are my six tips for handling the big stuff when you're on the road.

I'm sure you have a few tips of your own...

Please share them with us.
---
Cool Product…Dynaplug Tubeless Tire Repair Tools

The entire line of Dynaplug tire repair tools give you a quick and reliable solution to plugging punctures in your motorcycle's tubeless tires.

They're compact, easy to use and work great in emergencies. And what flat tire isn't an emergency?

They're all made in the USA.

Click here to learn more…
---
Blatant self promotion...Books by Brian Salisbury
Please join me on my trips to popular destinations and rides down roads less traveled...
I recently launched a three-book series containing motorcycle travel and adventure stories and observations drawn from my jaunts throughout the United States and Canada.
Click here for a complete description of these books along with the road tales they contain...
Or click on any of the following book covers to go directly to them at Amazon…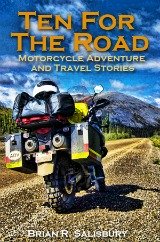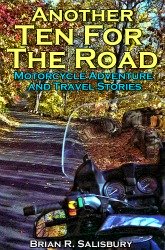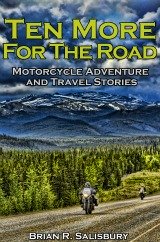 Here's another...

I've taken all the information in my website describing riding techniques for dangerous situations and added to it in the book "High Risk Motorcycle Riding."

Here's information you can put to good use to ride smart and well prepared when you're on the road and the going gets tough.

Click here for a complete description of this book along with the high risk riding tips it contains for riding at night, in the rain, in cold weather and across long distances...and more...

Or click on the following book cover to go directly to the book at Amazon…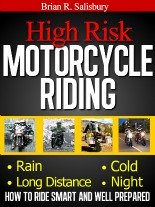 ---
For more information…
For a wealth of information to help you…
• Ride more safely and comfortably…
• Select gear that best suits you, your motorcycle and riding style…
• Get the most enjoyment every time you ride…
Or if you'd like a free subscription to Savvy Motorcyclist E-zine…
Visit my website at...
www.Motorcycle-Gear-and-Riding-Info.com

---
Copyright 2014 and Ever After
Motorcycle-Gear-and-Riding-Info.com
---