Great info for great riding

Polishing motorcyclists' image one opossum at a time
Let's face it. Motorcycle riders often get a bad rap. In the eyes of the public, some riders have given all of us a tarnished image.

But recently -- for one small group -- I believe I unknowingly presented motorcycle riders in a positive light.

Here's the story…

I was riding through a residential area on a weekday morning at a time when people are heading for work and kids are traveling to school.

I was in a neighborhood where the homes have big lawns, nice hedges and tall trees. In this setting I've often seen families of geese and other wildlife crossing the road.

An early morning ride…

On this particular morning a baby opossum was wandering around in the middle of an intersection.

My impression of opossums is that they're not particularly attractive little animals. But they're harmless.

They don't want any trouble so they shy away from people and other animals. And, by their nature, they only forage for food at night.

Under most circumstances opossums always look a bit confused. But this little guy was really confused. He was out and about in the daytime and wandering aimlessly.

Although traffic was very light this morning, I wanted to get the young opossum out of the road. So I pulled over and parked my motorcycle.

As usual, I was wearing my riding gear including boots, gloves and a full coverage helmet. I didn't bother to take off my helmet or gloves when I walked over to the opossum.

When I'd gotten within five feet or so, I made a few motions to shoo the critter out of the road and into a wooded area.

The opossum "fights back"…

I was a bit surprised when the opossum cranked up all the ferocity he could muster by opening his kitten-pink mouth to scare me off.

I leaned over and continued my "shoo, shoo" gestures with my hands, and he continued to face me down.

After a few minutes the opossum finally decided to turn tail. He ambled off the road and into the woods.

While all this was going on, I hadn't noticed the yellow school bus that had stopped broadside to the intersection.

The driver waited patiently for me and the opossum to get out of the way.

And the 30 or more elementary school kids aboard had gathered on the side of the bus facing me to get a good look at the show I was putting on.

After the opossum had disappeared into the woods, I looked up and saw the driver and the kids looking at me.

The driver gave me a "thumbs up" and in unison all the kids broke into cheers and applause.

And I raised my arms in victory.

I'm glad everyone appreciated my concern for the baby opossum's well being. And I'm glad the little animal was safely out of the road.

Little victories are fine with me…

* * *
---
Cool Product…Dynaplug Tubeless Tire Repair Tools

The entire line of Dynaplug tire repair tools give you a quick and reliable solution to plugging punctures in your motorcycle's tubeless tires.

They're compact, easy to use and work great in emergencies. And what flat tire isn't an emergency?

They're all made in the USA.

Click here to learn more…
---
Blatant self promotion...Books by Brian Salisbury
Please join me on my trips to popular destinations and rides down roads less traveled...
I recently launched a three-book series containing motorcycle travel and adventure stories and observations drawn from my jaunts throughout the United States and Canada.
Click here for a complete description of these books along with the road tales they contain...
Or click on any of the following book covers to go directly to them at Amazon…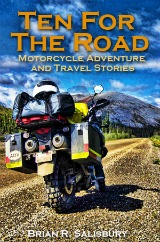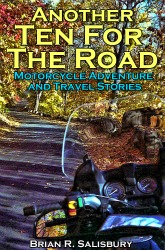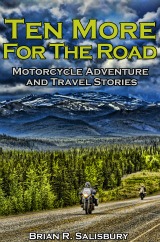 Here's another...

I've taken all the information in my website describing riding techniques for dangerous situations and added to it in the book "High Risk Motorcycle Riding."

Here's information you can put to good use to ride smart and well prepared when you're on the road and the going gets tough.

Click here for a complete description of this book along with the high risk riding tips it contains for riding at night, in the rain, in cold weather and across long distances...and more...

Or click on the following book cover to go directly to the book at Amazon…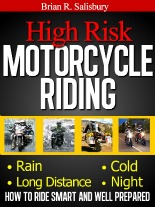 ---
For more information…
For a wealth of information to help you…
• Ride more safely and comfortably…
• Select gear that best suits you, your motorcycle and riding style…
• Get the most enjoyment every time you ride…
Or if you'd like a free subscription to Savvy Motorcyclist E-zine…
Visit my website at...
www.Motorcycle-Gear-and-Riding-Info.com

---
Media, bloggers, marketers, editors, publishers, web masters…do you need great content on your website or blog?
You can syndicate and/or republish any of this and other issues of the Savvy Motorcyclist E-zine for free.
All you have to do is include author attribution (byline/name of author) and the following statement...
"This information appears courtesy of Brian R. Salisbury's Savvy Motorcyclist E-zine."
with a backlink to...
www.Motorcycle-Gear-and-Riding-Info.com
---
Copyright 2015 and Ever After
Motorcycle-Gear-and-Riding-Info.com
---