Great info for great riding

How a Harley rider saved my day
Winter on Long Island, New York, was really wretched this year. The roads were covered with snow and ice for weeks, and quite often the temperatures dropped well below freezing.

I realize other parts of country got hit much worse, but for Long Island it was a big deal.

I usually ride all winter, even in cold temperatures. However, I keep my motorcycle in the garage when icy roads make maneuvering safely on two wheels impossible. So for months I hardly rode at all.

On the road again

Last weekend I was happy for dry, 65-degree weather when I could take my first long ride of the season.

I headed northwest to Port Jervis near where New York, New Jersey and Pennsylvania come together. Then I traveled north on scenic Route 97 which runs somewhat parallel to and within view of the Delaware River from Port Jervis to the town of Hancock.

This is a particularly nice 70-mile-long-section of the river. Plus, the road is relatively less traveled this time of the year as it passes through thick woods and small towns.

In addition to pleasant turns and beautiful river vistas, there's always the possibility of spotting bald eagles that roost along the upper Delaware.

Winter hadn't totally left the area. Huge blocks of ice remained in shaded areas high on the banks where the swollen river had deposited them.

I saw lots of motorcycles on the road and parked in front of popular eateries. Most riders heading toward me from the opposite direction gave me a wave when we passed.

I was really enjoying my day.

Watch out for the need for speed

When riding along a particularly isolated stretch of Route 97, I've often had the urge to give the throttle an extra twist. However, this day, a guy on a Harley approaching from the opposite direction gave me a "go slow" palm down gesture with his gloved left hand.

I slowed down immediately and significantly to below 40 miles per hour.

Good thing I did.

As I came over a small rise and headed down a long straightaway, I saw a state police cruiser parked about an eighth of a mile away.

As I got closer, I could see the trooper had me in the sights of his radar gun. He was pointing the gun right at me. I'm sure he began clocking my speed the second I'd come into view at the top of the hill.

He continued to track me as I drove past. And I bet he kept me in his sights until the road disappeared around a turn.

I kept glancing in my rearview mirror, half expecting to see the trooper in pursuit with his lights and siren going. But he didn't chase me. I was quite relieved.

Many tickets handed out

By the time I got home many hours and many miles later, I'd passed a bunch of drivers -- all in cars -- pulled over and getting ticketed by various police jurisdictions. Maybe they'd been speeding or texting or talking on their cell phone while driving. Who knows?

If the guy on the Harley hadn't warned me to slow down, I bet I'd have gotten a speeding ticket.

What a bummer that would have been. What a dismal way to start my riding season.

But his simple gesture saved my day.

Thanks Mr. Harley guy, wherever you are.

* * *
---
Cool Product…Dynaplug Tubeless Tire Repair Tools

The entire line of Dynaplug tire repair tools give you a quick and reliable solution to plugging punctures in your motorcycle's tubeless tires.

They're compact, easy to use and work great in emergencies. And what flat tire isn't an emergency?

They're all made in the USA.

Click here to learn more…
---
Blatant self promotion...Books by Brian Salisbury
Please join me on my trips to popular destinations and rides down roads less traveled...
I recently launched a three-book series containing motorcycle travel and adventure stories and observations drawn from my jaunts throughout the United States and Canada.
Click here for a complete description of these books along with the road tales they contain...
Or click on any of the following book covers to go directly to them at Amazon…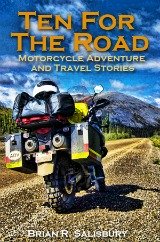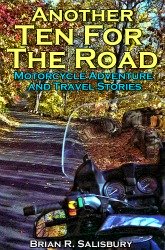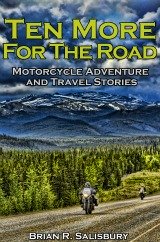 ---
For more information…
For a wealth of information to help you…
• Ride more safely and comfortably…
• Select gear that best suits you, your motorcycle and riding style…
• Get the most enjoyment every time you ride…
Or if you'd like a free subscription to Savvy Motorcyclist E-zine…
Visit my website at...
www.Motorcycle-Gear-and-Riding-Info.com

---
Copyright 2014 and Ever After
Motorcycle-Gear-and-Riding-Info.com
---