Great info for great riding

A Young Life Remembered in Mettler Cemetery
Mettler Cemetery is a well-kept little piece of land tucked away in northern New Jersey.

I'd passed it many times when enjoying the twists and turns along Old Mine Road as it runs the length of Delaware Water Gap National Recreation Area.

One day I stopped to take a closer look, and that's when I learned the cemetery held a secret…

A cemetery for two prominent families...

Nearly 200 years ago two prominent families who owned this and the surrounding property carved their own private cemetery into the dense woods.

Descendants today can trace each person buried here back to their own direct and distant relatives and to intimate family acquaintances...

That is, each person buried here except one.

A small solitary headstone only a few feet from the tangled woods marks the grave of someone unrelated to the others.

When I first saw it, time and harsh weather had virtually obliterated the name, age and any other inscriptions carved into the marker.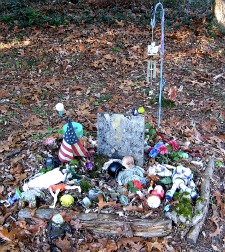 A solitary grave is covered with toys and trinkets...
Over time, visitors had festooned this isolated grave with an assortment of toys, mementos and trinkets. A small wind chime next to the headstone jingles quietly in the breeze.
Speculative tales flourish about a young girl buried here and the circumstances surrounding her death.
After my first encounter, I learned her name is Mary Ann Perigo…she died before the Civil War.
When the child's gravestone was still legible, it read: Mary Ann, daughter of Thomas and Clarissa Perigo; died April 11, 1856; age 14 years, 7 months and 2 days.
A reason why she is buried here...
Mary Ann's father and brothers were itinerant farm workers.
When Mary Ann died, it is very possible her family was employed by and living under the roof of someone connected closely to the Mettler Cemetery. And as a caring gesture, they provided Mary Ann with a resting place.
What caused Mary Ann's death? Historic records don't offer any clues. Life was tough in those days. She could have been killed in an accident or died from blood poison or any number of diseases.
Who had her original headstone engraved and placed on her grave?
Possibly the person who did it knew that no other members of the young girl's family could ever be buried near her. Indeed, Mary Ann's parents, Thomas and Clarissa, were buried in another cemetery in another Sussex County town.
On June 3, 2012, Sandyston Township Historical Society placed a new gravestone next to Mary Ann's original but broken and badly weathered cemetery marker.
Who started leaving mementos?
It is unclear who began leaving mementos on Mary Ann's grave and for what reason.
Perhaps one or more distant relatives were the first to leave personal letters and tokens of caring. Perhaps their actions moved others to leave their own remembrances. And so the practice began and it continues today.
It is touching that people are drawn to this remote cemetery to connect with and pay their respects to a young girl who died an untimely death more than 150 years ago; a young girl probably unknown and unrelated to virtually all who visit her grave.
I'm sure Mary Ann and her parents would have been amazed to know she'd gain such a following and so many people would want to know about her.
Click here to see the video and ride with me to Mettler Cemetery. Open my website page then scroll to the bottom to see the video...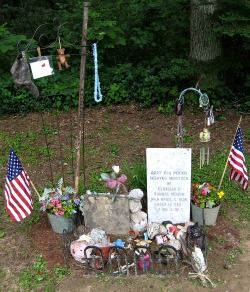 ---
Cool Product…Dynaplug Tubeless Tire Repair Tools

The entire line of Dynaplug tire repair tools give you a quick and reliable solution to plugging punctures in your motorcycle's tubeless tires.

They're compact, easy to use and work great in emergencies. And what flat tire isn't an emergency?

They're all made in the USA.

Click here to learn more…
---
Blatant self promotion...Books by Brian Salisbury
Please join me on my trips to popular destinations and rides down roads less traveled...
I recently launched a three-book series containing motorcycle travel and adventure stories and observations drawn from my jaunts throughout the United States and Canada.
Click here for a complete description of these books along with the road tales they contain...
Or click on any of the following book covers to go directly to them at Amazon…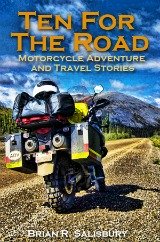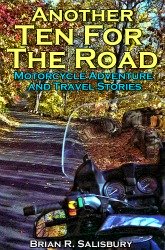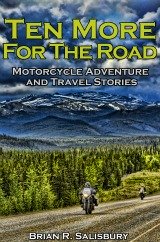 ---
For more information…
For a wealth of information to help you…
• Ride more safely and comfortably…
• Select gear that best suits you, your motorcycle and riding style…
• Get the most enjoyment every time you ride…
Or if you'd like a free subscription to Savvy Motorcyclist E-zine…
Visit my website at...
www.Motorcycle-Gear-and-Riding-Info.com

---
Copyright 2013 and Ever After
Motorcycle-Gear-and-Riding-Info.com
---