This tool's unique adjustment design gives you the advantage of a snug fit around nuts or bolts without the "play" or slippage common to most adjustable wrenches. 
It won't pop of off your work.  It spares you the aggravation of scraping your knuckles or rounding off too-tight bolts. 
You benefit because this sturdy 10-inch-long tool doubles as a wrench and locking pliers.
Its locking mechanism gives you exceptional gripping force on nuts, bolts and other fasteners.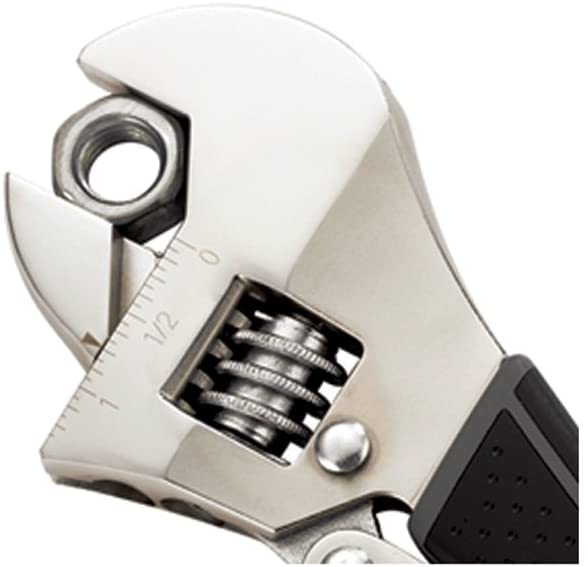 Equipped with adjustable jaws that open to one inch, this wrench helps you get a tight grip on a wide range of fastener types and sizes.
It works great on inch and metric fasteners measuring up to 1-inch.
Once you get a tight grip on your work, lock it up with this tool's locking mechanism then crank away.  What could be easier?   
Its quick-release lever lets you conveniently and easily disengage the locking mechanism to remove or reset the wrench.
A dual-material handle gives you a comfortable grip.

One satisfied motorcycle rider who purchased this adjustable wrench says: "You can use this wrench as a normal crescent-type wrench by engaging the locking mechanism with no tension on the bolt, or as a locking wrench by snugging it onto a bolt then applying the tightening mechanism.
"Either way you get a much more comfortable handle to work with and a much better grip that fits your hand better than a typical, skinny-handled crescent wrench."
Another says: This wrench is awesome when you are missing a wrench around the shop. It's one of my favorite tools for making my work go quicker.
"Very pleased with the performance - locks tight and easy. Disengage lever is pinch-free unlike vise grip wrenches and is much easier to use.
"If I lost all my tools, this would be one of the first ones I would buy again."
And you benefit further because this handy wrench is backed by Craftsman's hand tool full warranty.

Features this compact wrench provides include:
·  "Extreme" gripping power
·  Adjustable jaws that open to 1-inch
·  An easy-release lever for quick disengagement or reset
·  A dual-material handle that gives you a very comfortable grip
It's a nice addition to your motorcycle tool kit.
I know there are lots of adjustable wrenches on the market.  But this one gives you the advantages of a wrench and locking pliers.  
It's especially beneficial if you need extra torque or are faced with something more than a routine roadside repair. 
It does the job and saves you space. 
Those are really important features when you're riding a motorcycle.