Best Motorcycle Rain Gear...
Here's What to Look For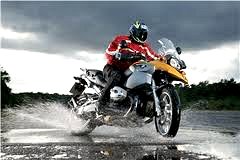 The best motorcycle rain gear is vital equipment for all riders.
Besides providing wet weather protection, the best motorcycle rain gear will give you cold-weather protection when it's not raining.  You can wear it as an emergency barrier against cutting winds.  
Even if you avoid riding in the rain, sooner or later you're going to get caught on the road in wet, nasty weather.
It could happen any time...possibly when you won't be able to stop and wait out the storm in a dry place.
---
Click here to find motorcycle rain gear and other rider gear that
---
When you're stuck in the rain, you need the best motorcycle rain gear that matches your…
Desire to remain dry and comfortable…
Desire and confidence to continue riding in the rain…
Motorcycle rain gear ranges in quality and functionality from…
Basic gear that will keep you dry for a while...to...
High quality gear that will keep you dry all day.
Some riders who don't hesitate to ride long miles in wet weather may only carry minimal, lightweight rain gear. And others who avoid rain-riding completely may pack the best motorcycle rain gear they can find -- the highest quality.
Regardless of your tolerance for discomfort when riding in the rain, you won't regret buying highly functional, reliable rain gear.
Should you carry a one-piece rain suit or separate jacket and pants?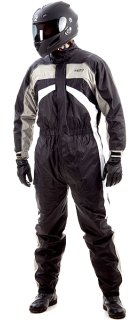 I've never used a one-piece motorcycle rain suit. But I'm sure many effective one-piece suits are available to you.
A one-piece motorcycle rain suit might fit your needs perfectly.
However, I prefer the versatility of separate jacket and pants when it comes to choosing the best motorcycle rain gear for me.
Here's why…
None of my motorcycle riding pants are waterproof. So I must cover them with a pair of rain pants in wet weather.
However, one of my motorcycle riding jackets is waterproof, but the others are not.
So, depending on which riding jacket I'm wearing, I may or may not need to cover it with my rain jacket.
Also, by carrying individual rain pants and a separate rain jacket, I can pack them together or separately to maximize the limited space in my tail bag.
---
Click here for motorcycle rain gear and other riding gear that
---
How the best motorcycle rain gear is constructed...
Most motorcycle rain suits are made of nylon backed with polyurethane, PVC or other substances that make the garment waterproof.
For good measure, the best motorcycle rain gear will have sealed, waterproof seams and covered zippers to prevent water leaks when you're traveling at high speeds or riding for long saturating hours.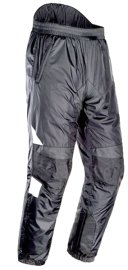 On some heat-resistant rain pants, lower sections of the legs are protected with a melt-proof material such as Nomex.
This coating prevents the pants from disintegrating if you brush the protected portion against your bike's hot muffler.
Some rain gear manufacturers line their garments with their own proprietary "waterproof/breathable" material.
You benefit because such fabrics prevent water from flowing into a garment while allowing moisture to vent out.
This capability keeps you comfortable in a wide variety of temperatures and moisture conditions.
High-end motorcycle rain suits are made of Gore-Tex -- the most popular waterproof/breathable fabric.
Any product using Gore-Tex must pass rigorous tests and incorporate that brand's specific sewing methods, threads, tapes and coatings into the garment.
That's why Gore-Tex products are so reliable -- and can be pricy.
Here are key features you should look for when evaluating the best motorcycle rain gear…
Easy to pack…

Even though you won't need your rain gear often, it's a good idea to carry it whenever you ride.

So look for gear that packs -- and unpacks -- easily and conveniently and takes up a minimal amount of space.


Easy to put on…

I've seen motorcycle riders parked beside busy roads with traffic whizzing by while they struggle to gear-up in a downpour.

I've been there myself…

You want rain gear you can unpack quickly then pull on easily over your boots and heavy riding jacket.

Look for rain gear lined with a polyester mesh that makes the garment easy to slip into. This lining will also enhance air circulation throughout the garment and help to keep you comfortable.

Generous openings and strategically-placed zippers on the pants legs will spare you the aggravation of hopping around on one foot while trying to tug your pants over big wet riding boots.
Convenient, waterproof closures…

Once you pull on your rain gear, you want closures that work easily with gloved hands and don't leak -- especially the zippers on your jacket and pants, and closures on the collar and cuffs.

You want elastic drawstrings or Velcro closures on jacket and pants hems and cuffs, and at the waist.

Convenient closures allow you to adjust the garment and ensure proper fit.


Non-slip seat…

Pants that have a non-slip seat help you to stay where you belong on the saddle.


Comfort…not too tight or too loose…

Make sure your rain gear fits comfortably. Tight-fitting gear will restrict your movements, and loose-fitting gear will flap in the wind.

Your high jacket collar should seal out the rain. And the bottom of your jacket should fall well below your waist to keep the wind and water from blowing up your back.
---
Click here for motorcycle rain gear and other rider gear that
---
Pockets…

Large, waterproof pockets give you a convenient place to keep your wallet, keys and other stuff without having to dig through layers of clothing.

But make sure they close securely and stay dry inside.


Visibility…



Look for gear equipped with lots of strategically-placed reflective material that makes you stand out in low-light, low-visibility situations.
The final fit and comfort test for your best motorcycle rain gear…
Your rain gear must fit right, feel comfortable and keep you covered when you're on your motorcycle -- with your feet positioned and your hands on the controls.
Depending upon your bike's design, you could be sitting with your body upright, tilted forward or even leaning back when you ride. 
The most effective way to determine if your wet weather gear fits okay is to get into it, get on your bike and take hold of the handlebars.
Is the rain jacket comfortable? Does it keep your riding jacket covered?
Are the legs on your pants the right length?  They should be a bit long when you're standing so they'll cover all of your boot tops when you're on sitting on your bike and your knees are bent.
By "seat testing" your gear, you'll can make sure will fit right and feel okay when you'll need it most.
One more thing...
Even though you may not expect to need your wet-weather gear very often -- I know I don't -- stash it where it's quick and easy to reach without pulling apart your other gear.
Keep it right on top where you can grab it and put it on as fast as possible.
---
In my efforts to give you the most useful, high-quality info anywhere, I've zeroed-in on a great resource where you can find motorcycle rain suits and other rain gear and all other rider gear…
Click here to find motorcycle rain suits, rain gear and all other rider gear that's right for you…
---
What's the best motorcycle riding gear for you?  This book will help you decide…
"How to Choose Motorcycle Riding Gear" will help you make knowledgeable decisions when selecting your motorcycle riding…
·        Jackets
·        Boots
·        Pants
·        Gloves
Click here or on the book cover for details concerning the book's contents and to download your own copy.
---
Return from Motorcycle Rain Gear
---
Let's stay in touch!
Get your free subscription to..."Savvy Motorcyclist E-zine"
And you'll also receive your free copies of..."The 10 Best Motorcycle Travel and Trip Planning Websites on the Internet" ... plus the Motorcycle Safety Foundation's 58-page Motorcycle Operator's Manual.
These great resources will help you to ride better, plan your trips, enjoy the best motorcycle roads and get the most out of motorcycle riding.

Custom Search