Deerskin motorcycle gloves I use when I ride…
DeerTours from Lee Parks 
The deerskin motorcycle gloves I reach for when I ride are made by Lee Parks Design. 
They're called DeerTours motorcycle gloves. 
They're my every-day riding gloves.  And every time I pull them on is a real treat because they feel great.  
In addition to being comfortable and flexible, they provide great protection.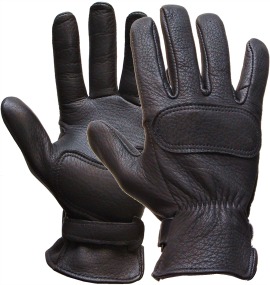 You know there are tons of riding gloves on the market and you have lots of choices.  
There was a time when many motorcycle riders used leather work gloves they bought at a local hardware store as their everyday riding gloves. 
The gloves were stiff and uncomfortable.  But eventually they softened up -- sort of.
But those days are over.  
These deerskin motorcycle gloves are a treat to wear because they're very different from gloves made of other materials -- even other types of leather. 
Here's what these deerskin motorcycle gloves give you...
A highly effective four-seam design.  These gloves have only four seams throughout for exceptional strength and protection.

 
             You benefit because fewer seams mean there are fewer places                   to split apart if you have an accident… 
Dual-duty thread.  These gloves are stitched with two threads through every optimally-spaced hole.  This is important because double stitching adds strength and properly-spaced stitches won't weaken the leather.

Unlike textiles, more threads per inch in leather makes the garment -- especially gloves -- weaker, not stronger.  

Lee Parks' gloves rely on two strong nylon threads per hole. 

The stitching is designed to give you just enough elasticity to maximize seam strength…
Seamless palms.  Without stitching across the palms, you get optimal feel without pressure points…plus the…
Double-stitched "Ergo-Tech" palm patch doesn't bunch up while providing strong abrasion resistance… 
Velcro wrist closures let you snug these gloves down for a custom fit while preventing them from coming off when they scrape the ground…

 
2.75+ oz U.S. deerskin.  This material is remarkably soft yet extremely tear- and abrasion-resistant.  This gives you superior protection and the ability to feel your motorcycle's controls with ease…

 
Trimmed and ironed internal seams.  By smoothing out all internal seams, Lee Parks goes the extra mile to give you unrivaled fit, comfort and dexterity…

 
Hand-washable.  You can wash these gloves the same way you wash your hands.  And after they dry, the deer and elk hides stay soft, pliable and comfortable…

 
4.0 oz. U.S. elk skin back.  Elk hide is extra soft and extra strong while remaining comfortable throughout a wide temperature range.  For you this means multi-season comfort…and the… 
Double-layer elk skin backing on your knuckles gives you additional abrasion protection.

 
As I said, you have many, many glove designs to choose from.  But these DeerTours deerskin motorcycle gloves are a real treat to wear and they give you great protection.
Click here for a reliable resource where you can pick up a pair for yourself or for a deserving riding buddy…
---
DeerTours deerskin motorcycle gloves to the main
---
Let's stay in touch!
Get your free subscription to..."Savvy Motorcyclist E-zine"
And you'll also receive your free copies of..."The 10 Best Motorcycle Travel and Trip Planning Websites on the Internet" ... plus the Motorcycle Safety Foundation's 58-page Motorcycle Operator's Manual.
These great resources will help you to ride better, plan your trips, enjoy the best motorcycle roads and get the most out of motorcycle riding.

Custom Search