Funny Motorcycle Stories...
"101 Road Tales"
By Clement Salvadori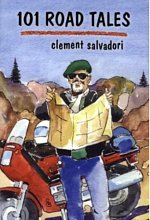 The funny motorcycle stories in "101 Road Tales" have you traveling with Clement Salvadori, a great motorcycle riding story teller and Rider magazine contributing editor.
He has a nice way of focusing on many little things that make motorcycle riding so enjoyable.
His love of riding and clever observations of the road, the people he meets along the way and the places he's visited shine through.
Salvadori bought his first motorcycle when he was a teenager, and since then he's traveled through more than 70 countries on six continents.
I know whenever I've read his motorcycle stories, I've enjoyed the way he uses simple experiences and happenings to show how they contribute to the overall enjoyment of motorcycle riding.
Even if you don't ride a motorcycle, I believe you'll enjoy Salvadori's road tales just for their story-telling quality.
In his own words...
"Touring is an imprecise art. You don't know quite what adventure awaits around the next curve in the road.

"And it is precisely that lack of precision, that possibility for adventure, which makes traveling, especially traveling by motorcycle, so appealing to so many."
"I love riding a motorcycle. It beats the heck out of an automobile, bus, train or airplane.

I might get cold and wet, but those are minor inconveniences when contemplating the raptures I derive from the experience.

"Motorcycling is not for everyone, but it is a passion for some of us"
"And this may be most important: traveling by motorcycle is the friendliest way to travel.

"You pull up in front of Parton's Grocery and Dry Goods where three good ole boys are sitting on the porch bench, chawing and whittling, and chances are you'll soon be engaged in a conversation."
---
Click here to get your own copy of
---
Salvadori's funny motorcycle stories make you feel as if you're sharing road tales about touring and riding with a well traveled, understanding buddy.
Here you can enjoy the rhythm of the road, hear the music of the bike and take in the surrounding beauty as if you were riding along.
You also get to meet some of the characters Salvadori has encountered and laugh at some of his blunders that other motorcycle riders will appreciate.
This great collection of road tales is also enjoyable reading even if you don't happen to ride a motorcycle.
---
Return from "101 Road Tales" to the main
---
Let's stay in touch!
Get your free subscription to..."Savvy Motorcyclist E-zine"
And you'll also receive your free copies of..."The 10 Best Motorcycle Travel and Trip Planning Websites on the Internet" ... plus the Motorcycle Safety Foundation's 58-page Motorcycle Operator's Manual.
These great resources will help you to ride better, plan your trips, enjoy the best motorcycle roads and get the most out of motorcycle riding.

Custom Search