Heated Motorcycle Clothing...
Stay Toasty When Your Ride Turns Cold
Heated motorcycle clothing can make the difference between you enjoying a nice, comfortable motorcycle ride or suffering through a cold, shivering ordeal.
Here are three key ways you can benefit from heated riding gear…
First, when suiting up to ride in cold weather, you can pull on your heated apparel to keep you warm from the minute you roll out of the garage until you return…
Second, by packing a heated garment when you ride -- even if it's just a compact electric vest -- you're prepared if the weather suddenly turns cold…or if you're caught on the road after dark…or any time you feel a chill slowly working its way into your body…
Third, heated motorcycle clothing extends your riding season. You can take advantage of bright, clear riding weather well beyond your "un-heated" comfort zone…
For most motorcycle riders, such benefits are obvious…
However, until I gave it a try, wearing heated riding apparel seemed unnecessary.
I'd always worn layers of cold weather clothing under my riding jacket and pants. The combination did a pretty good job of keeping my body heat in and the cold out.
Sure, my mix of clothes didn't always keep me as toasty as I'd like -- especially when the weather got really cold where I live in New York.
But what can you expect?
---
Click here for a great place to find the heated motorcycle
---
Not until I received a very basic heated vest as a gift, did I realize what I'd been missing.
My vest may not be the most powerful, heat-pumping electric garment on the market. But unless the roads are icy or snow-covered, it enables me to ride year-round -- even in freezing weather.
It's a nice feeling to ride in cold weather and stay relatively warm and comfortable inside my clothes.
The vest fits snugly and holds the heat close to my body. I usually wear it over a long-sleeved thermal T-shirt and under a wind-blocking pullover. My riding jacket -- including its thermal lining -- covers everything.
Similar to most electric garments, I plug my vest's power cord into my motorcycle's dashboard utility outlet. I regulate the garment's heat output with an in-line thermostat attached to vest's power cord.
The great advantage of heated motorcycle clothing -- particularly a vest or jacket -- is it helps your body maintain its core temperature.
When your torso and vital organs stay warm, it's easier for your heart to keep a warming flow of blood circulating through your hands and feet and everything in between.
So by keeping your chest warm, you benefit your whole body.
How much do you -- personally -- need heated motorcycle clothing?
How well can you tolerate the cold?
Your answer to that question should guide you through your selection of heated motorcycle gear.
But before you begin evaluating different types of heated motorcycle clothing, first give some thought to the…
Types of riding you enjoy most…
Your typical daily travel mileage…
Weather conditions in which you ride…
Seasons in which you ride…
Types of roads or trails you ride on most…
Then consider the motorcycle you ride…its physical design…its age and the power output of its electrical system…
How well does your motorcycle protect you from the wind and the weather?
Does your motorcycle have a windshield?
Does your motorcycle have a fairing?
How well can your bike's electrical charging system support the added draw of heated motorcycle gear?
---
Click here for a great place to find the heated motorcycle
---
Your heated motorcycle garment choices include…
Jacket liners
Vests
Gloves/glove liners
Pants liners
Socks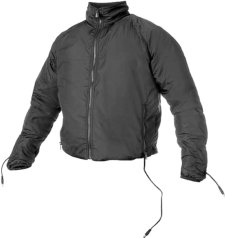 If you want the most warmth and coverage from a heated motorcycle garment, consider getting a jacket liner.
In addition to keeping your torso warm, you get the benefit of long sleeves that deliver heat to your arms. And most jackets have appropriately placed plugs you can use to attach and send power to heated pants liners and/or gloves-glove liners.
Your heated jacket liner should fit snugly -- but not tight -- so it can hold the warmth close to your body.
And depending upon the design of your primary motorcycle jacket, you may or may not want a collar -- particularly a tall collar -- on your heated jacket liner.
The liner's collar could add too much bulk to your neck area and prevent you from completely closing your jacket at the top.
Heated jacket liners -- depending upon the brand -- draw about 65 watts to 110 watts. And this is before you add heated gear for your hands, legs or feet.
So make sure your bike's battery charging system can handle the extra load.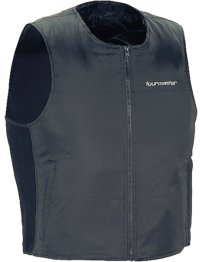 A good heated vest will satisfy most riders' needs for additional warmth. And a vest is good place to start when adding heated clothing to your riding motorcycle riding wardrobe.
By keeping your upper body comfortable, a vest makes it easier for your heart to warm your extremities. So, by wearing a vest, you might not need additional heated garments for your hands, legs or feet.
Some vests give you the option of adding sleeves in case -- on some rides -- you want additional heated coverage.
Similar to a heated jacket liner, your heated vest should fit snugly -- but not tight -- so it can hold the warmth close to your body.
And depending upon the design of your primary motorcycle jacket, you may or may not want a heated vest with a high heated collar.
When you're evaluating different vests, make sure the collar doesn't prevent you from closing your jacket at the top.
Most vests draw about 45 or 50 watts, and -- most likely -- won't strain a newer motorcycle's charging system.
I hate to operate my bike's controls with cold, numb fingers.
Frigid hands create a dangerous, painful distraction.
Bulky, unheated gloves can make it difficult to feel and operate your bike's controls. And this can reduce your reaction time.
Heated handlebar grips are nice, but they don't warm the backs of your hands.
And my thumbs always seem to get cold. Why's that, I wonder.
Efficient heated gloves will warm each of your hands entirely while giving you the feel and thinness of lighter-weight, warm- season gloves.
Heated gloves plug directly into the cuffs of your long-sleeved heated jacket liner.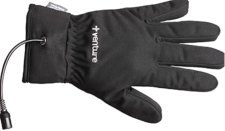 Heated glove liners are a nice alternative to heated gloves because you can use them under a pair of your everyday riding gloves. Just make sure the glove-and-liner combination isn't uncomfortably tight or restrictive.
Heated gloves and glove liners draw about 15 watts to 30 watts of power from your bike's charging system.
Heated pants liners radiate warmth to your thighs, knees and seat. Such heat can be especially welcome if you like long distance riding.
However, pants liners should be your third choice for heated apparel. First consider a jacket or vest, then gloves or glove liners.
Heated pants liners plug into the bottom of your jacket liner and draw about out 35 watts of power.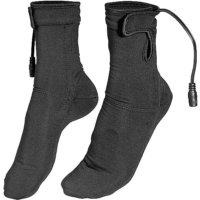 Heated sox are your last option when building an electrified cold-weather wardrobe.
Typically, you'd connect warming socks to the bottom of your heated pants liner. But some models have an optional wiring setup you can use without heated pants.
Look for heated socks that are not bulky and use the latest in "flat heat" technology.
A pair of heated socks usually draws about 18 watts.
A word about fit
Look for heated motorcycle clothing that gives you warmth without bulk. Make sure you can slide your primary riding jacket and pants easily over your heated jacket liner or vest or pants liner.
If you equip yourself with heated glove liners, make sure your hands can still fit comfortably inside your riding gloves.
The same goes for heated socks. You don't want tight-fitting, bulky sox -- heated or otherwise -- that restrict the warming blood flow to your toes.

Make sure everything fits comfortably inside your riding boots.
"Fit" also applies to making sure you can roll up any heated gear you're considering so it doesn't take up much space in your saddlebag, tail pack or wherever you stash it on your motorcycle.
Your heated motorcycle clothing should feel comfortable when combined with your other riding gear. It should stay in place when you're sitting on your motorcycle with your feet on the pegs and your hands gripping the controls.
By "seat testing" your gear, you can make sure your gear fits and feels right when you need it most.
One last important piece of advice…
Even though you may not expect to use your heated motorcycle clothing too often, make sure you pack it on your bike where you can reach it quickly and easily without digging through other equipment.
Heated motorcycle clothing can add an entirely new dimension to your enjoyment of motorcycle riding.
It can make riding more comfortable and safer and greatly extend your riding season.
It's worth giving it a try…
In my continuing efforts to provide you with the best information possible, I've discovered a wonderful resource where you can find heated motorcycle gear…
---
What's the best motorcycle riding gear for you?  This book will help you decide…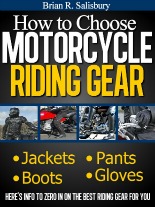 "How to Choose Motorcycle Riding Gear" will help you make knowledgeable decisions when selecting your motorcycle riding…
·        Jackets
·        Boots
·        Pants
·        Gloves
Click here or on the book cover for details concerning the book's contents and to download your own copy.
---
Return from Heated Motorcycle Clothing to the main
Motorcycle Riding Gear page...
---
Let's stay in touch!
Get your free subscription to..."Savvy Motorcyclist E-zine"
And you'll also receive your free copies of..."The 10 Best Motorcycle Travel and Trip Planning Websites on the Internet" ... plus the Motorcycle Safety Foundation's 58-page Motorcycle Operator's Manual.
These great resources will help you to ride better, plan your trips, enjoy the best motorcycle roads and get the most out of motorcycle riding.

Custom Search