Meeting George Brough.
by John Ford
(Nottingham, England)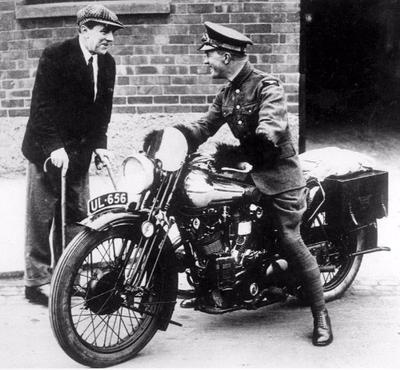 George Brough with T.E. Lawrence
I used to be a lift (elevator) engineer. It was a bit of an up and down job, so eventually I gave it up.

However, when I was still in that line of work, I received a call to repair a one-person lift that had broken down in a rather large house located in the town of Arnold, a suburb of Nottingham, England.

When I arrived, a gentleman greeted me and explained the problem.

After I repaired the lift, he asked me to wait a bit.

He walked out of the room and I saw through a window when he jumped into a Rolls Royce and headed down the driveway.

While he was gone, a kind lady -- I presumed his wife -- showed me around the house.

I saw many photos of guys on motorcycles. There was also a photo of a ventriloquist with his dummy.

I asked the identity of the person appearing in most of the photos, and she told me it was the man I'd seen drive off in his Rolls Royce.

It was none other than George Brough, founder of the Brough Superior motorcycle works located in Nottingham from 1925 to 1940.

And the ventriloquist was his brother.

Brough Superior motorcycles, produced using British-made parts, were coveted by the rich and famous.

Dubbed the Rolls-Royce of Motorcycles, approximately 3,050 were built before World War II brought production to a halt.

It is estimated that approximately one third of the motorcycles produced by the Brough Superior company still exist.

An intriguing point is that George Brough's company built eight or more motorcycles owned by none other than T. E. Lawrence -- "Lawrence of Arabia."

Unfortunately, Lawrence died in 1935 after crashing his Brough model SS100 when driving near his cottage home in Dorset.

He swerved to avoid two cyclists, lost control and went over the handlebars. He wasn't wearing a helmet and suffered severe head injuries.

I hadn't waited long when the Rolls returned. George had actually driven to the bank to get the money to pay me plus some extra for a tip -- a crisp 10 bob note (50p) new currency but worth a lot more in those days.

Wow.

Not only was he a generous man, but he made it possible for me to shake the hand of George Brough who had shaken the hand of Lawrence of Arabia.

My claim to fame.

Bless you George.