Use a Motorcycle Battery Tender
to Energize Your Battery Between Rides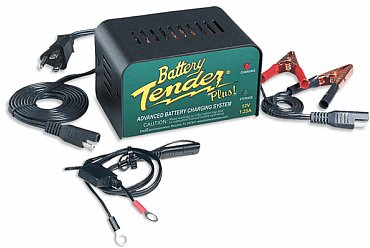 A motorcycle Battery Tender will charge your bike's battery then keep it energized to start your motorcycle when you want to ride.
Even if you don't ride often or your bike remains dormant during cold winter months, by keeping it attached to a Battery Tender, your motorcycle's battery will stay powerful between rides.
For years I've relied on various Battery Tenders to keep my motorcycles ready to ride. And those products have never let me down.
I also keep a spare battery for my cars attached to a Battery Tender.
I hate to hear the dreadful "dead battery solenoid clatter" when I turn the ignition key to start my car. So I keep a spare battery charged up and ready to bail me out of unexpected dead battery situations.
One of my motorcycles is a vintage BMW that I only ride three or four times a year. It's nice to know -- when I want to take it for a cruise -- the battery will give me more than enough power to kick over the engine on the first try.
---
Click here for a great place to find a
Battery Tender for your motorcycle…
---
Here are key features a Battery Tender gives you…
It will…
Charge your bike's battery…
Automatically shift from full charge to float charge…
Continuously monitor your battery's voltage…
Re-activate the full charging mode if the voltage drops too low…
It will keep your battery energized without causing it to overheat or overcharge -- two problems trickle chargers can cause.
A motorcycle Battery Tender will also give you the convenience of a quick-connect/release harness.
This little device makes it easy for you to connect your bike to this charging system. You needn't grope around in hard-to-reach areas under your bike's seat or behind the fairing to attach alligator clips to your battery.
Other features a Battery Tender charging/battery maintenance system gives you includes…
Temperature compensation to ensure your battery gets an optimum charge regardless of ambient temperature…
Reverse polarity protection to safeguard you and the battery...
Availability in 12-volt and 6-volt models…
Every bike in my garage has a semi-permanent harness attached so I can connect it easily to a motorcycle Battery Tender.
I hook it up immediately after I return from a ride and park the bike. It remains connected until I roll the bike out for another ride.
In addition to keeping your bike's battery energized, another good reason to keep your bike attached to a motorcycle Battery Tender when you're not riding is because it increases a battery's potential lifespan.
According to Deltran Corporation, which manufacturers Battery Tender products, "Laboratory tests have shown that consistent use of any Deltran Battery Tender can add as much as three to four times normal battery life (five to seven years is not unusual)."
The Battery Tender Plus -- a product I use -- has a set of lights on its face that indicate a battery's condition when a bike is connected to it.
After I return from a ride then connect the Battery Tender, a red light on the unit tells me the system is analyzing the battery's charge. Within seconds, a green light usually starts blinking, which tells me the unit is charging my battery.
A steady green light tells me when the battery is fully charged and ready to go.
The Battery Tender continues to monitor the battery's power level and keeps it strong for months if necessary.
You have a few Battery Tender models to choose from to suit your needs. Each is reliable and easy to use…
…and each will keep your mind at ease when it comes to keeping your motorcycle ready to ride.
In my continuing efforts to provide you with the best information possible, I've discovered a wonderful resource where you can pick up a motorcycle Battery Tender to keep your bike's battery pumped up for your next ride...
---
Click here to zero-in on your own
---
Return from Motorcycle Battery Tenders to the
---
Let's stay in touch!
Get your free subscription to..."Savvy Motorcyclist E-zine"
And you'll also receive your free copies of..."The 10 Best Motorcycle Travel and Trip Planning Websites on the Internet" ... plus the Motorcycle Safety Foundation's 58-page Motorcycle Operator's Manual.
These great resources will help you to ride better, plan your trips, enjoy the best motorcycle roads and get the most out of motorcycle riding.

Custom Search