Motorcycle boots right for me...
These are my everyday choice for riding 

Motorcycle boots right for me and for many other motorcycle riders' touring and daily commuting needs are these Alpinestars Web Gore-Tex boots.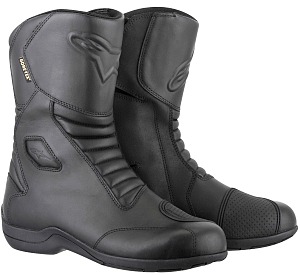 I'd been wearing a similar style of Alpinestars Gore-Tex-lined boots for nearly 15 years.  During that time I'd relied on them when covering thousands of miles on multi-day tours and lengthy weekend rides. 
They gave me all-day riding comfort in hot, cold and rainy weather. 
I had them resoled once and I reinforced the worn-down gear-shifter toe guard on the left boot.  
After enjoying such great service from those boots, I'd hoped to buy another pair just like them.  Unfortunately, the company no longer makes that model. 
However, they've included my original boot's attractive features and understated good looks in the 2014-improved version of its Web Gore-Tex boots…which makes them the motorcycle boots right for me. 
When Alpinestars updated the Web Gore-Tex boots, it made them leaner and sportier-looking than the first version of those boots. 
Here's what makes these motorcycle boots right for me…

 
The boots' significant features include… 
A side entry system with an elastic mounted zipper and wide Velcro flap for convenience and a precise, secure, fit…

 
Overall, these boots give me everything I'm looking for in a pair of all-day touring/commuting boots.  
They're intended primarily for riding so they're a bit stiff for walking.  If you wear them to work, you might want to carry a second pair of shoes to change into after you arrive.   
Click here for a reliable resource where you can pick up a pair of these boots for yourself…
Plus you get free shipping…
---
Return from "My Choice" Alpinestars Web Gore-Tex Boots
Motorcycle Gear For Riders page
---
Let's stay in touch!
Get your free subscription to..."Savvy Motorcyclist E-zine"
And you'll also receive your free copies of..."The 10 Best Motorcycle Travel and Trip Planning Websites on the Internet" ... plus the Motorcycle Safety Foundation's 58-page Motorcycle Operator's Manual.
These great resources will help you to ride better, plan your trips, enjoy the best motorcycle roads and get the most out of motorcycle riding.

Custom Search