Motorcycle Cruise Control
Go Cruise 2
Gives You Throttle Control and a Chance to Relax
The motorcycle cruise control Go Cruise 2 is a universal throttle control that lets you take your hand off the accelerator and maintain your speed.
You can get one in black…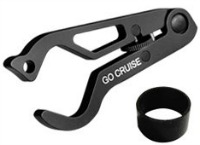 And you can get one in silver…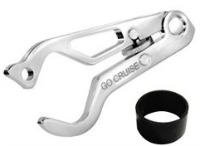 It lets you rest your arm, shoulder and back muscles while keeping the throttle where you want it.
This motorcycle cruise control is good for long stretches…
You'll find it particularly useful on long stretches of the Interstate Highway System where you don't have to work the throttle too much due to traffic or terrain.  Just set this mechanical cruise control and you can maintain a constant speed. 
Even on short, level highway stretches it lets you relax.  This is especially useful to me because it helps me to avoid sore shoulder and back muscles when I'm on the road for a multi-day ride through all sorts of terrain. 
It lets me maintain my speed while I take my hand off the throttle to stretch and exercise tense muscles. 
Easy to install… 
If you have more than one motorcycle, you can easily move the Go Cruise 2 to any of your rides.
This universal throttle lock gives you a simple mechanical solution to installing a cruise control. 
You secure this sturdy aluminum-alloy lock to the throttle grip with the unit's adjustable tension gear. You can install it in just a few seconds.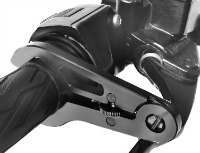 Easy to operate… 
When you reach a desired cruising speed, just press the cruise control down with your index finger until it rests against the brake lever. 
It will hold the throttle's hand grip at the point where you've twisted it open. 
And while the tension gear on the cruise control provides enough pressure to hold the throttle in position, you can still roll it off with ease to reduce your speed. 
I must admit I don't get too many opportunities to ride on wide-open highways that are relatively free of traffic.  So, I don't use my cruise control too often on big roads. 
However, because I seem to be getting sore muscles more often these days after I ride for just five or six hours on twisty roads, the cruise control enables me to relax and stretch occasionally and avoid muscle discomfort.  As a result, I can continue riding for 10 or 12 hours -- or longer.   
This cruise control is nicely made of sturdy aluminum.
Click here to get your black aluminum Go Cruise 2 universal cruise control...or...
Click here to get your silver aluminum Go Cruise 2 universal motorcycle cruise control...
---
Return from the Go Cruise 2 motorcycle cruise control
Let's stay in touch!
Get your free subscription to..."Savvy Motorcyclist E-zine"
And you'll also receive your free copies of..."The 10 Best Motorcycle Travel and Trip Planning Websites on the Internet" ... plus the Motorcycle Safety Foundation's 58-page Motorcycle Operator's Manual.
These great resources will help you to ride better, plan your trips, enjoy the best motorcycle roads and get the most out of motorcycle riding.

Custom Search