Your Motorcycle Exhaust System
…What You Should Know Before
Modifying Your Bike's Exhaust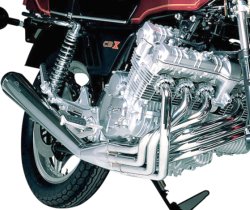 Motorcycle exhaust system changes -- big or small -- can improve your bike in two major ways…
By replacing your entire stock exhaust system -- or system components -- you can radically enhance your motorcycle's performance, appearance and sound...
You can reduce your bike's overall bulk -- and gain a few horsepower -- by installing exhaust system hardware made of titanium, carbon fiber and other light-weight materials...
However, be careful when replacing or modifying your stock motorcycle exhaust system.
The folks who designed your motorcycle gave it an exhaust system that would complement its design and reinforce the motorcycle's speed, power and performance capabilities.
Before you replace or modify this system, be sure any non-stock elements you're considering will work flawlessly on your bike…
Otherwise they it can impair -- rather than enhance -- your motorcycle's performance.
---
Click here for exhaust system components for your
---
Any new exhaust system equipment should…
Suit your bike's technical and physical specs…
Fit and attach to your bike properly and easily…
Meet or exceed the stock exhaust system's capabilities…
Here's info to help you to sort out exhaust system replacement and modification options for your bike…
Exhaust system modifications can include…
Replacing your motorcycle's entire exhaust system…
Replacing your stock system's header…
Replacing your stock muffler with a slip-on muffler…
Adding heat shields to your exposed exhaust pipes…
Such modifications potentially can improve your motorcycle's…
Performance…
Appearance…
Sound…
Rider comfort…
First decide what you'd like to achiever by modifying your motorcycle exhaust system…
Then determine which of the following exhaust system modifications best suits your needs…
Complete exhaust system replacement...
The most thorough exhaust system modification you can make to increase your motorcycle engine's performance and reduce its overall weight is to exchange a heavy, flow-restricting stock exhaust system for a lighter, higher-flow-through replacement.
Systems with titanium or carbon fiber components offer substantial weight savings.
But before you buy any replacement motorcycle exhaust system, make absolutely sure it's designed to fit and work properly on your motorcycle.
Make sure it won't interfere with your bike's controls or with you or a passenger when you're seated and riding.
Be aware, if you ride a bike built from about 2005 or later, some replacement exhaust systems may require you to remove the servo-controlled exhaust valve in your stock exhaust.
---
Click here for exhaust system components for your
---
This valve regulates your motorcycle's exhaust flow and back pressure. Without this valve, your engine won't run properly.
Also, your bike's electronic brain may set off dashboard error lights when it doesn't detect the valve….and your odometer and trip meter might not work properly, either.
But here's the good news…
If an aftermarket exhaust system can't accommodate your bike's exhaust valve or other stock components, the aftermarket system manufacturer should provide a "remedy kit" or "work around" so you can install their product onto your motorcycle.
Replacing your stock system's header…
A high-efficiency exhaust header can improve your motorcycle engine's performance and gas mileage. And in some instances, it can help keep hot pipes away from your legs.
Plus, a titanium header can reduce your motorcycle's overall weight.
A high-efficiency exhaust header eliminates back pressure when your bike's engine pushes out exhaust gasses.
By eliminating back pressure when the gasses escape, the header increases the engine's efficiency.
A high-efficiency exhaust header gives each cylinder its own mini exhaust pipe.
These pipes -- cut, bent and formed so they're all the same length -- merge into one larger pipe called a collector.
The pipes' equal length guarantees the exhaust gases from each cylinder are spaced equally and flow smoothly into the collector.
This smooth flow prevents back pressure and gives you a better-performing engine.
Replacing your stock muffler with a slip-on…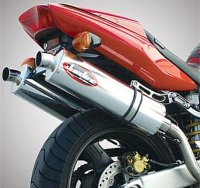 If your motorcycle has a heavy muffler -- or you'd just like a different look or sound -- you can shave off a few pounds and change the exhaust resonance by replacing your stock muffler with a slip-on exhaust/muffler.
A lighter-weight slip-on muffler can effectively increase your motorcycle's horsepower.
Another benefit of a slip-on is you needn't remove the exhaust control valve to install it -- which a complete motorcycle exhaust system replacement could require.
Installing a slip-on can be as simple as bolting it to your stock header's "S" bend or replacing the exhaust system from around the mid-point to the muffler end.
It all depends upon how your bike and the slip-on are designed.
Add one or more heat shields…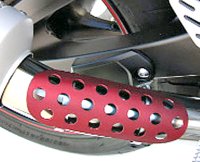 With strategically-placed heat shields, you can protect your leg and/or cover sections where your exhaust pipes have turned blue.
After replacing or modifying your motorcycle exhaust system, here are a few practical standards you can use to evaluate how well the new components are working and benefiting you and your bike…
---
Click here for exhaust system components for your
---
Do your exhaust system changes enable your motorcycle to…
Start easily when the engine is cold?
Move easily from a full stop into moving traffic with sufficient power?
Maneuver through city traffic at low speeds with smooth, sufficient power?
Move easily with highway traffic and in bumper-to-bumper situations?
Easily climb mountain roads when fully loaded?
Give you quick energy and power when you twist the throttle?
Sound good?
Answer "yes" to these questions and you're ready to go for a long motorcycle ride to enjoy your exhaust system mods…
---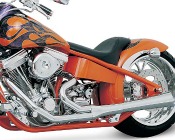 In my continuing efforts to provide you with the best information possible, I've teamed with a great resource where you can find a motorcycle exhaust systems and components…
Click here for a great place to find the exhaust systems and components right for your bike…Plus you get free shipping…
---
Return from Motorcycle Exhaust System…
…to the main Motorcycle Parts page
---
Let's stay in touch!
Get your free subscription to..."Savvy Motorcyclist E-zine"
And you'll also receive your free copies of..."The 10 Best Motorcycle Travel and Trip Planning Websites on the Internet" ... plus the Motorcycle Safety Foundation's 58-page Motorcycle Operator's Manual.
These great resources will help you to ride better, plan your trips, enjoy the best motorcycle roads and get the most out of motorcycle riding.

Custom Search