Need Motorcycle Hand Tools?
Here's Info to Help You Pack Tools
You'll Want When Traveling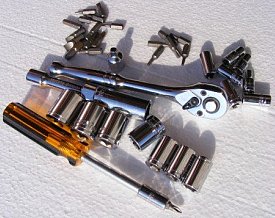 Motorcycle hand tools that you carry on your bike all the time serve these two important purposes…
They give you peace of mind.

By just having certain tools handy that you think you'll need in an emergency or even for routine repairs will give you peace of mind whenever you ride.
They're available. If you actually need one or more of those tools to either avoid or handle an emergency or a routine repair, you've got them.
---
Click here for a great place to find tools and tool kits for
your routine or emergency motorcycle repairs.…
---
But before I continue about which motorcycle hand tools to have handy when traveling, let me stress this obvious point.
You're better off taking care of any cycle maintenance or repairs in your driveway or garage or at your local cycle shop rather than on the road during a trip.
Roadside repairs are, at best, a nuisance. And they can be dangerous.
So before head out on your bike, take care of any routine maintenance. Check your motorcycle for potential problems and fix any you find.…
Look for oil leaks
Tighten loose nuts and bolts
Check the pressure and tread condition of your tires
Spin each wheel to see if you've picked up any nails that haven't penetrated deep enough -- yet -- to flatten a tire
Make sure all lights are working
Even though I've been riding motorcycles for many years and can handle minor repairs and periodic servicing with the proper motorcycle tools...my mechanical and electrical troubleshooting capabilities are limited.
If the cause of a problem isn't obvious, I'm in trouble.
The best backup to my motorcycle hand tools and spares are my...
Cell phone
Credit card
Emergency roadside service number for my insurance company and the American Motorcyclist Association
Choosing the most useful motorcycle hand tools to pack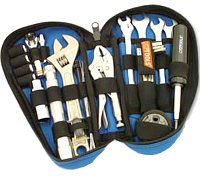 Handtools can be heavy and take up space on your bike. That's why compact, high quality tools are most beneficial and practical to pack.
The first thing I did after buying my (then) new bike was supplement its wimpy OEM tools with a compact, high quality tool kit. Then I added a few more items to that kit to increase my comfort level and repair capabilities.
I made sure I had a selection of wrenches that fit all of my bike's nuts and bolts.
I also stashed a compact socket set under the seat.
I tracked down a basic electrical system testing/trouble shooting device to help me zero-in on electrical problems.
For long trips, in addition to the motorcycle hand tools you carry all the time, you might want to pack a few tools you don't usually carry -- an oil filter wrench, for example.
Or if your bike has a chain, you might want to carry some dedicated chain repair tools.
---
Click here for a great place to find tools and tool kits for
your routine or emergency motorcycle repairs.…
---
Here's a list of motorcycle hand tools and spares to help you manage most emergency repairs...and avoid trip-stopping problems…
Tools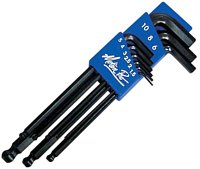 Allen wrenches

Include all large and small sizes specific to your bike.
Combination wrench set

Include all large and small sizes specific to your bike
Crescent wrench (6-inch)
Duct tape

Pack a small roll of tape or wind 10-15 feet around a short dowel or pencil. Be sure to replace it every year.
OEM owner's manual

The info it provides is limited, but pack it just in case.
Slip-joint pliers (6-inch)
Vise-grip locking pliers (7-inch)
Ratchet drive adapter for small sockets
Siphon tube

I carry six-foot-long piece of 3/-4-inch clear plastic tubing to use as an emergency gasoline siphon.
Compact socket set

Carry a collection the most-used sockets specific to your bike.

If your kit doesn't have a specific socket that you might need, make sure one of your wrenches will do the job.


Spark plug socket

You should have one in the tool kit that came with your bike.


Multi-meter

You'll need a multi-meter to troubleshoot electrical problems.

It enables you to check and measure AC or DC voltages, resistance and continuity throughout your bike's electrical system.


Electrical system wiring diagram

You'll need this diagram to help you trouble shoot electrical problems. You can copy the diagram from a Haynes service manual focusing on you motorcycle.


Fold the diagram into a Zip Lock freezer bag with your bike's original owner's manual to keep them both dry.


Tape measure

Get the smallest one you can find.


Tool roll or tool bag

You need a nice sturdy fabric pouch or roll to hold all this stuff.


Tie wraps/zip ties/cable-ties

Carry about a dozen in different lengths and sizes


Electrical tape Carry a small roll and replace it every year.


Ball-peen hammer.

Cut the handle down on a medium/small hammer so you can pack it easily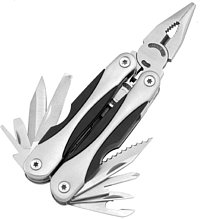 The tool kit that came with your machine may include a few tools specific to your bike that you can't get anywhere else. It could also contain a few wrenches or tools that will enable you to omit some of the items listed here.

Tire repair tool Having this tool -- and knowing how to use it -- to plug a flat tire, then pump in the enough air can mean the difference between sitting stranded on the road or getting up and running in a few minutes.
---
Click here for a great place to find tools and tool kits for
your routine or emergency motorcycle repairs.…
---
Here are the most important items for your tire repair kit…
Air pressure gauge

Get one that's accurate and convenient to use on your bike's wheels.
Air pump -- hand operated.

Carry at least a compact hand pump made for bicycles to inflate your motorcycle tires. Make sure it works on your motorcycle.
Air pump -- electrically operated

You can get a pump about the size of a paperback book that plugs into your bike's power outlet.

They're convenient and can save you lots of energy when inflating a tire or simply maintaining the right pressure day after day. Make sure the one you choose works on your bike.
CO2 cartridges(6)

Cartridges are okay if that's all you've got. But you must carry six or more to inflate a tire to an appropriate riding pressure. And once they're gone, that's it.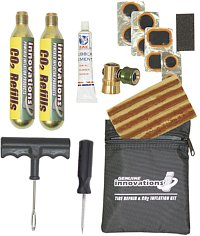 Tire patches/plugs and application tools

Tire parches or plugs and the tools needed to stop a leak are easy to find in any automotive store.

Practice fixing a few flats on an old tire from your cycle before you actually have to do it.

Be sure to replace the plugs and glue every year -- they can dry out.
Emergency spare parts
Fuses

Carry two of each fuse size that your bike's electrical system uses. You can keep them safe and easy to locate in a plastic 35mm film can or a large drug store pill container.
Headlight, tail light and turn signal bulbs

Protect these bulbs in bubble wrap and store them where other gear won't bang against them.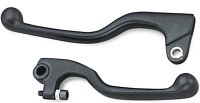 Spare brake and clutch levers

You might never need to use you spare brake or clutch lever -- let's hope you don't. But if you have an accident or your bike simply falls over, you could snap or bend either lever. Having a spare will keep you riding. And they don't take up much storage space.
Spare timing belt

I carry an old timing belt that had been on my motorcycle and is still in reasonably good shape.
Here's your most important emergency "accessory"
Above and beyond the motorcycle hand tools and spare parts you carry, the most important thing you can possess to fix your bike or otherwise keep moving in an emergency is your ingenuity and your knowledge of your motorcycle.
You don't have to be a motorcycle repair expert. Few of us are. But you'll be a happier, more confident rider when you're familiar with your motorcycle's basic operation.
Simply having the right motorcycle hand tools aboard and knowing how to use them to manage simple repairs will increase your peace of mind when traveling and make motorcycle riding all the more enjoyable for you.
In my continuing efforts to provide you with the best information possible, I've teamed with a great resource where you can find a wide variety of motorcycle hand tools…
I encourage you to click here for a great place to find a great selection of handy motorcycle tools…
---
Return from Motorcycle Hand Tools to the main
---
Let's stay in touch!
Get your free subscription to..."Savvy Motorcyclist E-zine"
And you'll also receive your free copies of..."The 10 Best Motorcycle Travel and Trip Planning Websites on the Internet" ... plus the Motorcycle Safety Foundation's 58-page Motorcycle Operator's Manual.
These great resources will help you to ride better, plan your trips, enjoy the best motorcycle roads and get the most out of motorcycle riding.

Custom Search