The motorcycle jeans I selected for everyday riding...
Alpinestars Resist denim jeans
The motorcycle jeans I selected after lots of searching and evaluation are these Alpinestars Resist Tech Kevlar-reinforced denim jeans.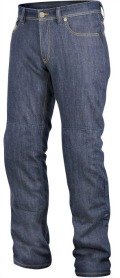 Here's why… 
I wanted a pair of Kevlar-reinforced jeans that also gave me strategically-placed knee and hip armor for impact and abrasion protection in those areas. 
Many Kevlar-reinforced jeans will give you a reasonable amount of Kevlar in the seat, knees and hips for abrasion protection.  And many provide some sort of armor/impact protection on the knees.  
But not too many give you impact and abrasion protection on the hips.  And that was the feature I wanted as much as the knee padding and seat protection.
I've fallen twice when wearing other brands of Kevlar-reinforced jeans.  Both times I wound up with a bruised, road-rash-decorated hip. 
Another nice feature is that these pants are made of durable, 12-ounce denim.  They stand up well to the rigors and abuse of motorcycle riding. 
It's important to point out that no Kevlar-reinforced denim jeans will give you the same high degree of impact and abrasion protection as armored leather pants and some full Kevlar pants equipped with knee and hip armor. 
However, these denim riding jeans will protect you infinitely better if you fall off of your motorcycle than will a plain pair of every-day denim jeans. 
Why I got denim motorcycle jeans
I got the Alpinestars Resist Tech jeans to wear when the weather is very hot and my heavy-duty motorcycle pants are so uncomfortable they become a distraction. 
And I like them because they look like regular straight-fit jeans.  After I reach my destination, I can wear them unobtrusively for walking around and hanging out. 
Here's what the Alpinestars Resist Tech pants have to offer… 
Kevlar in the seat, hip and knees for abrasion and tear resistance…

CE-certified knee armor…

Knee protection you can adjust to fit various leg lengths...

Removable/adjustable hip pads…

Strong twin-stitched seams…

Pre-shaped legs well-suited to your riding position…

Easy-entry stretch inserts on the front pockets…

Customized detailing on the zipper, buttons and rivets…

Design touches on the inner waist and pockets…

Leather belt patch and stitched leather logos…

Color-contrasting money pocket for added styling… 
I'll admit, they do cost more than a regular pair of denim jeans.  But the extra protection you get if you have an accident is what you're paying for.
And it's worth it. 
Click here to get your own pair of Alpinestars Resist Tech motorcycle jeans…
---
Return from My Selection: Alpinestars Motorcycle Jeans
to the main
---
Let's stay in touch…
Get your free subscription to...

"Savvy Motorcyclist E-zine"
And you'll also receive your free copies of...
"The 11 Best Motorcycle Travel and Trip Planning Websites on the Internet"

...plus the DOT's 8-page brochure titled

"Motorcycle Safety and Driving Tips"

These great resources will help you to ride better, plan your trips, enjoy the best motorcycle roads and get the most out of motorcycle riding…
Just enter your email address here then SUBSCRIBE...
---
---
Copyright