A Motorcycle Tail Bag...
Could Be Your Best Bet For Convenient Packing and Travel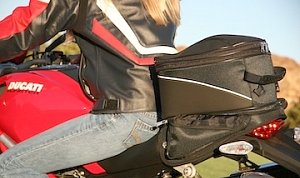 A motorcycle tail bag -- also called a tail pack -- attaches with straps or bungee cords to your motorcycle's rear luggage rack or the rear portion of your bike's seat.
Motorcycle tail bags bags come in many designs and sizes from small, simple cases to large, feature-filled pieces of cycle luggage.
While you can use a tail bag by itself to carry and protect your gear, some bags are part of complete luggage systems that also include matching saddlebags and maybe a tank bag.
---
Click here for a great place to find a tail bag that's right for you
---
Many motorcycle riders prefer using a compact tail bag rather than a tank bag because a tail bag sits out of your way when you're driving.
Also it keeps the added weight of your gear close to your bike's rear suspension.
You can quickly attach or remove a motorcycle tail bag.
And you needn't move a tail bag aside when you gas-up as you must with a tank bag.
However, many riders carry lots of stuff and rely on both a tail bag and a tank bag.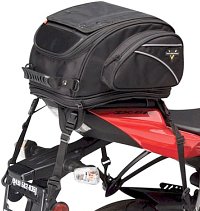 How do you plan to use your motorcycle tail bag?
Do you need a tail bag just for long trips?
Will you keep the tail bag on your bike permanently?
Do need it to carry lots of stuff or only the essentials?
Will two people use the tail bag?
Also, consider…
What kind of bike you ride...
If you only ride in clear, sunny weather...
How often you ride...
In which seasons you usually ride...
---
Click here for a great place to find a tail bag right for you and
---
Here's where you should check first when looking for a tail bag
When considering any kind of motorcycle luggage -- including a tail bag -- your best bet is to look first at your own bike manufacturer's products.
Hard luggage -- including a hard tail bag -- is standard gear on serious touring motorcycles. And you can get luggage as an accessory for many other bikes.
If your bike manufacturer's tail pack meets your needs and fits your budget, you can be sure it will also fit your bike and blend well with its design.
You have  lots of tail bags to choose from
Most tail bags are made of durable types of soft nylon -- such as Cordura -- and other synthetic fibers.
Maybe you prefer a leather bag. They're made of real and synthetic leather and look good on cruiser-style motorcycles.
Some bags have a lining that makes them water resistant. But most need and come with a rain cover to keep your stuff dry.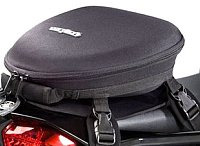 Some low-profile tail bags are intended to carry only a few small but important pieces of riding gear such as your camera, air gauge, Swiss Army Knife, flashlight, maps, reading glasses or medications. Things you want to keep handy.
Your tail bag capacity options increase to the point where many large tail bags are big enough to carry all your gear for an extended trip.
And convenient features such as extra compartments and side pockets also increase as tail bags get larger.
If you want a motorcycle tail bag primarily for touring or you expect to keep it attached to your bike all the time, you'll need one that…
Isn't a hassle to use...
Keeps your stuff dry and safe...
Looks good on your motorcycle...
Functions well with your motorcycle...
What size tail bag best suites you and your motorcycle?
When determining what size motortcycle tail bag will suit you best, first determine how much weight you expect to carry so you can select a bag that suits your needs as well as your motorcycle's gear-carrying capabilities.
When fully loaded, a large tail bag that's too big for your motorcycle can make it unwieldy or difficult to steer -- especially if the bag sits too far back on your motorcycle's luggage rack or seat.
Also, the extra weight of a heavy tail pack on your bike's luggage rack -- rather than on the seat -- may eventually break the rack or crack part of your bike's frame.
See if you can test-fit the bag you like most before you bring it home. If you can't, make sure you can return it if it doesn't attach properly to your motorcycle.
---
Click here for a great place to find a tail bag right for you and
---
Tail bag advantages
They're easy to attach or remove and carry...
They make it easy for you to get to your stuff...
The bag sits out of your way and doesn't interfere with your driving...
The bag attaches away from your bike's muffler or chain...
It keeps the weight of your gear over your bike's suspension...
Tail bags come in numerous sizes to meet your needs...
Many designs are available to suit your motorcycle...
Tail bag disadvantages
They're easy for the wrong person to remove...
They make it easy for the wrong person to get at your stuff...
A bag that's too big will interfere with your bike's handling...
A too-heavy bag could crack your luggage rack or your bike's frame...
When you're finally selecting a motorcycle tail bag, make sure…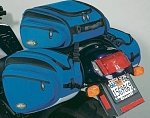 It gives provides the features and conveniences you want...
It's the right size...
You can attach and detach it quickly and easily...
It doesn't interfere with you or with your motorcycle...
It looks good on you motorcycle...
And it's also a nice idea if you can get a matching tail bag that works well with your saddlebags and other cycle luggage.
And after you get your new tail bag and attach it to your motorcycle, load it up, take a ride and enjoy your fine choice.
---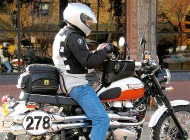 In my continuing efforts to provide you with the best information possible, I've teamed with a great resource where you can find a wide variety of motorcycle tail bags…
I encourage you to click here for a great place to find a motorcycle tail bag just right for you…Plus you get free shipping…
Let's stay in touch…
---
Return from Motorcycle Tail Bags
---
Let's stay in touch!
Get your free subscription to..."Savvy Motorcyclist E-zine"
And you'll also receive your free copies of..."The 10 Best Motorcycle Travel and Trip Planning Websites on the Internet" ... plus the Motorcycle Safety Foundation's 58-page Motorcycle Operator's Manual.
These great resources will help you to ride better, plan your trips, enjoy the best motorcycle roads and get the most out of motorcycle riding.

Custom Search