Need a Motorcycle Tank Bag? 
Choose the Best for You and Your Motorcycle...Here's How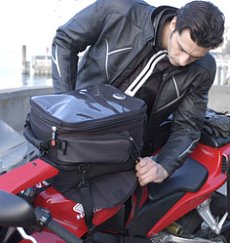 Motorcycle tank bags come in many shapes, sizes and designs to blend with your motorcycle and to suit your particular needs for…
A convenient, easy-to-reach place to carry your gear and accessories...
Storage space for every-day riding...
Additional storage space for extended touring...
Here's info to help you choose a motorcycle tank bag that best suits your needs and works well with your motorcycle.
True to its name, a tank bag sits atop your motorcycle's gas tank.
You detach the bag or otherwise move it aside to expose your bike's gas cap when filling-up.
---
Click here for a great place to find a tank bag right for you
---
A motorcycle tank bag can be relatively small for stashing a few necessities such as your sunglasses, camera, notepad, pen, mini-flashlight, map, small multi-tool, medicines or toll money.
After starting small, they get larger and larger to the point where an expandable tank bag can rival a saddlebag in size, features and conveniences.
Tank bags are made of durable types of nylon and other synthetic fibers. They may be water resistant but most bags come with a rain cover to keep your gear dry.
Most bags are padded on the bottom to prevent them from scratching your bike's paint.
And many have a clear plastic pocket on top where you can slip in a map or travel directions.
Whether you only need a motorcycle tank bag for touring or you'll always keep it on your bike, you'll want one that…
Works trouble-free...
Protects your gear and keeps it dry...
Complements your motorcycle...
Consider how and when you'll use your tank bag
Will you need a tank bag just for touring and trips?
Will it stay on your bike all the time?
Will it carry lots of gear or just few items?
Do you travel solo or do you need room for two?
Also, consider…
Your motorcycle's design...
If you ride in all kinds of weather...
How frequently you ride...
If you ride all year...
And the most important question…
What size tank bag best suits you and your bike?
Some riders use a small tank bag for day trips and a larger one for extended touring.
Because a tank bag sits close to you and your motorcycle's controls, it's easy to get a bag that's too big or otherwise interferes with your comfort or ability to operate your motorcycle.
When fully loaded some tank bags can get in your way or make your bike unwieldy.
You should attach your bag of choice to your motorcycle before you buy it. If that's not possible, then deal with a shop that will let you return an undamaged bag if it doesn't fit your bike.
IF you need an easy place to stow your gear for long tours, short jaunts or every day you ride…
---
Click here for a great place to find a tank bag right for you
---
You have these three motorcycle tank bag attachment systems to choose from…
Strap-Mount Tank Bag Attachment System
Magnetic Tank Bag Attachment System
Ring-Lock/Quick Lock Tank Bag Attachment System
Strap-Mount Tank Bags
This strap mounted tank bag attaches to your bike with a series of three or four straps -- two in front and one or two in back. The most convenient systems of this type let you clip the bag on and off while the straps remain in place.
You don't have to reattach the straps every time you remove the bag.
Strap bag advantages
Variety. You can get strap bags in all shapes and sizes
Stay secure when riding. When attached properly, strap bags stay firmly in place
Convenience. They're easy to detach from your motorcycle
More convenience. The straps remain adjusted in place to make reattaching easy
Strap bag disadvantages
Some models don't have quick release clips, so the bags aren't easy-on, easy-off
If improperly attached, the straps can scratch your bike's gas tank
Magnetic tank bags
Magnetic tank bags uses five or six powerful magnets to hold your motorcycle tank bag onto your bike's steel gas tank. A series of flaps that spread from the bottom of the bag and flop onto your motorcycles gas tank contain the magnets.
This system won't work on aluminum, plastic or fiberglass tanks -- anything non-magnetic.
But you knew that…
Mounting is as simple as positioning the bag and magnet flaps on your bike's gas tank. As a backup -- in case the bag wants to fly off -- you fasten the bag's safety strap around your motorcycle's steering head.
You might be concerned that magnets alone won't hold the bag solidly. Cycle luggage manufacturers who make these bags are -- legitimately -- confident they will.
Two things to be aware of when it comes to magnetic bags...
The magnets used for these bags are very powerful and potentially could wipe out info on a floppy disk (if you still use them) or on your credit card's magnetic stripe, and….
If you don't keep each magnet's mounting surface perfectly clean, any one of them could scratch the paint on your bike's gas tank
Magnetic tank bag advantages
Variety. You can find magnetic tank bags in all shapes and sizes
Portability. Magnetic bags are easy to switch from bike to bike
Reliability. When attached right, magnetic tank bags stay in place
Convenience. Magnetic bags are easy to detach and carry
Magnetic bag disadvantages
You can't use a magnetic bag if your bike's tank is non-magnetic
Dirt left on a magnet will scratch your motorcycle's paint
Security. The wrong people can easily remove a magnetic tank bag
---
Click here for a great place to find a tank bag right for you
---
You can attach some tank bags directly to your motorcycle's gas cap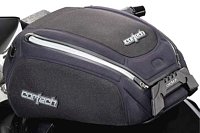 The problem with most tank bags is that they sit directly on your motorcycle's fuel tank and can damage the paint -- even if you use protective padding.
A few motorcycle tank bag companies have developed unique tank bag attachment systems to eliminate this problem.
Cortech uses its Ring-Lock gas cap-mounted system to enable you to easily attach or remove its two Dryver model tank bags.
Givi uses its Tanklock system incorporated into specially-designed tank bags' base to attached them to your motorcycle's gas cap.
With either mounting system, the tank bags "float" a fraction of an inch above your gas tank to all but eliminate the risk of paint damage.
No magnets, straps clips or bungee cords.
And because these motorcycle tank bag mounting systems doesn't rely on magnets, you can use either one if your motorcycle has a non-magnetic fuel tank.
Gas tank locking system advantages
Portability. You can switch tank bags using either mounting system to other motorcycles equipped with the same system
Reliability. When attached properly, tank bags stay firmly in place
Convenience. You can easily remove and reattach these tank bags
Paint damage relief. Each system eliminates the possibility of scratched paint
Make sure, when you make your final tank bag selection…
The bag doesn't interfere with you or your bike's hand controls...
It attaches and detaches quickly and easily...
It has the conveniences and features you need...
It's big enough...
It complements your motorcycle...
And once you get your new tank bag, load it up and take a ride.
---
It's my goal to provide you with the best information possible.  That's why I've teamed with a great resource where you can find a wide variety of motorcycle tank bags…
I encourage you to click here for a great place to find motorcycle tank bags right for you and your ride…
---
Return from Motorcycle Tank Bags to the Cycle Accessories page.

---
Let's stay in touch!
Get your free subscription to..."Savvy Motorcyclist E-zine"
And you'll also receive your free copies of..."The 10 Best Motorcycle Travel and Trip Planning Websites on the Internet" ... plus the Motorcycle Safety Foundation's 58-page Motorcycle Operator's Manual.
These great resources will help you to ride better, plan your trips, enjoy the best motorcycle roads and get the most out of motorcycle riding.

Custom Search