Motorcycle Tours and Travel on Scenic Roads…
Plan Your Trips With
"Ride Guide to America"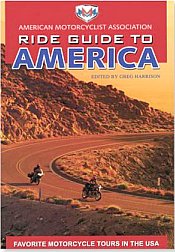 Motorcycle tours and travel on less traveled roads are the focus of "Ride Guide to America" offered by the American Motorcyclist Association.
Enjoy 36 scenic tours throughout the United States.
Explore rocky shorelines, sweeping valleys and mountain peaks in the…
Pacific Northwest
Rocky Mountains
Southwest
Appalachians
Mid-Atlantic
New England
California
Texas
---
Click here for a great place to get your own copy of
---
This high-quality collection of motorcycle tours and travel offers a nice mix of color pictures and maps, plus a good balance of useful road descriptions with turn-by-turn instructions.
The 40 detailed, topographical road maps help you follow recommended routes and show what kind of terrain you'll encounter along the way.
The trips accommodate various riding styles from sport riders looking for curves and hills to sightseeing travelers who like to slow down and actually stop occasionally.
There's plenty of information about scenic vistas, oddities and must-see places that are the essence of motorcycle tours and travel.
This guide to touring America is written for motorcycle riders by motorcycle riders.  It includes favorite trips and destinations described by moto-writers including…
Marty Burke
Dale Coyner
Neal Davis
Bruce Hansen
Clement Salvadori
AMA Staff Members
Here's an excerpt of a travelogue through northwestern Pennsylvania appearing in the book. It was written by AMA staffer Bill Kresnack…
"…This is America's original oil country.
"It was here that Native Americans skimmed the fluid off the surface of the oil pits for ceremonial purposes. Later, after the arrival of European settlers, salesmen known as "snakes" would sell vials of the stuff from the backs of their wagons. It was guaranteed to 'cure what ails ya.'
"But it was also here that in the late 1850s, a former train conductor and jack-of-all-trades by the name of Col Edwin L. Drake changed the world.
"You could think of Col Drake as the great-great grandfather of all motorized transportation. No, he didn't invent the motorcycle or the automobile. He developed the fuel that made all that possible. Right here, about a mile up the road.
"I click the Triumph into first and aim for the northern end of Oil Creek State Park near Titusville, Pennsylvania."
In addition to great photos, maps and touring information, the "AMA Ride Guide to America" also includes useful sections titled…
How to Carry Stuff on Your Motorcycle
Ride Smart: Tips for Street Survival
Check it out.
---
Return from "Ride Guide to America" to the main
---
Let's stay in touch!
Get your free subscription to..."Savvy Motorcyclist E-zine"
And you'll also receive your free copies of..."The 10 Best Motorcycle Travel and Trip Planning Websites on the Internet" ... plus the Motorcycle Safety Foundation's 58-page Motorcycle Operator's Manual.
These great resources will help you to ride better, plan your trips, enjoy the best motorcycle roads and get the most out of motorcycle riding.

Custom Search