These Motorcycle Travel Tips Will Help You to Really Enjoy Cycle Touring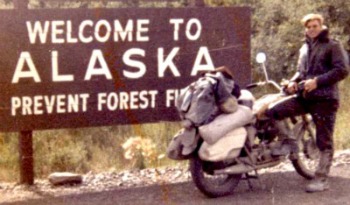 Here are motorcycle travel tips and touring prep info to help you prepare effectively and get the most enjoyment out of motorcycle travel and riding.
Motorcycle touring and travel preparation is actually a very satisfying and worthwhile part of motorcycle riding. And thoughtful travel preparations can make the difference between a great motorcycle trip and a miserable ride.
Even a short motorcycle trip lasting only a few days can take you through a variety of weather conditions and riding situations. And the better you are prepared to deal with these situations, the happier and safer you will be.
These motorcycle travel tips will help you manage whatever surprises come along when you're on the road.
Get your bike in good order...
Regardless of where you're planning to go, my first motorcycle travel tip is to get your bike in good running order.
Have any repairs and routine maintenance done well before you expect to leave on trip. And after the work is done -- especially any extensive work -- take your bike for a long ride to test things out. Make sure your bike runs properly.
You don't want to find out something isn't working right during a trip.
The same thing goes for new equipment for your motorcycle or yourself. Make sure everything works to your satisfaction before you take off.
Know your bike...
An important motorcycle travel tip that has helped me quite a bit is this: Before you're way out in the boonies, become as familiar as possible with your motorcycle. For example, you should know…
When it will run out of gas...
How it handles in the rain...
How effective the lights are for night riding...
How comfortable the seat is for long distance riding...
How comfy your riding position is after hours of travel...
Learn your riding limits and capabilities...
An important motorcycle travel tip is that you should learn your personal strengths and limits as a motorcycle rider. Then use this knowledge to determine how fast and how far and under what circumstances you can travel.
For instance how well do you do you manage riding in the rain or riding at night or in the cold?
I knew a rider who, when he took off on his first long trip, began to experience "separation anxiety." As he added miles and miles between himself and his comfortable home, he started to feel like a sailor watching solid land disappear below the horizon.
Here's another motorcycle travel tip -- Take a bunch of day trips so you know what its like to travel 200, 300, 400, 500 or even more miles a day in different types of weather at different time of the day.
Then you'll know what you'll be comfortable with and what to expect on a trip.
And by riding a lot, you're preparing your body to handle the demands of a multiple-day trip.
Learn the limits of your motorcycle gear...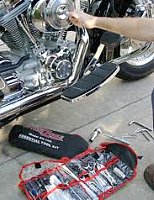 This motorcycle travel tip can spare you the annoyance of getting stranded on the side of the road.
While you're learning your bike's limits and your own personal limits, also do you r best to learn the limits and effectiveness of your personal gear and your motorcycle's accessories.
For example, you don't want to learn within the first five miles of a five-day motorcycle tour/trip that your…
New jacket doesn't fit right...
Thermal vest chafes your neck...
Spandex riding shorts are too tight...
Rain suit leaks...
Tail pack needs an additional tie-down...
Saddlebags flap in the wind...
Toolkit needs a few extra wrenches...
Find out and remedy such things before you head out on a multi-day trip.
Prepare for breakdowns...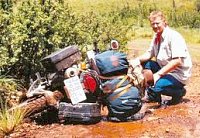 This motorcycle travel tip also pertains to unexpected roadside stips.
If your bike simply stops on the edge of the road and you can't get it started, will your insurance cover the cost of getting you to the nearest cycle shop?
If you're a member of the American Motorcyclist Association, you may already be entitled to that organization's roadside assistance benefits which include 24-hour roadside help for your motorcycles and all your other vehicles, including cars, trucks, RVs and trailers.
Whatever plan you have, it's good to know that help is only a phone call away.
Know where you want to go...
This motorcycle travel tip sits at the heart of travel planning...
Once you know your bike, your gear and your riding capabilities, select a motorcycle touring destination or dream up a travel scenario that suits the amount of time you have, the distance you can travel during that time and your available funds.
In short, before you roll down your driveway, first determine...
How long...
How far...
How much...
Set realistic travel speeds and daily mileage... 
This motorcycle travel tip will help you to ride safe and stay comfortable...
Don't plan to crank on the speed and cover huge miles every day. Maybe you'll want to log on big miles the first day or two so you can get out and away fast. But don't plan on covering too much ground every. Give yourself a reasonable motorcycle touring itinerary.
Consider travel situations so you can prepare...
Sit back and mull over the different circumstances you may encounter so you can prepare mentally -- determine what equipment you'll need and start pulling things together
For example…
What will the weather be like? Prep for it...
Will you be riding at night? Prep for it...
Will you be camping out? Prep for it...
Make two equipment lists...
After taking a number of day trips prior to a multi-day motorcycle tour, you'll know what you need when it comes to personal gear and cycle accessories. It's easy to add extra clothes and other gear to deal with a multi-day trip.
And chances are you'll have most of the priority cycle accessories -- such as tools, spare light bulbs and a tire repair kit -- already stashed someplace on your bike. And your tailpack or tank bag already contain your rain gear and other necessities such as your gloves, glasses, neck warmer and first aid kit -- to name just a few.
For everything that isn't already part of your everyday riding kit, create two lists: one for personal gear and equipment and one for bike accessories.
Lay out your gear...
This motorcycle travel tip is real easy...
Gather the gear you've listed and lay it all out. Next, visualize where each piece should go and how it will be packed onto your bike.
If you're camping out, choose your gear wisely.
Now, eliminate any excess.
Packing it on...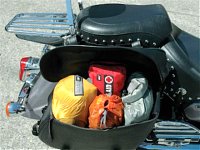 Pack your gear with these three things in mind…

Pack stuff you want to get at quickly in a place where you can reach it quickly.

For example, put your rain suit on top of the gear in your tail pack so you don't have to dig through the other stuff when you're getting drenched.


Evenly distribute the weight of your gear around your bike.

For example, don't make one saddlebag heavier than the other.
Don't overload any piece of luggage or area of your bike.
For example, don't put lots of heavy gear onto the rear luggage rack. You don't want the extra weight in back to break the rack or crack your bike's frame where the rack attaches. And too much weight over the rear wheel can make your front end light.
Take a test ride before your tour...
Make sure all your gear rides okay and your motorcycle handles right.
Two final notes about motorcycle travel…
In the beginning, ride solo...
Go on a few motorcycle tours or trips without a passenger to get things worked out before you bring someone along. Become a savvy packer and traveler first.
A most important motorcycle travel tip...Choose your traveling companions wisely...
For any motorcycle tour or trip, if you're traveling with another motorcycle rider or riders, make sure your personalities and riding styles are compatible.
For example, if you like to ride, ride, ride all day long, think twice before teaming up with a rider who prefers frequent stops or side trips along the way. And vice-versa…
If you're a speedy rider, make allowances for a less swift traveling companion, or only travel with riders who can keep up with you.
On the other hand, don't pressure yourself to ride way above your comfort or skill levels in order to keep up with your touring buddy.
A good solution that has worked well for me is to simply come to the understanding that the faster rider will go first and pour it on has he/she likes, and the slower rider will ride at his/her own pace and catch up here and there as the ride unfolds.
Motorcycle touring and travel can give you so much enjoyment in so many ways. And you can make sure of experiencing as much of that enjoyment as possible by preparing thoroughly and thoughtfully for each trip.
So gather your gear, pack it on and take a trip.
---
Want to be better prepared to deal with high-risk motorcycle riding situations?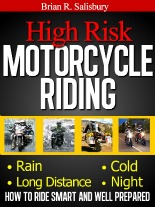 Increase your motorcycle driving skills and confidence when…
·        Riding at night…
·        Riding in the rain…
·        Riding in cold weather…
·        Riding across long distances…
 You'll find a wealth of effective motorcycle driving and control tips and techniques for challenging situations -- and more -- in my book "High Risk Motorcycle Riding."  
Click here for more information about what you'll find in this revealing book and where to zero-in on a copy for yourself…   
---
Return from Motorcycle Travel Tips
Motorcycle Riding Tips page...
---
Let's stay in touch!
Get your free subscription to..."Savvy Motorcyclist E-zine"
And you'll also receive your free copies of..."The 10 Best Motorcycle Travel and Trip Planning Websites on the Internet" ... plus the Motorcycle Safety Foundation's 58-page Motorcycle Operator's Manual.
These great resources will help you to ride better, plan your trips, enjoy the best motorcycle roads and get the most out of motorcycle riding.

Custom Search