Round the World Motorcycle Travel Classic…
"Jupiter's Travels" By Ted Simon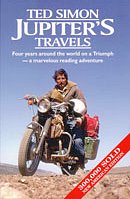 This round the world motorcycle travel classic..."Jupiter's Travels"... is an iconic travel account of journalist Ted Simon's motorcycle odyssey during the 1970s.
His book let's you share the experience.
In four years Simon covered 78,000 miles through 45 countries while living with peasants and presidents, in prisons and palaces.
In some countries his travel and personal safety were endangered by wars and revolutions.  
In one incident, he was detained for days by the local police, the released. 
Simon experienced his round the world motorcycle travel when such trips were hardly as well documented as they are today.  And in most respects such travel was quite tough back then.
For example, during Simon's ride...
Motorcycles weren't as reliable as they are now...
Travel thorough some areas was extremely dangerous. (No change there)...
Getting in and out of many countries was a bureaucratic adventure at every border...
He had no support team, cell phone or GPS satellite navigation...
The roads and "accommodations" in many countries were decrepit...
---
Click here for a great place to get your own copy of
---
His own words after running out of gas in India…
"I tucked my gloves into my helmet and stood by the bike looking up and down the country road and across the field of green wheat wondering who was going to help me this time, and what would it lead to?
"I did not doubt that help would come, and with it most probably some unexpected twist in my fortunes. It had taken years to achieve that measure of confidence and calm, and as I waited I allowed myself some pleasure in knowing it.
"My thoughts brushed over the years and miles of the journey, tracing the fear as it had waxed and waned along the way, trying to hold it all together and reassuring myself that there really had been a beginning.
"Without a beginning how could there be an end? At times and more frequently now, I could feel the tiredness invading my bones, bleaching my retina and raising a mist on the horizon of my mind. Soon it would have to end."
Even if you don't happen to ride a motorcycle, or round the world motorcycle travel isn't in your future, "Jupiter's Travels" is enjoyable adventure reading.  
Check it out...
---
Return from "Jupiter's Travels" to the main
---
Let's stay in touch!
Get your free subscription to..."Savvy Motorcyclist E-zine"
And you'll also receive your free copies of..."The 10 Best Motorcycle Travel and Trip Planning Websites on the Internet" ... plus the Motorcycle Safety Foundation's 58-page Motorcycle Operator's Manual.
These great resources will help you to ride better, plan your trips, enjoy the best motorcycle roads and get the most out of motorcycle riding.

Custom Search