The Iron Butt Rally Diary...
"Against the Wind" by Ron Ayres...
Puts You Inside the Excitement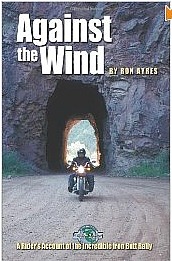 The Iron Butt Rally diary -- "Against the Wind" -- by participant Ron Ayres, puts you inside ten consecutive one-thousand-mile days a group of hard-core long distance motorcycle riders endures.
Each rider is out to win this legendary motorcycle competition.
Not only is the Iron Butt Rally a test of physical strength and capabilities, it's also a mental endurance event where motorcycle riders struggle against the unforgiving clock, the road, the weather and each other's strategies and riding strengths.
Written by Iron Butt rider Ron Ayres
Written by Ron Ayres, who finished the 1995 rally in sixth-place, this book describes all phases of what has been called the most grueling motorcycle riding endurance test anywhere.
It shows how individual riders dig deep into their personal reserves of strength and willpower to manage fatigue and stay out of danger.
---
Click here for a great place to get your own copy of
---
The Iron Butt Rally participants include men and women from age 20 through 70. While their backgrounds differ widely, they all have one thing in common; they love extreme long distance motorcycle riding.
And they're good at it.
Obviously, a rider can't just show up and start doing consecutive one-thousand mile days for ten days if he or she hasn't trained for it.
You'll learn successful contestants' deepest thoughts and clever strategies and share their extreme highs and lows throughout this competition.
Why do they ride?
You'll learn...
Riders' motivations...
How the rally is scored...
What happens from day to day...
How the riders plan their routes...
What it's like to ride to the very limit of endurance...

...then ride another day.

We learn that winning requires a delicate blend of endurance, strength, competitiveness, luck and self confidence -- from start to finish.

"This Iron Butt saga has become required reading for anyone considering competing in most any long distance motorcycle riding competition.

It also provides great advice and information for anyone who likes to rack up serious mileage -- even occasionally -- when out for a motorcycle ride.

But even if long Iron Butt-type rides are not your thing, Ayres' first-person account of this unique motorcycling event and the people drawn to it provides you with fascinating reading.

Once you pick up "Against the Wind" you'll have a hard time putting it down.
---
Return from "Against the Wind" Iron Butt diary to the main
---
Let's stay in touch!
Get your free subscription to..."Savvy Motorcyclist E-zine"
And you'll also receive your free copies of..."The 10 Best Motorcycle Travel and Trip Planning Websites on the Internet" ... plus the Motorcycle Safety Foundation's 58-page Motorcycle Operator's Manual.
These great resources will help you to ride better, plan your trips, enjoy the best motorcycle roads and get the most out of motorcycle riding.

Custom Search