Select and Maintain the Best Motorcycle Tires For Your Bike...Here's How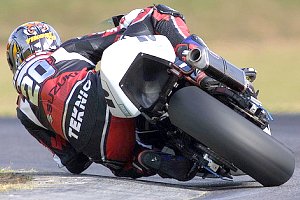 Of course you want the best motorcycle tires for your bike.
Here's info to help you…
Choose the most appropriate tires for your motorcycle and for the way you ride...
Keep those tires in good shape...
Your motorcycle tires should give you confidence when you to ride.
They should be well suited to your motorcycle's performance capabilities and to your riding style.
You're wise to take care of your bike's tires so they can take care of you. Here's how…
Start with your old tires when selecting new tires...
The folks who built your bike equipped it with the best motorcycle tires that would complement its…
Speed and handling capabilities...
Frame and suspension...
Size...
Weight...
Purpose...
---
Click here for a great place to get the best tires
---
When it's time to replace either of your motorcycle's tires and you're satisfied with your current tires'...
Tread life...
Road grip...
Weather tolerance...
Overall performance...
...then go with the same make and model tire your bike came with.
Companies that manufacture the best motorcycle tires are continually improving their products and tailoring them to specific riders' needs.
So, chances are, you could also base your new tire selection on your original tire's performance capabilities but with slight variations to suit your personal riding preferences such as…
High mileage touring...
All-weather driving...
Multi-season driving...
Sharp cornering...
High-speed driving...
Off-road riding...
When should you replace a motorcycle tire?
You can be sure your even the best motorcycle tires need  replacement when…
The sidewalls are severely cracked due to tire age or dry rot...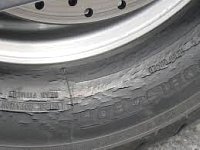 The tire's tread height is even with its wear-bars...
The tire has a bald spot running down the middle...
The steel belt below the rubber exterior is exposed...
The cord or fabric layer below the rubber exterior is exposed...
The sidewall was cut or punctured...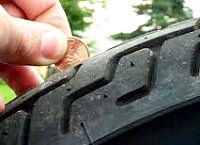 A practical method you can use to gauge a tire's tread depth is by standing a penny in one of the tire's well worn tread grooves.
The space between the edge of the penny and the top of Lincoln's head is about 1/32nd of an inch -- a tread's minimum safe depth.
So, if the top of Lincoln's head is even with or above the tire's rubber surface, the tire is ready for replacement.
Here are a few signs of normal tire wear that don't necessarily mean a tire needs immediate replacement...
Cupping...
Cupping is a normal wear pattern that develops in even the best motorcycle tires' tread pattern. It indicates that your tire is gripping the road when you're turning.
It doesn't necessarily indicate a problem with the tire or with your bike's suspension system.
Flat Spot...
After many miles of straight highway driving, your rear tire may develop a flat spot or become squared off along its center-line. This is normal, even for the best motorcycle tires.
Excessive wear, uneven wear or flat spits on one side of a tire, or an odd wear pattern in the tread may be caused by a…
Defective tire...
Bent tire rim...
Damaged motorcycle frame...
Or the tire could be out of alignment or out of balance.
This is not good.
A tire/wheel assembly that's out of alignment or balance will vibrate at certain speeds and cause excessive tire wear. It will also interfere with your bike's steering and cornering capabilities.
Have your trusty motorcycle mechanic check it out.
---
Click here for a great place to get the best tires
---
When selecting and installing new tires…
Don't mix bias ply and radial tires
Because bias ply and radial motorcycle tires are constructed differently, they react to and manage your motorcycle's steering, braking and acceleration forces differently.
Many motorcycles are built to perform best when equipped with specifically-designed radial tires.
That's why you'll be on target by selecting the same make and model tire originally fitted to your bike -- especially if it is a radial tire.
Your motorcycle's front and rear tires should be the same brand and model.
Two tires with mismatched tread patterns will not perform properly together.
Get tires that have a tread pattern and rubber compound that suit your bike and your riding style...
A tire's tread pattern and rubber compound determine the tire's speed rating, mileage potential and road-holding capabilities. They determine how you can best use your motorcycle tires.
Touring and cruising motorcycle tires are made of relatively hard rubber compounds.
They'll give you high tire mileage and good gas mileage. But they aren't the best motorcycle tires for aggressive cornering.
Sport bike and racing tires are made of relatively soft "grippy" rubber compounds. They stick to the road and give you good traction for deep cornering.
However, you sacrifice tire life and gas mileage for high cornering performance.
A tire's tread design determines the best road and weather conditions for that tire.
A slick racing tire will hold the road -- or track -- at high speeds. But it won't help you in the rain. You need a well-designed, water-dispersing tread for wet-weather traction.
General-use tires have a light tread and are made with a medium-hard compound. This mixture gives you high mileage and a stable ride as road and weather conditions change.
Put a new tube into a new tire...
Don't mess around. When you install a new tire that uses a tube, also install a new tube.
Break in your new tires...
Even with the best motorcycle tires, give yourself some low-speed, low-intensity road time when the tires are new.  You wan to get used to how they handle and to "rough-up" the tread.
New tires won't ride the same as the worn tires you replaced, and new tires can be dangerously slippery.
Go easy on the throttle and brakes and gradually increase your lean angle.
Give your tires -- and yourself -- a "break-in" distance of about 100 miles.
After you take your first long ride, check and -- if necessary -- adjust your tire's air pressure.
Bad things for your tires…
Storing your motorcycle in direct sunlight will age and harden even the best motorcycle tires quicker than a cool, dimly-lit area.
Oil, gasoline, corrosives and strong chemicals will degrade the rubber and weaken your tires' resistance to ozone and harsh weather. Wash them off as quickly as possible.
Using Armor All and similar tire cleaners/dressings on your tires will make the rubber slippery. You don't want slippery tires -- especially when cornering.
Try riding your motorcycle after you've polished the seat with Armor All and you'll see what I mean by slippery.
You don't want your bike sliding around on the road the way you'll slide across the seat.
---
Click here for a great place to get the best tires
---
Always make sure your motorcycle tires are properly inflated...
The best individual bit of maintenance you can apply to your tires is to regularly check their air pressure and make sure they're properly inflated.
It's important to check your tires' air pressure at least once a week and before and during long trips.
If tire pressure drops more than two psi a month, than the tire, valve or wheel may be damaged. You could have a nail in the tire that's causing a slow leak.
Don't exceed the maximum pressure (psi) indicated on the tire's sidewall.
Riding on under-inflated tires is dangerous because…
It can cause your tires to generate excessive heat and suddenly fail
It can cause irregular and excessive tread wear
It can cause a tire to break away from the rim and deflate
It will impair your cornering ability
It decreases gas mileage
It can cause sidewall cracking
Riding on over-inflated tires is dangerous because…
It makes your tires vulnerable to getting cut or punctured
It makes your tires vulnerable to blow-outs due to sudden impact
It can cause your bike to ride hard
It can cause a tire to wear out quickly in the center
Your original valve cap works best...
Use the original valve cap that came with your tire.
Original caps have a rubber gasket that seals the valve to keep water out and air in.
Wheel rotation can cause a valve core to open and leak air. A good valve cap will prevent such leaks.
Keep your tires' valve cores clean to help prevent air leaks.
Give your tires the respect they deserve...
When you're zipping along on your motorcycle, the actual portion of your tire that's constantly in touch with the road -- the tire's contact patch -- is only about two inches wide.
That's kind of spooky.
So it's a good idea to do all you can to get the most out of that little patch of rotating real estate.
---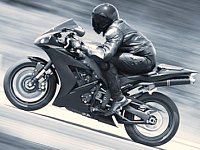 In my continuing efforts to provide you with the best information possible, I've teamed with a great resource where you can find the best motorcycle tires for your bike...
I encourage you to click here for a great place to get the tires you need for your motorcycle...
Plus, you get free shipping…
---
Return from Motorcycle Tires to the main
---
Let's stay in touch!
Get your free subscription to..."Savvy Motorcyclist E-zine"
And you'll also receive your free copies of..."The 10 Best Motorcycle Travel and Trip Planning Websites on the Internet" ... plus the Motorcycle Safety Foundation's 58-page Motorcycle Operator's Manual.
These great resources will help you to ride better, plan your trips, enjoy the best motorcycle roads and get the most out of motorcycle riding.

Custom Search